What you'll learn on this podcast episode
How are boards of directors of major companies coping in 2022 with the increasing expectations from so many stakeholders? How can directors equip themselves to meet oversight challenges and ensure that their companies do business in the right way? In this episode of the Principled Podcast, guest host Dr. Marsha Ershaghi Hames explores the critical role of boards in shaping ethical corporate culture with Diana Sands, an accomplished corporate leader who currently sits on the boards of SP Plus Corporation and PDC Energy. Listen in as the two discuss the evolving responsibilities and tools for today's boards, including guidance from the latest report from LRN and Tapestry Networks: Assessing Corporate Culture: A Practical Guide to Improving Board Oversight.
Principled Podcast Show Notes
[2:15] Diana Sand's background and its impact on her board roles.
[8:07] The push for board culture refreshment and ESG priorities.
[12:06] Thoughts on changing attitudes toward board culture.
[15:37] Board needs for transparency, accountability, and communication.
[18:34] Navigating structural impediments and the Assessing Corporate Culture: A Practical Guide to Improving Board Oversight. report.
Where to stream
Be sure to subscribe to the Principled Podcast wherever you get your podcasts.
Guest: Diana Sands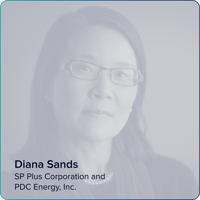 Diana Sands brings over 30 years of business experience to her board and advisory roles having held senior executive finance and governance positions across multiple industries. Diana currently serves on the boards of SP+ (Nasdaq: SP), PDC Energy, Inc. (Nasdaq: PDCE), and National Philanthropic Trust (the largest independent provider of donor advised funds). She is the Board Chair for Start Early, a non-profit champion for quality early learning. She is also an advisor to New Vista Acquisition Corp., and to Ethisphere (a global leader in defining and advancing the standards of ethical business practices). Diana retired from The Boeing Company in 2020 where she was an executive officer and Senior Vice President, Office of Internal Governance and Administration. Reporting to the CEO and to the audit committee, Diana oversaw a diverse team including ethics & investigations, compliance risk management, internal audit, security, and internal services. Previously, Diana held senior finance roles at Boeing including corporate controller where she signed and oversaw development of the company's financial statements, and head of investor relations where she was the primary management liaison with investors and industry analysts. She also led financial planning & analysis and worked in corporate treasury. Prior experiences include leading financial planning & reporting for General Motors Corporation and working at several companies in audit and product line finance positions. Diana has an MBA from Northwestern's Kellogg School of Management, and a BBA from the University of Michigan Ross Business School.
Host: Dr. Marsha Ershaghi Hames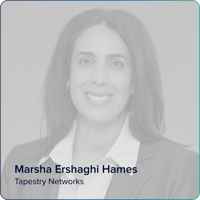 Dr. Marsha Ershaghi Hames is a partner with Tapestry Networks and a leader of our corporate governance practice. She advises non-executive directors, C-suite executives, and in-house counsel on issues related to governance, culture transformation, board leadership, and stakeholder engagement.
Prior to joining Tapestry, Marsha was a managing director of strategy and development at LRN, Inc. a global governance, risk and compliance firm. She specialized in the alignment of leaders and organizations for effective corporate governance and organizational culture transformation. Her view is that compliance is no longer merely a legal matter but a strategic and reputational priority.
Marsha has been interviewed and cited by the media including CNBC, CNN, Ethisphere, HR Magazine, Compliance Week, The FCPA Report, Entrepreneur.com, Chief Learning Officer, ATD Talent & Development, Corporate Counsel Magazine, the Society of Corporate Compliance and Ethics and more. She hosted the Principled Podcast, profiling the stories of some of the top transformational leaders in business.
Marsha serves as an expert fellow on USC's Neely Center for Ethical Leadership and Decision Making and on the advisory boards of LMH Strategies, Inc. an integrative supply chain advisory firm and Compliance.ai, a regulatory change management firm.
Marsha holds an Ed.D. and MA from Pepperdine University. Her research was on the role of ethical leadership as an enabler of organizational culture change. Her BA is from the University of Southern California. She is a certified compliance and ethics professional.
Principled Podcast Transcription
Intro: Welcome to the Principled Podcast brought to you by LRN. The Principled Podcast brings together the collective wisdom on ethics, business and compliance, transformative stories of leadership, and inspiring workplace culture. Listen in to discover valuable strategies from our community of business leaders and workplace change makers.
Marsha Ershaghi Hames: How are boards of directors of major companies coping in 2022 with the increasing expectations from so many stakeholders? How are boards equipping themselves to meet the challenges of overseeing organizations? And how can directors ensure that their companies are doing the right things and doing business in the right way?
Hello, and welcome to another episode of LRN's Principled Podcast, where we continue our conversations about the critical role of boards in shaping ethical corporate culture. I'm your guest host Marsha Ershaghi Hames, a partner at Tapestry Networks. And today, I'm joined by Diana Sands, an accomplished corporate leader who currently sits on the boards of SP Plus Corporation and PDC Energy. Today, we're going to talk about the evolving responsibilities of today's boards, many of which are outlined in the newest report, Assessing Corporate Culture, a report from LRN and Tapestry Networks. Diana, thank you so much for coming on the Principled Podcast.
Diana Sands: Thank you, Marsha. It's great to be here.
Marsha Ershaghi Hames: Let's kick off. Diana, you had an accomplished career, retiring as an executive officer and senior vice president in the office of internal governance and administration at the Boeing Company. And you have now turned to service on corporate boards. Your career has spanned a variety of leadership roles across multiple industries and disciplines. Maybe for our listeners, we can kick off by hearing more about, just tell us about your background and career and how this has informed your approach to serving as a director.
Diana Sands: Sure. And thank you again, Marsha, for having me. As you noted, across 30-plus years, I worked in various industries, including professional services, consumer products, and industrials, mostly in finance roles. I held several finance leadership positions, including corporate controller at Boeing. And my last role, as you alluded to, before I retired, was reporting to the CEO and the audit committee in a chief administration and chief ethics and compliance role. As you also mentioned, I currently serve on both public company and nonprofit boards.
Marsha Ershaghi Hames: How has this experience started to really shape or inform your approach to serving as a director?
Diana Sands: You know, Marsha, I think the breadth of my experience is mainly what shapes me as a director. I've been part of a lot of different business opportunities and challenges. And with that, I tend to think pretty holistically, whether it's assessing an opportunity starting with a strategy all the way to how it can be practically executed, or dealing with a particular challenge, which often means quickly yet systematically gathering facts, evaluating options, and then taking actions.
I do believe that the best way to leverage experiences is not to automatically duplicate what one has done in the past. In fact, I don't really love hearing a director simply stating, "This is what we used to do at XYZ Company." I think the greater value from past experiences is a director's ability, because of those experiences, to quickly absorb an existing situation and think through the possible outcomes. And that's the approach I tend to try to take in the boardroom.
Marsha Ershaghi Hames: We're going to dive into some of how you're transferring some of your unique background as a compliance and ethics officer into the boardroom. But first, I want to take a step back. I mean, when I look across 30 years, across all the sectors that you have developed your career in, you were probably or likely one of the few women executives in these fields. I'm just curious, as you look back, were there any mentors or, I'll use the term sponsors, that sort of provided more guidance, influence, coaching through developing your career journey?
Diana Sands: Yeah, definitely. And I think you're right. I was often the only female and/or minority in rooms during my career. I do think the good news is that it's changing, albeit maybe slowly, but it's changing across all sectors. But having said that, mentors are definitely important, and I had several great ones. Most of them, by the way, were white males because that's who I was primarily working with. But I remember one very early in my public accounting career, a manager who showed me tough love as he reviewed my work papers. He was really hard on me and my work, but it was formative in the way I think today. In fact, that holistic approach I mentioned earlier is in large part thanks to this person who taught me early on to always think about that bigger picture.
And then later in my career, another mentor, one of the CEOs I worked closely with, pushed me to aspire for more than I might have otherwise. He's the one who coached, or maybe coaxed is the better word. He coaxed me to take on some roles that went beyond my comfort zone. But ultimately, those were the roles that enabled me to ascend to the C-suite, which also was critical in getting my current board positions.
Those are a couple mentors, I've had several, but I think the common thread across all my mentors is that they not only took an interest in me, but they really pushed me to be better, to stretch, and to be uncomfortable. I think that's important to advance in a career and in life, I think.
Marsha Ershaghi Hames: No, it's so true. Let's continue down this path. You do bring a unique background to the board as a former compliance and ethics officer. It's not a typical skill set that we see serving today on the other side of the table. Tell me a little bit about how that maybe shaped or influenced landing your first board seat and how the lens in which you look at information or assess decisions is impacted by this background.
Diana Sands: Yeah. You know, I think that's absolutely right, Marsha. In fact, my board roles were obtained not so much because of my ethics and compliance experience, but because of my finance background. They were boards that were specifically looking for a financial expert, which I can be deemed as one, because public boards, as you know, need some number of financial experts.
But interestingly, I find that when I contribute in the boardroom today, it's more often from my broader governance and ethics and compliance experience. I'll often ask questions about how things get done at the company, which alludes to culture, gets at culture, not just what gets done. Monitoring risk management is a key responsibility of boards. And again, I find my broader governance experience helpful in those discussions.
Marsha Ershaghi Hames: Talking a little bit about your broader, bigger picture experience around governance, excuse me, there have been a lot of conversations about the need to change the chemistry in the room, the culture of the board. And board refreshment is kind of at the top priority of this dialogue. So, composition, what are the skills we need in the room to support some of these governance practices? What are you seeing from your vantage point? Are things changing? Are boards more open today to soliciting and considering other types of skills and backgrounds for board seats?
Diana Sands: Definitely, yes. I think board refreshment is an important topic in many boardrooms these days. In fact, all of my boards, not just the public boards, but my nonprofit boards as well, have been talking about board composition and board refreshment. I think they're all looking for diversity. I do think companies and boards are beginning to look now for individuals who have broader experiences than just those who have been a CEO, CFO, or operating leader, which I think is what was very common years ago as boards were trying to fill their boardrooms. There are certain experiences like cybersecurity and ESG, for example, which are experiences much more being sought after today in boardrooms.
Marsha Ershaghi Hames: Yeah, no, and I mean, it takes us to the next segment I wanted to dive deeper into with ESG priorities right now. There's one thing to draw on outside experts, but it's another thing to be able to interpret data, really try to develop the linkages, ensure that conversations with the right folks in management are clear on advancing, but with the focus on climate risk and people-talent issues, and cyber and technology. I mean, how are some of your boards thinking or approaching thinking differently around oversight of these issues and the types of skills that you need in the room?
Diana Sands: Yeah, indeed. All those topics you mentioned are really relevant in the boardroom today, especially as regulatory bodies are considering what additional reporting requirements may be required in these areas. I think having board members who have practical experience, by the way, in these areas, cyber, climate, technology, is really helpful and almost becoming necessary, especially if their experience is recent because many of these areas are so rapidly evolving.
Even talent management is different than it was a couple decades ago. The workforce today can span multiple generations. It's more technologically savvy and more diverse than ever. So having board members who are in touch with today's environment is important, which I think is driving a lot of refreshment activities.
I would also go back to something I said earlier. I think that it's important that directors don't immediately rely on the way they did things years ago. Oversight of these evolving issues requires being on top of how they're evolving. So to your point, leveraging expertise within the company with external consultants, advisors as needed, and listening to those board members with these recent experiences, I think is critical. And then of course, ensuring that these topics are given the appropriate time in the boardroom is also important, which I'm certainly seeing in all of my boards.
Marsha Ershaghi Hames: So you're seeing a shift more so, because it seems like almost every committee is becoming an ESG committee. So, how do you keep this focus?
Diana Sands: You know, it's funny because one of my companies, sometimes one of the board members will mention, "Wow, we're actually talking about an operational issue today." And this company's pretty well run. Because so much time we're spending now on these topics, because of everything we've just been talking about, it is getting more time and attention in boardrooms. And to your point, you're right. I think boards are also trying to figure out how to make sure that there's some deliberate discussions around them, and more and more ESG-type committees are being created. But there's no doubt, more focus in these areas today than there were in years past.
Marsha Ershaghi Hames: Yeah, yeah. Well, let's go back to a comment you also made about the tone or the theme of, well, this is how we used to do things. That lends me to a question more on board culture. It is always more comfortable to lean on the levers of the past. It's consistent, it's what we know. As I've certainly spoken to a number of newer directors or directors that are occupying newer seats, I've heard varying input on, do they feel as comfortable voicing or asking unpopular questions or challenging the status quo.
I'm sort of curious from your vantage point and your current experience, do you see any type of shift or shift in momentum around assessing board culture, boards being a little bit more cognizant of, we need to assess our culture of how we discuss, debate, challenge things. What are some of the changes that you're seeing, if any?
Diana Sands: Yeah, I do think, Marsha, that culture in all organizations is becoming much more important to examine, and more organizations are doing so. Some of that, I think, it's unfortunately because of the terrible events in recent years related to racial inequities. But I'm also hoping some of it is because it's simply just becoming clearer to everyone that culture really does drive everything that happens in an organization. And I am finding that boards, again, at least the boards I'm part of, again, both public and nonprofit, have been going through some sort of process to advance its own culture. I think that's really good, in my view.
I will also say that I think there's a bit of kind of personal responsibility in this. I do try to take on personal responsibility to help advance culture in every group I'm part of. I'm talking, these are day-to-day actions, not big initiatives. For example, things I try to do include not being afraid to bring up a different view. You alluded to that, especially if it's a minority view. I'll try to do it respectfully and productively, but I'll make sure, and I'll really deliberately in my head, make sure to express that view.
I also try to bring out every voice in the room. I will often ask someone for their thoughts if they've been quiet, and that happens even in boardrooms. There are always some folks who speak more and some who speak less. And finally, I still try to make sure I personally am feeling some discomfort at times, again, something I learned from my mentors. It's one reason the boards I sit on today, Marsha, are part of industries different than what I've worked in in the past. They're learning experiences for me.
Also, in a boardroom, and maybe as simple as going over to talk to that person who is most different than I am, the one I have the least in common with. I'll sometimes actually have to force myself to do that because it may be a bit uncomfortable, but I know it will help advance the culture and the dynamic of the group. Yes, I think cultures are shifting in boardrooms. I think each of us should think about what we can personally do to help that journey.
Marsha Ershaghi Hames: You've been a part of contributing, and not only to the ethics, culture, and compliance network, but also the Assessing Corporate Culture framework that was recently released. And these insights also came up both in the interviews and in some of the questions that were being developed. One was around the need for greater transparency, a sense of accountability, and better communication or optimization of communication, not only amongst board members, but also between the board and management.
A few executives raised, "We want to be able to bring difficult news to the board and be able to have that conversation." Tell me, in your experience, what can this look like? Or how practically, what role can the directors play to create the space to encourage more of this open communication and transparent communication?
Diana Sands: First of all, those qualities you mentioned, transparency, communication, accountability, they are really important and they're hallmarks of a strong culture. And there's no question, there's many pieces of data that show these healthier cultures drive better results.
I think the board sets the tone in many ways. The board's own culture actually flows down in many ways to what the management team and the company, what they do and they operate. If the board operates in an environment of inclusiveness, of open dialogue and debate, and the management team sees that, and the board engages in that kind of behavior with the management team, that will affect the dynamic where those tougher issues can be brought up and discussed. And it also flows throughout the organization. So I think it's really important.
I do think on the topic specifically of raising those difficult issues, it's not easy, but good boards, I think, do create the space for that. I think to start with, the board actually has to, board members themselves need to be willing and wanting to hear those difficult issues. And then the directors actually have to do some work to help pull them out. It's always easy or nice. It's nice for board members, it's nice for everyone to hear good news. But we also have to, I think, proactively be asking, "What's not going well? What is the management team worried about?"
Seek out those tougher issues and be willing to deal with them alongside management. I think that's what board members can do. But I don't think it's necessarily all that easy because it can be hard to hear and it can be hard for management teams to share the tough news. But I think the more the board and the board members make it easier for them, where we listen, we're willing to listen to them, we want to hear them. We may not like what we're hearing, but we need and want to hear them. And we're willing to work with them through those issues. That'll help set the environment for those tougher issues to be brought up and discussed, which is absolutely, we all know, necessary for effective boards to do.
Marsha Ershaghi Hames: Another insight that came out of this report that you contributed to was also structural impediments. I know you certainly can draw upon your experience both as a senior executive with oversight of compliance and ethics, and now on the other side of the table, but one of the directors said just the structure of boards can make it difficult for a board to really get a clear picture of culture.
I just want to get your perspective on how important or critical is it for the board to hear from other management voices? I mean, typically, boards have looked to CEOs to get an overall understanding or pulse on culture. How important is it to bring other voices in like the compliance officer, ethics officer, or CHRO? Is there an independence opportunity? Is there contextual opportunity? Just love to get your perspective on that.
Diana Sands: Oh, totally. And by the way, you've mentioned this report a couple times. I do want to give credit to Tapestry and LRN. You all did an excellent job on this guide. And also frankly, on convening the conversations that led up to this guide being developed. I just want to put that out there, Marsha. I think it was an excellent, it is an excellent product.
But yeah, I think it's really important for board members to engage with, certainly, obviously, the CEO and his or her leadership team is often who the board will engage with. And I think that's really important, members of that senior leadership team. But then also going deeper, we've talked about this in some of our conversations, going out and kind of seeing sites where you get a sense, you get a sense. It depends how big the organization is, and it's often you have to keep in mind as we discuss, management teams will put forth their best team, their best people. But you do get a sense when you're out there engaging. So I think engagement by board members with team members is important.
I do think having that dialogue with those leaders who I think in many ways are touching and influencing and seeing culture, the company's, every day, whether it's the chief ethics and compliance officer or the chief HR officer, or the chief legal council, depending on how the organization is structured. It is really important for board members to have direct engagement with them as well. I think many boards do, but I think board members need to be really attentive to those engagements because you can pick up a lot, not just from the tactics of what's going on and the results of what's going on at the company, but also you get a lot of indications of culture when you talk with these folks in the company.
Marsha Ershaghi Hames: And my final question, Diana, and I appreciate you highlighting the report, but how are you thinking of leveraging some of the guiding points from the report? I mean, you contributed to helping us develop questions that directors can use for reflection and questions that they can certainly explore with management teams. But speaking to your peers, you've got directors listening, how can they use this framework as a roadmap with their peers and management teams?
Diana Sands: Yeah, first I want to spread, and I'm going to do this with my context, but I really just hope this guide gets out. It's really great, what you all have done. You've got summary points. If you just want to go on the website and look at some of the summary points and some questions boards can ask. Or you can download the whole guide, which I think is just, like I said, really well done. There are a lot of practical tips there. What I plan to take out of it, I hope others do, there are some questions there that boards can ask. There are examples of how the board can itself set a good example of culture. And it also notes ways we can measure culture with tools that are likely already being used at companies, like surveys, internal audit reports, and employee-related data.
I think importantly, when I stepped back and looked at it again, even though I was part of the team that gave you input on putting this together, but when I stepped back and read it again, I think it will help directors, when they look at this guide, realize that many topics already discussed in boardrooms provide an opportunity to delve deeper into culture.
For example, DE&I statistics, which are regularly being talked about now, I think, in most company boardrooms, company mission and value statements, hotline reports. These among many others are ways to discuss company culture. Risk management is another one. And in fact, in one of my boards, we had an annual risk management dialogue where all the board and C-suite members had to complete a risk tolerance survey. It was just part of their normal risk management process. But when we talked about it, it was fascinating as we reviewed the results to see the similarities and differences. And we ended up having a great conversation about culture.
I think this guide is just a really practical and useful tool for board members to just realize, actually, that in many ways, there are avenues to delve deeper into culture and that obviously, it's really important to do so.
Marsha Ershaghi Hames: So true. And I think one of your colleagues on the committee of contributors of this said, "We just have to get the conversation started."
Diana Sands: Exactly.
Marsha Ershaghi Hames: It's just important to start asking the questions and get the conversation started. But Diana, we're out of time, but there's so many insights that you've shared with our listeners today. Some great nuggets here that we can take away. I want to thank you for creating time and space to share your thoughts and for joining us on this episode. So Diana, thank you.
Diana Sands: It's been my pleasure. Thanks, Marsha.
Marsha Ershaghi Hames: And to all of our listeners, my name is Marsha Ershaghi Hames, and we appreciate you all for tuning in to this episode of the Principled Podcast by LRN.
Outro: We hope you enjoyed this episode. The Principled Podcast is brought to you by LRN. At LRN, our mission is to inspire principled performance in global organizations by helping them foster winning ethical cultures rooted in sustainable values. Please visit us at LRN.com to learn more. And if you enjoyed this episode, subscribe to our podcast on Apple Podcasts, Stitcher, Google Podcasts, or wherever you listen. And don't forget to leave us a review.
Be sure to subscribe to the Principled Podcast wherever you get your podcasts.