What you'll learn on this podcast episode
Corporate boards are feeling more pressure than ever from a variety of stakeholders—government prosecutors and regulators, institutional investors, corporate activists, consumers, and others seeking responsible change in an ever-changing global economy. As the concept of both corporate and individual accountability continues to expand, how can boards adapt their approach to governance and oversight to meet these increasingly complex expectations? In this episode of LRN's Principled Podcast, host Susan Divers is joined by Michael Volkov, the CEO of the Volkov Law Group and author of the recent white paper "Directors Dancing on the Head of a Pin: Corporate Boards Face Escalating Risks and Enforcement Challenges." Listen in as they discuss the global challenges corporate boards are facing in 2023, and the steps they can take to meet regulatory pressures.
Where to stream
Be sure to subscribe to the Principled Podcast wherever you get your podcasts.
Guest: Michael Volkov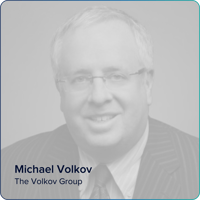 Michael Volkov specializes in ethics and compliance, white collar defense, government investigations, and internal investigations. Michael devotes a significant portion of his practice to anti-corruption, sanctions, trade, antitrust, and AML compliance and defense. He regularly assists clients on FCPA, UK Bribery Act, AML, OFAC, Export-Import, Securities Fraud, and other issues.

Michael has extensive trial experience and has developed a problem-solving approach to serve client needs. He has extensive contacts in the federal government and on Capitol Hill. Given his broad government experience, he represents clients in federal and state court, before the Justice Department and other federal agencies, and on Capitol Hill.

Prior to launching his own law firm, Mr. Volkov was a partner at LeClairRyan (2012-2013); Mayer Brown (2010-2012), Dickinson Wright (2008-2010); Deputy Assistant Attorney General in the Department of Justice (2008); Chief Counsel, Subcommittee on Crime, Terrorism and Homeland Security, House Judiciary Committee (2005-2008); and Counsel, Senate Judiciary Committee (2003-2005); Assistant US Attorney, United States Attorney's Office for the District of Columbia (1989-2005); and a Trial Attorney, Antitrust Division, United States Department of Justice (1985-1989).

Mr. Volkov resides in Washington, D.C., San Diego, California, and Marsala, Italy, with his wife and six children. He and his wife enjoy traveling, the arts, and philanthropic activities. Mr. Volkov is an avid tennis player.
Susan Divers is a senior advisor with LRN Corporation. In that capacity, Ms. Divers brings her 30+ years' accomplishments and experience in the ethics and compliance area to LRN partners and colleagues. This expertise includes building state-of-the-art compliance programs infused with values, designing user-friendly means of engaging and informing employees, fostering an embedded culture of compliance and substantial subject matter expertise in anti-corruption, export controls, sanctions, and other key areas of compliance.

Prior to joining LRN, Mrs. Divers served as AECOM's Assistant General for Global Ethics & Compliance and Chief Ethics & Compliance Officer. Under her leadership, AECOM's ethics and compliance program garnered six external awards in recognition of its effectiveness and Mrs. Divers' thought leadership in the ethics field. In 2011, Mrs. Divers received the AECOM CEO Award of Excellence, which recognized her work in advancing the company's ethics and compliance program.

Mrs. Divers' background includes more than thirty years' experience practicing law in these areas. Before joining AECOM, she worked at SAIC and Lockheed Martin in the international compliance area. Prior to that, she was a partner with the DC office of Sonnenschein, Nath & Rosenthal. She also spent four years in London and is qualified as a Solicitor to the High Court of England and Wales, practicing in the international arena with the law firms of Theodore Goddard & Co. and Herbert Smith & Co. She also served as an attorney in the Office of the Legal Advisor at the Department of State and was a member of the U.S. delegation to the UN working on the first anti-corruption multilateral treaty initiative.

Mrs. Divers is a member of the DC Bar and a graduate of Trinity College, Washington D.C. and of the National Law Center of George Washington University. In 2011, 2012, 2013 and 2014 Ethisphere Magazine listed her as one the "Attorneys Who Matter" in the ethics & compliance area. She is a member of the Advisory Boards of the Rutgers University Center for Ethical Behavior and served as a member of the Board of Directors for the Institute for Practical Training from 2005-2008.

She resides in Northern Virginia and is a frequent speaker, writer and commentator on ethics and compliance topics. Mrs. Divers' most recent publication is "Balancing Best Practices and Reality in Compliance," published by Compliance Week in February 2015. In her spare time, she mentors veteran and university students and enjoys outdoor activities.
Principled Podcast transcription
Intro: Welcome to the Principled Podcast brought to you by LRN. The Principled Podcast brings together the collective wisdom on ethics, business and compliance, transformative stories of leadership and inspiring workplace culture. Listen in to discover valuable strategies from our community of business leaders and workplace change makers.
Susan Divers: It's difficult enough for corporate boards these days to navigate more traditional issues like challenging economic conditions, from inflation to now a predicted recession. But boards also have had to overcome recent global crises. First, the COVID-19 pandemic and now Russia's invasion of Ukraine which resulted in global sanctions and supply chain disruptions. And corporate boards have come under fire from a variety of stakeholders, government prosecutors and regulators, institutional investors, corporate activists, consumers, and others seeking change in an ever-changing global economy. As the concept of corporate accountability continues to expand, how can boards adapt their approach to governance and oversight to keep up and meet these increasingly complex expectations?
Hello and welcome to another episode of LRN's Principled Podcast. I'm your host, Susan Divers, the director of Thought Leadership and Best Practices at LRN. Today, I'm delighted to be joined by Michael Volkov. Michael is the CEO of the Volkov Law Group and the author of a recent white paper, Directors Dancing on the Head of a Pin, Corporate Boards Face Escalating Risks and Enforcement Challenges. That'll get everybody's attention. We're going to be talking about the global challenges corporate boards are facing in 2023 and importantly the steps that they can take to meet those challenges and regulatory pressures. Michael is a real expert in this space, having devoted a significant portion of his practice to anti-corruption compliance and defense as well as government and internal investigations. Michael, thanks so much for joining me today on Principled Podcast.
Michael Volkov: Well, Susan, it's a absolute pleasure. You know I'm a big fan of LRN and your work and I can't think of a better place to discuss these issues than the Principled Podcast. Well, thank you.
Susan Divers: Well, one of the pleasures of having you on is that your experience touches a wide range of issues related to governance, risk oversight, and ethical conduct. Given what we're seeing in terms of economic, geopolitical, and regulatory conditions, what do you think are the most pressing issues facing corporate boards right now?
Michael Volkov: Well, I thought your setup, Susan, was perfect in terms of capturing the forces that are hitting all of every company, every board. And that goes to an idea of accountability. And accountability for boards, and board members, and board conduct and almost board performance is a big factor I think nowadays. And it's partially reflected in stakeholder demands, changes in the definition of corporate purpose, ESG, and I always focus on the G, the big G in ESG for governance. A corporate board now sets the tone for the company, is responsible for the tone and is responsible obviously for senior management behavior as well as the culture of the company.
So, this idea of accountability I think is permeating every aspect of sort of the risk constellation that companies face these days. And so you could say first that shareholders, and activists, and even consumers are demanding better performance from corporate boards and trying to hold people accountable when they don't perform. Then it stretches into legal and compliance. And then we get into the Justice Department and expectations that they have with regard to corporate performance and their sort of emphasis, I think in the last few years, they came to it a little bit later than all of us. And Susan, you were primarily one of the leaders in this in terms of pushing the idea of the importance of corporate culture and ethics.
And I think that DOJ is hitting the bandwagon now as well. And there's an accountability that permeates sort of their new enforcement efforts and their new sort of responsibility for corporate behavior. It's kind of hit all at the same time. We've also seen decisions out of the corporate courts in Delaware, Chancery that are starting to hold the companies more accountable as well. So, in every aspect of a company's operations, the word accountability takes on more significance and particularly tied to the idea that you have of and your company frankly have spoken so much about which is ethics and culture.
Susan Divers: Thanks, Michael. And I certainly agree with you that the ground has really shifted here. I was surprised actually when I read the Department of Justice policy change and the most recent initiative on clawback and supervision to see how broadly they are looking at accountability going way beyond I think what's been looked at in the past. So having said that, your recent white paper documents the escalating risks and enforcement challenges that the boards face. Can we drill down into those and what are the most important takeaways from your analysis?
Michael Volkov: Well, first off, the Justice Department I think has taken some really remarkable steps. But it started with a refocus. And the refocus was that instead of, and this was I think in response to sort of concerns that large penalties, large fines, 1 billion here, 500 million there, that in the end, the brunt of those penalties were being born by corporate shareholders who oftentimes didn't have any responsibility or they weren't involved in the misconduct. That's at issue. And what I think they're trying to do, and I give them credit for this focus, is to try to hold individuals accountable and the people who are engaged in misconduct. And we'll get to that in a minute in terms of the specific programs that they're pushing.
And I would think it almost sounds like oxymoronic to say that we want to increase individual accountability but yet we're going to hold corporate boards and board members more responsible. And it is in this way, and I want to try to get past the oxymoron, is that corporate boards, yes, they take certain actions in individual board members if the engage in misconduct could be prosecuted, et cetera, et cetera. But I think what they're demanding of corporate boards is to enforce and promote the idea of individual accountability within the organization.
And that is a big, big change because I think they're saying to corporate boards, "We want to see a system," and we'll get into clawbacks and deferred compensation, "a system where the individual wrongdoers are held accountable." And that's a responsibility that we're putting towards you, assigning to you corporate board and senior leadership as well, and we're going to hold you accountable for this kind of behavior. Now, that to me is really a big, big change. And to me it's saying, DOJ look, has seen sort of a dwindling in their numbers of white collar enforcement, and they want to see this change and they want to bring back sort of a more robust white collar enforcement program.
So this is one way to do it now and in response to their sort of dwindling numbers. That's what they're hoping for. But in recent weeks, what we've seen is they released revisions to their evaluation of corporate compliance programs. And more importantly, the criminal division has started a new three-year pilot program regarding compensation incentives and clawbacks. And let me just say this, even though it's not the direct focus here, but they've assigned 25 prosecutors now to prosecute companies for sanctions in export control violation and follow up to the Russia sanctions program.
But the real takeaway here is that the way they defined this compensation clawback program, deferred compensation program is the way they defined the relevant individuals who should have sort of financial penalties imposed upon them. And the way they did this is they said, "Not only must you punish the wrongdoer through financial incentives or disincentives," and we'll go through that, "but we want you to punish the people who were responsible for the supervision and oversight and who may have missed red flags of misconduct."
That to me is the bread and butter. That's the significance of this. Because what they're saying to the company is, "Internally, we want you to hold accountable, those people who failed to follow up on those red flags." So in other words, we may not have enough evidence to criminally prosecute them for ignoring the red flags through a willful blindness type of test, but now we're saying we want them nonetheless at the minimum to be held accountable financially. And their thinking and DOJ's thinking which I think is interesting here is through financial incentives and disincentives, that's how you correct behavior, in how you promote a compliance response to red flags. If they suspect something, they have to drill down on it. That's what I think they're heading for.
So the idea behind the clawback program, and they gave companies huge incentives. Because they're saying, "If you can show us, at the time of resolution of a company case like an FCPA case, a fraud case, securities fraud case or whatnot, that you have initiated clawback proceedings against those engaged in misconduct and those who were responsible for supervisory failures, we're going to credit dollar for dollar that against your penalty." So let's say they're seeking 100 million in clawbacks then you have a $400 million penalty, and they're going to say, "Okay, we'll credit that 100 and you'll pay only 300, plus to the extent you recover that 100, you get to keep that as well." And that's the idea.
Now, the significance to me of this clawback program is every company, and I mean every company, has to impose, and create, and sit down, and put together a proactive clawback deferred compensation program that is going to work in practice. Because they want to see it in writing, but they also want to see how it worked in practice. So this is the new challenge I think for boards to take senior management, to take compliance, to take HR, to take talent management to make sure that we have a program like this in place. Sorry for the long-winded answer, but there's really a lot to sort of unpack in this kind of new era of accountability.
Susan Divers: Not at all. And I think you did a very good job of getting right to the heart of the matter, which is one of the things that struck me years ago watching the Me Too scandals unfold, although it's true of other scandals as well. Everybody knew in certain companies, and corporations, and organizations that the CEO, or the media star, or the successful performer was running wild. And they turned a blind eye. And of course, the McDonald's case, which Delaware, Chancery recently looked at, everybody knew that the head of HR was running wild and is running wild with the CEO. So there's an amazing lack of accountability there.
But now it's not okay to turn a blind eye. And DOJ is saying, "If you do, then you're up for penalties in terms of clawback." And I think the other thing they're saying, which you mentioned, but I wanted to pull it out for special emphasis, is that DOJ is always talking rightfully so about, "Is your compliance program effective?" Well, now they're saying very explicitly, "If you don't do this, ethics and compliance program isn't effective." Am I hearing that part right too, Mike?
Michael Volkov: Absolutely. And thank you for emphasizing that because I don't think I made that as clear because this is now under your evaluation of corporate compliance programs. On its face, the absence of this clawback program proactive, defined in the breadth that we're talking about, is on its face, you lose, you're ineligible for an effective compliance program finding. And if there's ever incentives right now for companies to reexamine compliance and ethics in their culture and their policies and procedures, now is the time. Because the Justice Department has put everybody on, I would say they have put everybody on such notice right now that it's inescapable, that a company cannot come in and say, "Well, we heard you say that, but we thought it meant this." They are so clear right now.
And it's why I almost feel tempted to write everybody, all my contacts, and all my clients and whatnot and say, "Look, there are some important things that we have to be doing right now. And if we don't do them, it's going to make our life that much more difficult." I don't usually, and you know my philosophy Susan, I'm not like a fearmonger, what all of these ideas are, ideas that improve the performance of your company that make ethical companies with strong and positive cultures even more successful. Because the research shows conclusively, thanks to LRN, that ethical companies perform better over the long run than unethical or agnostic companies. We know that, everybody knows that. So then, why are we continuing to look at compliance as a cost center as opposed to a revenue generator? And that's what I think where we get to as a result of what you're talking about on the effectiveness of a compliance program.
Susan Divers: That's very well said. It's interesting to speculate just a little bit more about this because I really think this is one of the key points here. If a board fails to inquire what a company is doing, a company that has a lot of suppliers overseas which today is practically everybody, if they fail to inquire what the company's doing about trade sanctions and export controls and AML, money laundering and all, there's almost an argument that can be made that they're turning a blind eye because that is such a huge risk. And when you mentioned in the white paper and you just mentioned now that 25 additional prosecutors have been brought on, that's a huge number.
Michael Volkov: Right. Susan, as a former prosecutor myself at DOJ, what I know is when you move the resources somewhere, these people have to justify their existence. And the way they're going to justify their existence and the money is they bring cases. That's just inevitable here. So you can always tell what DOJ is going to be doing in the next couple years. Just follow not the money, but follow the resources.
Susan Divers: That's very true but very chilling point. So I think you should reach out to all of your contacts.
Michael Volkov: Yeah, I should, I should. But you know what? They don't need another email from me, that's for sure. You know what I mean? So they've got plenty of things to deal with. And I guess this is sort of a lead in, and I wanted to mention something to you because of all the great work that you and LRN does with regard to the importance of corporate culture and values-based leadership and importance of these concepts, to me, we're now in an era with this accountability that stretches across stakeholders, the Justice Department, that simply having senior management mouth to the board that we have a great culture, we do the right thing, and that's the end of it, is no longer possible. It doesn't work. It's almost like when I hear that in talking to corporate leaders, I know that there's a gap right from that.
And I want to just emphasize some of the research that you've done and LRN has done on the importance of corporate culture. This is my obsession these days, and that people have to be thinking of it in a more practical way than just rolling out statements on a videotape from the CEO. To me, it's more about promoting and embedding a culture, measuring the culture, and then reporting on the culture on a regular basis to the board, and then remediating weaknesses in the culture. And thinking of culture as almost like any other control, it is your most important control, you then have to, the CCO or if it's a chief ethics officer, separate from the CCO, have to be mindful of these areas. I just want to point that out because your last ethics and compliance program report emphasize this, Susan, and I'm trying to get this message across to more and more people as much as we can. You guys are sort of at the forefront of that. So, I know I'm preaching to the choir in more ways than one here.
Susan Divers: Well, but we of course appreciate that Michael. And working with you is always a pleasure because we share that same insight that culture is what determines what actually happens in a company. And before we get into, you have in the white paper some really excellent recommendations for boards. And I want to get into those, but I want to tackle one other thing before we do. And that's the, in listening to you, it brings to mind how important it is for corporate leaders, for ethics and compliance teams, and for boards for that matter, to get real-time data because that's what's going to tell you whether your culture is healthy and where it's trending as it were.
I think in the past, people have relied way too much on activities. We trained this number of people, we updated our code, we're good, we issued a number of statements as you just mentioned. But when you look at something like the hotline which usually involves just a limited number of employees and frequently lifestyle complaints, it's always backwards looking. And investing in data that is predictive and provides real-time insights into what areas people are struggling with, what areas they have to keep retaking as part of training, what questions they're asking, I mean those I think, that's a big shift that needs to be made. And I would argue that really needs to be made by the board in a lot of instances. Do you agree with that?
Michael Volkov: Oh, absolutely. And what I think you're saying and which is really important is because of our technological capabilities nowadays with data and the ability to generate real-time data, proactive compliance is the way I would look at it as opposed to reactive. And what you're talking about is using data, and I think even in your report you talked about how generating data and collecting data means that your systems within your internal systems and your technology has to be fully capable and enabled for this purpose, and that is to get as much real-time data as you can.
So for example, let's say I'm a big believer in pulse surveys which may be done targeted to let's say one area of your operations, one product line or even one geographic area. And then boom, you get a report back which indicates through the survey responses there are these specific concerns. That to me is an issue for your culture and for remediation. How are we going to address that? Let's address it now before we have sort of breakdowns in misconduct, fraud occurs, stealing occurs. These are sort of precursors to those sort of deteriorating behaviors.
And that's what you're saying, which is we need to get on top of this realtime data, not just historical reports, not just matter of fact reports, but for example, you're right, what kind of questions are we getting? What areas are they asking about? How did we handle it? How did we respond to it? What did we do? Did we see a pattern in a particular, let's say office or whatever, to try to identify trends and respond to them proactively so that we can spend more time on prevention than detection and punishment? And so that, I think your point is so well taken, Susan.
Susan Divers: Well, let's hope it resonates out there in the E&C community, Michael. But I do want to turn now to the excellent recommendations that are in your white paper, some practical advice for boards and things that they should do today to start meeting these challenges.
Michael Volkov: I wrote about a five-step program. In the five-step program, two of them we can put together. I've already covered one which was defining, embedding and monitoring your corporate culture. And that I think has to come from the board, and holding senior management accountable, and making sure the chief compliance officer or chief ethics officer are reporting regularly on the culture. What are you finding in our culture? Where do we have weaknesses? How are we responding to them? Every quarter report by a chief compliance or ethics officer has to include a report on culture because it is your most important control.
And going along with that, and I'm sure from your experience and professional experience as well and LRN work, I hope we'll support this, is there needs to be, and I put this in a nice way by saying the board needs to be educated as well as senior management, to be honest with you. How do you conduct oversight and monitoring of your ethics and compliance program? Ideally, you would have somebody on your board who has had prior ethics and compliance program experience.
And I have advocated that for a long time, that having somebody there, I even was talking to somebody recently who told me they have someone like that and it has fueled the expansion and growth of their ethics and compliance program, by having an expert on the board who can then educate the board. In the absence of that, it's up to you as the chief compliance officer to make sure you get in front of the board and senior management and teach them the fundamentals. What kind of information do you need? What kind of information should you be getting? How often should you be getting it? What are the red flags you're looking for? How do you prioritize your time and attention when dealing with an ethics and compliance program? And what are the responsibilities of the board and the senior management team to fulfill their obligations with regard to an ethics and compliance program?
So those are two of the five, and they sort of fall in that culture area and also making sure that the program is adequately monitored and there's appropriate oversight. Three other points. One is there's greater and greater expectation on real time assessments and monitoring of your risk profile. Let's update and revise our risk assessment process. Let's include an ongoing monitoring function that can be done every quarter to update your risk assessment and make sure we're responding to that risk assessment.
We're seeing, obviously, when the DOJ changes its constellation of enforcement risks that affects our risk assessment. But that's not the be all and end all. Our risk assessment has to include what we see as emerging and evolving threats. We had ransomware attacks and other technology developments, cybersecurity risks are always changing given the technology. That's one of my steps. And I would say two other areas which are more sort of ministerial but with huge importance. One is we have to review and redesign our executive compensation programs to meet the clawback program and deferred prosecution requirements, and they have to have a broader application and careful coordination with business leaders and HR. And this is an essential task that requires attention.
And last but not least is shoring up your sanctions in export control compliance program. I've seen too many immature basic sanctions or export control compliance programs. Last year to me was the year where everybody was tested on trade compliance. It was a tough, tough year, but trade compliance did an amazing job to handle all of that. But now, the stakes are rising, with regard to Russia sanctions, additional corporate prosecutions. And its time now for everybody to one, break down the silo between trade compliance and the overall compliance program, bring everybody together.
And number two, make sure our technology is good. Our trade controls are good, that we have escalation review and proper due diligence of counterparties and customers. And then maintain a robust annual training program. Nobody seems to recall, but OFAC from the Department of Treasury mandated an annual training requirement. Just like sexual harassment is an annual training requirement for companies in New York or various other states, now, we have an annual training requirement for trade compliance. So, we need to do all of these things in response to sort of this evolving picture. I could fill out a long list but to me these are really the top five right now.
Susan Divers: Well, that's very helpful, Michael. And I agree completely with you as to what you've said and particularly about the primacy of export controls and trade compliance. As you know, our data for this year in the program effectiveness report didn't show a huge upswell of efforts to upgrade that capacity. So, let's hope it's taking place as we speak. Well, we're almost out of time, but one last question before we close out, and that's you've talked about the partnership between the board and the E&C team and how critical that is. And I'm glad you brought up the point about the multiplier effect of having somebody on the board with some E&C expertise or at least with training. But what are your other practical suggestions for how boards should work effectively with their E&C teams?
Michael Volkov: That's a great question because this is also, I wish I could take credit for all these ideas, but these are just from clients and sort of what works, what doesn't work. Couple of points. One is at least a quarterly reporting requirement, not for 10 minutes at the end of the board meeting when everybody's trying to get out of there and go have drinks and dinner together, a serious commitment for an hour, fulsome report from compliance, along with an executive session where there's a one sort of the CCO by him or herself talking to the board without the general counsel, without senior management in the room and some frank discussions. Most boards will take advantage of this, and most CCOs will take advantage of this opportunity. And that to me is a real important aspect of this.
The other is to, whatever committee you may be reporting to, is to maintain a personal relationship with whoever the chair is of your reporting committee. Be it audit, be it risk committee, whatever, those to me are important relationships that you should break down into a one-on-one type of relationship. In other words, meet your chair for coffee every other week. Call the chair up and say, "Hey, wanted to talk to you about a couple of ideas." Start a relationship where there's communications back and forth.
In that way, with the support of and the proactive sort of relationship with a board chair or committee chair, it can really help when the big issues come up. And they'll also be more, I think, aware of what your needs are and willing to sort of fight for them at the board level when necessary. So it's important, I don't try to overwhelm the board with details, but I do try to explain to them, "Here are the important things and give them just a brief explanation as to why that's important." And they're smart, they get it. And usually, look for your allies who understand compliance. That's always something that's helpful as well.
Susan Divers: That's great advice, Michael, and that's a good note to close on because that's something that's pretty easily done. It doesn't cost money. And it's building that kind of trust and relationship so that when things do go haywire, and they almost inevitably do, you've got a basis upon which to talk and work together. So, what a wonderful conversation today. Thank you so much for doing this. And I hope that you'll join me again on another episode.
Michael Volkov: Well, Susan, it's always a pleasure to talk to you, speak to you, and thank you again for all the great work that LRN does and for your valuable podcast as well. It's always good to meet a brother or sister in the podcasting world, so appreciate that.
Susan Divers: I'm flattered, thanks Michael. My name is Susan Divers and I want to thank you all for listening to the Principled Podcast by LRN today.
Outro: We hope you enjoyed this episode. The Principled Podcast is brought to you by LRN. At LRN, our mission is to inspire principle performance in global organizations by helping them foster winning ethical cultures, rooted in sustainable values. Please visit us at LRN.com to learn more. And if you enjoyed this episode, subscribe to our podcast on Apple Podcasts, Stitcher, Google Podcasts, or wherever you listen. And don't forget to leave us a review.
Be sure to subscribe to the Principled Podcast wherever you get your podcasts.