What you'll learn on this podcast episode
Trust is foundational to business and society, so much so that the global public relations firm Edelman releases an extensive annual survey covering whom and what the public trusts. However, their 2022 Edelman Trust Barometer reveals a concerning insight: people are increasingly more inclined to distrust than trust. In this episode of the Principled Podcast, host Emily Miner explores key findings from the 2022 report, "A Cycle of Distrust," with David M. Bersoff, Head of Global Thought Leadership Research at Edelman Data and Intelligence. Listen in as the two discuss what drives trust, why public trust in certain institutions is eroding, and how businesses can help rebuild trust moving forward.
Get a copy of the 2022 Edelman Trust Barometer.
Read our blog post on takeaways from this year's report.
Guest: Dr. David M. Bersoff, Ph.D.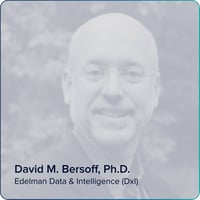 Dr. David M. Bersoff oversees Edelman Data & Intelligence's (DxI) global Thought Leadership research including the annual Trust Barometer and Brand Trust studies. In this capacity, he is responsible for questionnaire development, leading all data analysis and insight gleaning activities, and developing new frameworks for understanding trust, credibility, and consumer-brand relationships.
Prior to joining Edelman DxI, Dr. Bersoff spent 18 years as a consumer insight and marketing strategy consultant at The Futures Company. In his last 5 years with the organization, he served as its Chief Insights Officer and was a member of its global board of directors.
Prior to entering the consulting world, David spent 12 years engaged in social science research at various Ivy League institutions, including 4 years as an assistant professor of social psychology and research methodology at the University of Pennsylvania.
Emily Miner is a Senior Advisor in LRN's Ethics & Compliance Advisory practice. She counsels executive leadership teams on how to actively shape and manage their ethical culture through deep quantitative and qualitative understanding and engagement. A skilled facilitator, Emily emphasizes co-creative, bottom-up, and data-driven approaches to foster ethical behavior and inform program strategy. Emily has led engagements with organizations in the healthcare, technology, manufacturing, energy, professional services, and education industries. Emily co-leads LRN's ongoing flagship research on E&C program effectiveness and is a thought leader in the areas of organizational culture, leadership, and E&C program impact. Prior to joining LRN, Emily applied her behavioral science expertise in the environmental sustainability sector, working with non-profits and several New England municipalities; facilitated earth science research in academia; and contributed to drafting and advancing international climate policy goals. Emily has a Master of Public Administration in Environmental Science and Policy from Columbia University and graduated summa cum laude from the University of Florida with a degree in Anthropology.
Be sure to subscribe to the Principled Podcast wherever you get your podcasts.