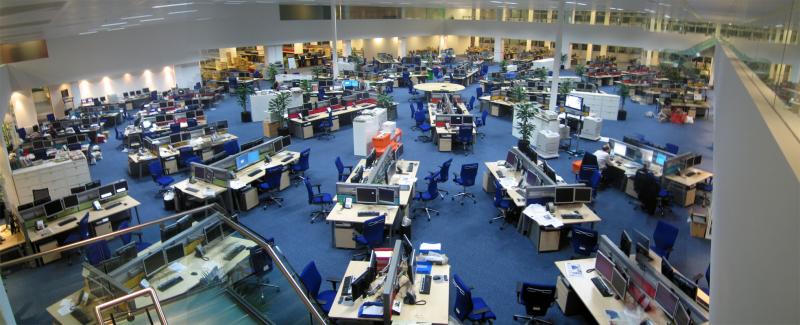 During a company-wide meeting in November last year, CEO Tony Hsieh declared that Zappos was reorganizing in a major way. He explained that the traditional top-down hierarchy the company was based on was being replaced with a flatter system that would distribute power more evenly, and enable employees to be more "self-governing." What does this mean? Job titles are out. So are managers. Instead, the company will be comprised of roughly 400 different circles where employees can take up roles they're interested in within those circles.
Why is Hsieh uprooting the organizational structure at one of the most successful online apparel retailers (the company reached $1 billion in annual sales in 2008, two years earlier than they expected)? During the November company-wide meeting, his answer was grounded in evolutionary biology: "Darwin said that it's not the fastest or strongest that survive. It's the ones most adaptive to change." And in fact, Hsieh might be onto something. W.L. Gore – maker of the popular line of Gore-Tex products – has been a flat organization since its founding in the 1950's, and has shown longevity, growing to "over 1000 products – Gore-Tex fabric, medical applications, and a wide range of industrial and electronics products." It's been going strong with annual sales of over $3 billion, and has more than 10,000 employees in over 30 countries around the world. It is also one of the few companies to appear on all of the U.S. "100 Best Companies to Work For" lists since the rankings were started in 1984 (See here to read more about Gore).
So Zappos seems to be joining good company in doing away with their hierarchical structure. And they're not the only ones: going flat has also caught on with younger companies too such as web application designer Basecamp (formerly 37signals) and successful videogame maker Valve.
So what are some of the advantages of going flat? According toTim Kastelle at Harvard Business Review, organizations that are comprised of smaller, self-governing teams are better able to respond to change than those based on rigid hierarchies. Similarly, flat organizations also tend to be more innovative than competitors that don't permit as much freedom for colleagues to explore and collaborate. Finally, although the objectives of organizations may differ, the companies mentioned here tend to have a strong core purpose that they are centered around.
How Analysis:
It's telling that one of the fastest growing online retailers Zappos is interested in radically changing its organizational structure, especially after being acquired for a strong $1.2 billion in 2009 by another online powerhouse – Amazon. It reveals that offering employees the freedom to pursue their passions, to take on leadership responsibilities, and to be more self-governing can offer a key competitive advantage over companies that are still based on traditionally rigid hierarchies.
And indeed, this is precisely what the Freedom Report found, where companies that got their freedom right held advantages in crucial areas such as innovation, financial performance, and sustainability over the long-term. So trading in top-down organizational structures for flatter arrangements could prove instrumental for unlocking innovative and financial potential. When research is coming out that speaks to the advantages of a flat organizational structure, changes such as the one Zappos is making doesn't seem so radical for companies that are already ahead and looking to stay that way.