What you'll learn on this podcast episode
Since 2014, LRN has published an annual Ethics & Compliance Program Effectiveness Report that reflects the input of ethics, compliance, and legal professionals from around the world. These reports aim to identify key differentiators that make some E&C programs more effective than others—especially in the midst of global risks and crises. But the risk landscape has shifted dramatically over the last few years; we've experienced the COVID-19 pandemic, worldwide political upheaval, and the start of the war in Ukraine. How are E&C programs weathering these challenges? What changes have they made to adapt, and what global trends are emerging as a result? In this episode of LRN's Principled Podcast, LRN Advisory colleagues Emily Miner and Susan Divers discuss key findings from a special Global Standards Edition of LRN's E&C Program Effectiveness Report.
Download the LRN E&C Program Effectiveness Report – Global Standards Edition.
Take this 10-minute survey and share your experiences for LRN's 2024 E&C Program Effectiveness research. Results will be published in February.
Where to stream
Be sure to subscribe to the Principled Podcast wherever you get your podcasts.
Guest: Susan Divers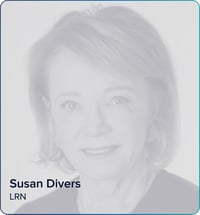 Susan Divers is a senior advisor with LRN Corporation. In that capacity, Ms. Divers brings her 30+ years' accomplishments and experience in the ethics and compliance area to LRN partners and colleagues. This expertise includes building state-of-the-art compliance programs infused with values, designing user-friendly means of engaging and informing employees, fostering an embedded culture of compliance and substantial subject matter expertise in anti-corruption, export controls, sanctions, and other key areas of compliance.

Prior to joining LRN, Mrs. Divers served as AECOM's Assistant General for Global Ethics & Compliance and Chief Ethics & Compliance Officer. Under her leadership, AECOM's ethics and compliance program garnered six external awards in recognition of its effectiveness and Mrs. Divers' thought leadership in the ethics field. In 2011, Mrs. Divers received the AECOM CEO Award of Excellence, which recognized her work in advancing the company's ethics and compliance program.

Mrs. Divers' background includes more than thirty years' experience practicing law in these areas. Before joining AECOM, she worked at SAIC and Lockheed Martin in the international compliance area. Prior to that, she was a partner with the DC office of Sonnenschein, Nath & Rosenthal. She also spent four years in London and is qualified as a Solicitor to the High Court of England and Wales, practicing in the international arena with the law firms of Theodore Goddard & Co. and Herbert Smith & Co. She also served as an attorney in the Office of the Legal Advisor at the Department of State and was a member of the U.S. delegation to the UN working on the first anti-corruption multilateral treaty initiative.

Mrs. Divers is a member of the DC Bar and a graduate of Trinity College, Washington D.C. and of the National Law Center of George Washington University. In 2011, 2012, 2013 and 2014 Ethisphere Magazine listed her as one the "Attorneys Who Matter" in the ethics & compliance area. She is a member of the Advisory Boards of the Rutgers University Center for Ethical Behavior and served as a member of the Board of Directors for the Institute for Practical Training from 2005-2008.

She resides in Northern Virginia and is a frequent speaker, writer and commentator on ethics and compliance topics. Mrs. Divers' most recent publication is "Balancing Best Practices and Reality in Compliance," published by Compliance Week in February 2015. In her spare time, she mentors veteran and university students and enjoys outdoor activities.
Emily Miner is a vice president in LRN's Ethics & Compliance Advisory practice. She counsels executive leadership teams on how to actively shape and manage their ethical culture through deep quantitative and qualitative understanding and engagement. A skilled facilitator, Emily emphasizes co-creative, bottom-up, and data-driven approaches to foster ethical behavior and inform program strategy. Emily has led engagements with organizations in the healthcare, technology, manufacturing, energy, professional services, and education industries. Emily co-leads LRN's ongoing flagship research on E&C program effectiveness and is a thought leader in the areas of organizational culture, leadership, and E&C program impact.
Prior to joining LRN, Emily applied her behavioral science expertise in the environmental sustainability sector, working with non-profits and several New England municipalities; facilitated earth science research in academia; and contributed to drafting and advancing international climate policy goals. Emily has a Master of Public Administration in Environmental Science and Policy from Columbia University and graduated summa cum laude from the University of Florida with a degree in Anthropology.
Principled Podcast transcription
Intro: Welcome to the Principled Podcast brought to you by LRN. The Principled Podcast brings together the collective wisdom on ethics, business and compliance, transformative stories of leadership and inspiring workplace culture. Listen in to discover valuable strategies from our community of business leaders and workplace change makers.
Emily Miner: Since 2014, LRN has published an annual ethics and compliance program effectiveness report that reflects the input of ethics, compliance, and legal professionals from around the world. These reports aim to identify key differentiators that make some E&C programs more effective than others, especially in the midst of global risks and crises. But the risk landscape has shifted dramatically over the last few years. We've experienced the COVID-19 pandemic worldwide political upheaval and the start of the war in Ukraine. How are E&C programs weathering these challenges? What changes have they made to adapt and what global trends are emerging as a result?
Hi, and welcome to another episode of LRN's Principled Podcast. I'm your host, Emily Miner, vice president of Advisory Services at LRN. Today I'm joined by my advisory colleague, Susan Divers, who recently led the production of a special global standards edition of our E&C Program Effectiveness Report. We're going to be talking about key findings from the report, which combines LRN data and insights from 2020 to 2023 to deliver a greater global view of E&C program performance. Susan, thanks for coming on the Principled Podcast.
Susan Divers: It's my pleasure, Emily. I'm always delighted to talk with you.
Emily Miner: So Susan, we've been doing this report for a number of years under your leadership, and this is the first time we've ever published a special edition. What's special about this global standards report and why now?
Susan Divers: Good questions, Emily. Well, you mentioned some of the factors in your intro in particular that we've just emerged from the pandemic, which if you look at it, that's one of the biggest risk events to occur probably since the mortgage crisis. So looking at how programs respond to risk is a good way to see if they're actually doing what they're supposed to do. And another major factor that you also mentioned was Russia's invasion of the Ukraine, which has really resulted in a significant increase of focus on trade controls and export controls and sanctions in particular. And the Department of Justice, for example, has hired 25 new prosecutors and created a national security division specifically to oversee compliance in those areas. So that's a risk.
And then there's an ongoing state of tension with China that's resulted in more and more restrictions as well. So that's a perfect storm. And as you know from looking at our program effectiveness data year over year, we see certain results every year, and we sometimes wonder, "Well, is that really the case?" I think we're a bit surprised when programs emerged very strongly from the pandemic. So going back and looking at data that was pre-pandemic and looking at a couple of years during the pandemic and then looking at last year, which is still a year of permacrisis, as somebody said, really gives us some insights that we might not otherwise have.
Emily Miner: Yeah. I have to say it was really fun to compile four years worth of data and look to see what trends there were. And I think we had some hypotheses. Some of them were born out, some areas surprised us. And it was fun to look at this holistic data set that really spanned a number of years. And something that was frankly surprising to me as we dug into the data was the degree of convergence of best practices across countries and regions. So our respondent base, the people that answered the survey that we run every single year, it became increasingly globalized over the four years in question. And I expected to see that play out a bit more in the data. In fact, we even isolated the North America responses across all four years so that we could look at a more apples to apples trend line.
But with a few exceptions, we didn't see major differences between North America and the rest of the world. And I think that shows, as we've discussed, that there's a general agreement on the necessary components of an ethics and compliance program, company policies, code of conduct, training, audit, tone at the top and other essential elements. So there really are no alternate models of what an ethics and compliance program generally looks like or what it's designed to do.
So with that in mind, a more interesting question is then why do some programs succeed in shaping their organization's ethical culture and others are less impactful? And in looking at that four years of data, we identified five major differentiators between these high impact and less effective ethics and compliance programs. So I'd love it if you could walk us through those differentiators.
Susan Divers: Sure, I'd be happy to. And again, going back to why we did this report, four years of data is pretty compelling. And what was very gratifying in a way is that the major themes we've identified in the past, which I'm just about to talk about, are really born out by four years of data. So they really are there. And it wasn't just a fluke. So the first is one that anybody that's familiar with LRN will know about, which is that relying on values to motivate and change employee behavior for the better or inspire employee behavior is much more effective than relying on rules.
I was recently speaking at the NAMM Wolf Conference in Baltimore, and somebody was asking about that, and I said, well, if you really think about it rules. I mean, anybody that's ever raised kids knows that rules are not self-executing, but values really are. If you're really motivated by integrity, respect, doing the right thing, it leads you to take action and it leads you to think about your behavior in a way that you might not otherwise. And we have plenty of examples in our recent reports of companies doing just that.
So a second one is programs that are highly effective and actually make an impact on their organizations are embedded in the decision making of that organization. And when I first started in this area many years ago, usually E&C was off in a corner. It was an area that nobody wanted to be seen visiting because that might mean that you were under investigation, and it was a once a year training event, and then everybody stayed away. So that's really changed. What we saw during the pandemic was that organizations really relied on their E&C teams and their values to help guide a behavior in very uncharted waters.
And then a third is, and this is something that has really emerged I think very strongly in our studies, is that programs have become much more employee facing, accessible and relevant. And again, in the past it was well, okay, let's just push out these one hour lectures on anti-corruption or sanctions or sexual harassment. And that's that we've done our bit. And now there's much more of a focus on how do employees get information that's relevant and useful? How do they understand it? How do we know that they understand it? And as you know, at LRN, we're very focused on that, and that was definitely a feature that emerged strongly from the pandemic.
And then we also see that really effective programs innovate in training, design and delivery. I just gave an example of that, but going to shorter modules, tailoring training to role, allowing people to test out, and then analyzing through data analytics such as our system called Reveal allows people running programs to really see what is impactful and what isn't and where employees might need more help.
And then last, we've seen an increasing focus on prioritizing personal responsibility for E&C, and that means rewarding good performance and good ethical conduct and penalizing misbehavior. So that ties into a company's reward structure, whether it's promotions or bonuses. And then in September, the Department of Justice came out very strongly and said, "That is the key theme for this administration, personal responsibility, both in the positive sense and then in the negative sense." So those are really the main ones that we saw. But as I mentioned, they're really consistent with our research over four years.
Emily Miner: As I listened to you recap those five key differentiators, there's a few things that stand out to me being involved in this research over those years. And one is you mentioned how high impact programs are becoming more employee focused and the innovations in training, design and delivery and the personalization. And it really tracks with our expectations for other areas of our life too, like with personalized ads or fashion. And there's much more of a focus on that individual and needing you exactly where you are. We have tailored vitamins and drug regimens that are now being offered with illnesses, but it's all coming together. And it's encouraging to see ethics and compliance tapping into that as well, because of course, the more relevant and tailored this information is and their communication, the more resonant it's going to be to me as an individual and the more I'm going to retain.
So that was just one parallel that I wanted to observe in our lives in general. And the other one, the one that you ended on prioritizing personal responsibility. So I mentioned earlier that we saw in the data a real convergence between all of the countries in question, and maybe it's worth pausing for a second to tell the listeners who participates in these surveys that we run every year and they go out to ethics and compliance and legal professionals. There's some screening questions that we include to make sure that people's job responsibilities are aligned with the types of questions that we're going to be asking. And in the first year of our data 2020, I think it was over 90% of our respondents came from North America, so the United States and Canada, and then starting in 2021, we started adding in other geographies to now in 2023, we really have an even mix between North America, Europe, Asia Pacific. So there isn't an overrepresentation in one area or another. It's pretty evenly distributed across 10 plus countries.
So when we were looking into the data across those four years and slicing and dicing, we thought that we would see more of a difference between maybe North American programs and some of the programs in the other countries that we looked at, but we really didn't see that with a few exceptions. One of those was this last differentiator that you talked about, prioritizing personal responsibility. This was one of the areas where we did see a difference between the performance of North American programs overall and our global data set where programs in North America are much more likely to include ethical behavior as a significant factor in things such as performance review, promotion decisions, bonus allocations, et cetera, as opposed to the other countries in our dataset. But this gap went away when we isolated just the high performing programs. So that's another, I think, really important takeaway that I had in looking at that.
Susan Divers: Yeah. That's a very interesting point that you raise both points about we live in an age where having things personalized is definitely a trend or a practice. And then in terms of looking at global data, but I think the real driver there, I would say there are two factors. Why? There's really only one model out there really for E&C programs, and that's the multinationals have really focused on compliance and ethics as priorities. And a lot of them have operations in the US. And in terms of active regulators, there's no question that the US has the most active regulators. And as you know, I started looking at that issue almost by accident. I was checking to see how many prosecutions of non-US companies there had been in the first six months of 2023 in the area of anti-corruption. And I found it was like nine out of 10, if I remember correctly.
So I looked further, and over 10 years, nearly half of anti-corruption prosecutions in the US have been at foreign companies. Some several times like Erickson recently. And then I looked even further, and I saw that non-US firms account for, again, nine out of 10 of the largest fines paid since the Foreign Corrupt Practices Act came into force. So what that means is that whether you're headquartered in Helsinki or Sophia Bulgaria or Santiago, Chile, or here in the United States, you have to care because US jurisdiction in this area is very broad. And if you read our report and look at some of those charts, you'll see what I mean. So I think that is a factor that's really driving an international convergence of standards. And a lot of it echoes the Department of Justice guidance on effective ethics and compliance programs.
Emily Miner: I agree. That was one of those moments where we stopped and said, "Wow, there's something here when you were looking into that data." And it's interesting because I feel like I've been in so many conversations with ethics and compliance leaders over the years where the discussion has gone to, "Well, we're not based in the US so the DOJ guidance doesn't really apply here." But I think when you started looking into that, it was really eyeopening for me personally, to see how it really does apply in so many cases, as you pointed out.
So with that in mind, how does that shape what programs around the world should be paying attention to and investing in? And I think you're right, the high impact programs, as we've seen in our data, they're already there regardless of where they're located. So again, with that convergence around best practices, so I guess this is maybe a good segue, how should an ethics and compliance leader be thinking about or reading this report? How can I help them in their jobs?
Susan Divers: Well, I think in some ways it is a peak around the corner because these are trends that have been gathering momentum over four years. So at some point, if you don't pay attention to those trends, you find that your program really isn't at a best practice level anymore. And that's particularly true in this area of rewarding ethical behavior and punishing unethical behavior because Department of Justice is made clear that that's a fundamental area. And our data shows that high performing programs are doing better there than low performing, but there's still a ways to go. So that's one way to look at it.
And then a second way to look at it too is I think sometimes in the past there has been an attitude that ethics and compliance is too US centric. But again, if you look at the data and you look at what I was just talking about in terms of prosecutions and the way that non-US companies have really been caught by not having robust and effective E&C programs, then I think it's a good perspective if you're running a multinational program or you're located outside the United States.
Emily Miner: Yeah. Absolutely. Thank you for that. So Susan, we are in the planning stages for our 2024 report. We'll be conducting the survey that generates the responses that go into that report later this year, and we're targeting February, 2024 for our publication date. Is there anything that you would like to share as a teaser for those listening and hopefully a plug for them to check back in and participate in the research?
Susan Divers: Absolutely, Emily. And one of the things that's been so interesting for me as a non-data person, paired with two absolutely excellent data people, you and Brian, is when you draw correlations. I remember when you did that last year, and we realized that companies with boards of directors that are actually trained on ethics and compliance topics outperform in a lot of key ways, a lot of other areas that we look at. So this year I tried to pay particular attention to what questions can lead to those kinds of correlations, and whether it's the size of your department or where you're located or whether you're led by a designated CECO, Chief Ethics and Compliance Officer, whether you report to the general counsel or to the CEO. So I've tried to build in a lot more in that area.
And then we've asked, I think, some very interesting questions, hopefully about if you do online training, how do you do it? Do you create it all yourself? Do you have an outside provider like LRN, or do you purchase it like Skillsoft or LinkedIn? So we're asking some nitty and grittier questions too in the training area, which is of course our sweet spot. But I think we're going to see some really interesting connections that we can draw hopefully from this year's report. So I would urge everyone to keep an eye out for it when it's done.
Emily Miner: Yeah. I'm really excited to look into some of those correlations that you mentioned. And I think that it ties back to that personalization that we were talking about earlier. What is true or seems to be true for organizations of this makeup versus organizations of that makeup, and is that a good thing? Are there opportunities to improve? Does it make sense given proportionality? So I'm excited to look into that. And we're also going to be continuing to increase the globalization of our study, adding on two new geographic regions, the Nordic region and the Middle East. So it'll be fun to see what that adds to the mix.
Well, Susan, thank you for joining me on this episode. It's been really great to dig deeper into where E&C programs stand from a global perspective and to reflect on what this four years of combined research tells us. And it makes me even more excited to see what our research on program effectiveness yields next year.
Susan Divers: Me too, Emily. And it's always a pleasure to talk with you, and it's even more of a pleasure to work with you.
Emily Miner: Yes, I agree. Well, my name is Emily Miner and I want to thank you all for listening to the Principled Podcast by LRN.
Outro: We hope you enjoyed this episode. The Principled Podcast is brought to you by LRN. At LRN, our mission is to inspire principle performance in global organizations by helping them foster winning ethical cultures, rooted in sustainable values. Please visit us at LRN.com to learn more. And if you enjoyed this episode, subscribe to our podcast on Apple Podcasts, Stitcher, Google Podcasts, or wherever you listen. And don't forget to leave us a review.
Be sure to subscribe to the Principled Podcast wherever you get your podcasts.