Keith Read is an award-winning thought leader and expert in compliance, ethics, culture and governance. He was formerly the Group Director of Compliance and Ethics for BT (British Telecom) in London and is a past winner of the Compliance Register's Best Compliance Officer award, when he also won the Best Compliance Company award.
For teaching about ABC, I developed an exercise that I call the "Sliding Scale of Bribery," based loosely around a speech given by Richard Alderman, then Director of the UK Serious Fraud Office (SFO):
...what is sensible and proportionate will need to be judged by reference to who you are talking about and what is generally regarded as acceptable and safe practice. When we are talking about senior individuals in large pension funds or Sovereign Wealth Funds, then you would not expect to put them up at very modest hotels after travelling economy. It is not how it is done.
However, I would not expect you to agree that the individual should come for a month or a couple of months to stay at the most expensive hotel in London together with many members of their family and for all of them to be given large amounts of spending money to be used whilst they are in London.
I would not expect you also to arrange a business trip of a few days for these individuals, followed by a month at your private island somewhere, which has a warm climate and excellent golf and fishing. These examples do not seem to me sensible and proportionate, particularly if shortly after the end of the hospitality, the official awards you a billion dollar contract. Indeed perhaps more importantly, I doubt very much if a jury of 12 ordinary people from the streets of London would regard it as being sensible and proportionate.
Without exception, the Sliding Scale of
Bribery
exposes a significant variation in perceived acceptability across even a small group. At one end of the scale— a simple line—I usually use a snack costing a few dollars as an example of generally acceptable hospitality; at the other extreme, I use a five-star, all-expenses-paid trip for a family to a far-off luxury destination as an example of unacceptable hospitality. At those extremes, the acceptability of the hospitality is generally binary, but by considering a range of other scenarios, the result, invariably, is a considerable spread of what delegates would consider acceptable.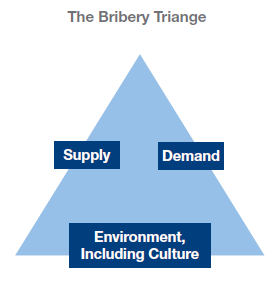 The "Bribery Triangle" (above) is a simple but effective representation of the bribery process, and shows the three primary elements of the "Bribery Equation"— the three elements that can be used to reduce or remove bribery.
This simple approach attempts to consider the three key drivers of bribery: supply of funds, goods, favors, services, and/or other incentives for bribery; demand for bribery; and the environment to support bribery, which clearly includes culture at both ends of the bribery equation (i.e., the bribe payer and receiver).
In the Sainsbury's supermarket bribery case, two directors at a potato supplier showered the supermarket's potato buyer with gifts and hospitality in return for lucrative contracts. The judge in the case said it was "very nearly as serious a case of corruption as I can imagine" that involved Sainsbury's being "bribed with its own money." The supermarket says the total amount it was overcharged was £8.7 million. The bribery came about because the potato supplier wanted to keep the Sainsbury's contract—45% of Sainsbury's potato contract worth about £40 million.
How was this bribery allowed to come about?