What you'll learn on this podcast episode
How does the largest global security and defense company, with 116,000 employees worldwide, ensure the highest standards for its ethics and compliance program? This is particularly challenging amid an environment of increased regulation, geopolitical conflict, and economic uncertainty. In this episode of the Principled Podcast, host Susan Divers explores this question with Jim Byrne, Lockheed Martin's vice president for ethics and business conduct. Listen in as the two discuss how Lockheed Martin uses "force multipliers" to empower employees to create an inclusive culture, own their ethical workplace, and act when something is amiss.
Where to stream
Be sure to subscribe to the Principled Podcast wherever you get your podcasts.
Guest: Jim Byrne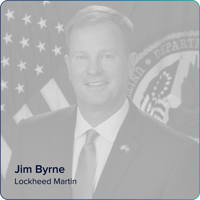 The Honorable James M. Byrne currently serves as Vice President, Ethics & Business Conduct, for Lockheed Martin Corporation. He is responsible for the strategic direction and operational excellence of Lockheed Martin's award-winning domestic and international ethics program and execution of the Corporation's compliance training across the enterprise. Jim is also on the Corporate Vice Presidents Contributions Committee of Lockheed Martin, established and authorized to review and approve large charitable contributions. Prior to rejoining Lockheed Martin, he served as the Deputy Secretary of the United States Department of Veterans Affairs (VA) where he led modernization initiatives and served as the chief operating officer of the federal government's second-largest Cabinet department, with some 385,000 employees in VA medical centers, clinics, benefits offices, national cemeteries, and other facilities throughout the country. Previously, Mr. Byrne served as VA's General Counsel, leading VA's nationwide team of nearly 800 attorneys, paralegals, and staff who support VA's mission and priorities by providing sound legal expertise, representation, and, as needed, critical problem-solving skills and risk-management advice to the Secretary and other senior VA leaders.
Before arriving at VA, Mr. Byrne served as Associate General Counsel and Chief Privacy Officer at Lockheed Martin Corporation. He also served for several years on the board of directors for Pacific Architects and Engineers (PAE) when it was a wholly owned subsidiary of Lockheed Martin. Prior to joining Lockheed Martin, Mr. Byrne served in the career Federal Senior Executive Service as Deputy Special Counsel with the Office of the United States Special Counsel, and as both the General Counsel and Assistant Inspector General for Investigations with the Office of the Special Inspector General for Iraq Reconstruction. Soon after the invasion of Iraq in 2003, Mr. Byrne was recalled to active duty for 18 months with the U.S. Marine Corps in support of the Global War on Terrorism. Lieutenant Colonel James Byrne was assigned as the Officer-in- charge of the Marine Liaison Office at the then-National Naval Medical Center in Bethesda, Maryland. Colonel Byrne led teams of Marines, stationed in DC-metro-area military hospitals and Aberdeen Proving Grounds, Maryland, who were responsible for supporting injured and deceased Marines, Sailors, and their families.
Mr. Byrne has over 25 years of experience in the public sector, including service as a forward deployed Marine Corps Infantry Officer and a U.S. Department of Justice international narcotics prosecutor. Mr. Byrne's professional honors include several DOJ awards and The Drug Enforcement Administration (DEA) Administrator's Award for Exceptional Service. He is also a recipient of the Secretary of Defense Medal for the Global War on Terrorism and several military decorations, including the Meritorious Service Medal.
Mr. Byrne also currently serves as a Proxy Holder – Outside Board Director for Rancher Government Solutions, a company that delivers secure and certified open source and cloud-native software for the United States Government adopting DevSecOps across the IT landscape. His past professional engagements include director and advisory board positions on several startup companies, and service on the U.S. Department of Homeland Security Data Privacy & Integrity Advisory Committee and the International Association of Privacy Professionals Board of Directors (Chairman). Jim is very active in his church and community and prioritizes mentoring veterans. He currently volunteers on the American Association of Suicidology Board of Directors, the Navy - Marine Corps Relief Society Advisory Board, Veterans Moving Forward Board of Directors, Maternal Mental Health Leadership Alliance Board of Directors, Victor Bravo Board of Directors and the Give an Hour Executive Board.
Mr. Byrne is a Secretary of the Navy Distinguished Midshipman Graduate of the U.S. Naval Academy, where he received an engineering degree and, ultimately, held the top leadership position of Brigade Commander. Mr. Byrne later earned his Juris Doctorate from Stetson University College of Law in St. Petersburg, Florida, where was awarded a public service fellowship. He started his legal career as a judicial law clerk to the Honorable Malcolm J. Howard, U.S. District Court, Eastern District of North Carolina.
Susan Divers is a senior advisor with LRN Corporation. In that capacity, Ms. Divers brings her 30+ years' accomplishments and experience in the ethics and compliance area to LRN partners and colleagues. This expertise includes building state-of-the-art compliance programs infused with values, designing user-friendly means of engaging and informing employees, fostering an embedded culture of compliance and substantial subject matter expertise in anti-corruption, export controls, sanctions, and other key areas of compliance.

Prior to joining LRN, Mrs. Divers served as AECOM's Assistant General for Global Ethics & Compliance and Chief Ethics & Compliance Officer. Under her leadership, AECOM's ethics and compliance program garnered six external awards in recognition of its effectiveness and Mrs. Divers' thought leadership in the ethics field. In 2011, Mrs. Divers received the AECOM CEO Award of Excellence, which recognized her work in advancing the company's ethics and compliance program.

Mrs. Divers' background includes more than thirty years' experience practicing law in these areas. Before joining AECOM, she worked at SAIC and Lockheed Martin in the international compliance area. Prior to that, she was a partner with the DC office of Sonnenschein, Nath & Rosenthal. She also spent four years in London and is qualified as a Solicitor to the High Court of England and Wales, practicing in the international arena with the law firms of Theodore Goddard & Co. and Herbert Smith & Co. She also served as an attorney in the Office of the Legal Advisor at the Department of State and was a member of the U.S. delegation to the UN working on the first anti-corruption multilateral treaty initiative.

Mrs. Divers is a member of the DC Bar and a graduate of Trinity College, Washington D.C. and of the National Law Center of George Washington University. In 2011, 2012, 2013 and 2014 Ethisphere Magazine listed her as one the "Attorneys Who Matter" in the ethics & compliance area. She is a member of the Advisory Boards of the Rutgers University Center for Ethical Behavior and served as a member of the Board of Directors for the Institute for Practical Training from 2005-2008.

She resides in Northern Virginia and is a frequent speaker, writer and commentator on ethics and compliance topics. Mrs. Divers' most recent publication is "Balancing Best Practices and Reality in Compliance," published by Compliance Week in February 2015. In her spare time, she mentors veteran and university students and enjoys outdoor activities.
Principled Podcast transcription
Intro: Welcome to the Principled Podcast brought to you by LRN. The Principled Podcast brings together the collective wisdom on ethics, business and compliance, transformative stories of leadership and inspiring workplace culture. Listen in to discover valuable strategies from our community of business leaders and workplace change makers.
Susan Divers: How does the largest global security and defense company, with 116,000 employees worldwide, ensure the highest standards in its ethics and compliance program? This is a particular challenge with the war in Ukraine that's resulted in more sanctions, tightened, export controls, and other regulatory challenges. It's also a very important topic, given that until the mid -'70s, the US defense industry had a series of scandals that caused a loss of confidence on the part of regulators, and resulted in questionable practices. But the good news is, what emerged was a defense industry committed to the highest ethical standards. Lockheed Martin is a good example of that as the largest American global security and aerospace company, with, as I mentioned, 116,000 employees worldwide, and $66 billion in revenue last year. It has 395 facilities worldwide, and more than 13,000 suppliers, and the company operates in 78 countries. Managing Lockheed's compliance risks effectively is essential to its success, and the task of its ethics and compliance program.
Also, creating an inclusive and inspirational ethical culture is critical. So hello and welcome to another episode of LRN's Principled Podcast. I'm your host, Susan Divers, Director of Thought Leadership and Best Practices at LRN Corporation, and today I'm joined by Jim Byrne, Lockheed's Vice President for Ethics and Business Conduct. Jim is a Veteran Marine and a former federal prosecutor with a background that also includes working in Lockheed Martin's legal department for nine years, and recently serving as the Deputy Secretary of the Department of Veterans Affairs. Jim returned to Lockheed Martin, and assumed the ethics and compliance role in November 2021. Jim, thanks for your service and thanks for coming on Principled Podcast.
Jim Byrne: Thank you for having me, Susan. I'm looking forward to it.
Susan Divers: Jim, let's jump right in. You play a critical role in a very large prominent company in the global security and aerospace industry, and one of the ways you've tackled that role in the last year and a half is to think about certain ethics and compliance program elements as force multipliers. Can you tell us what you mean by that, and how it works in practice?
Jim Byrne: Sure. All ethics and compliance programs have a code of conduct, and some degree of ethics and compliance training, but one of the most challenging aspects of developing and sustaining an effective ethics and compliance program is discovering how other different program elements complement each other to expand your program, and establish a more positive, inclusive culture, which is the main goal. Like tackling a giant jigsaw puzzle, building an effective ethics and compliance program requires thoughtful observation, patience, trial and error, and a willingness to try new combinations. Our military defines force multiplier as a capability that, when added and employed by a combat force, significantly increases the combat potential of that force, and thus enhances the probability of mission accomplishment. In the context of a corporation, multiple elements of an ethics and compliance program work together to become force multipliers, and maintain a strong, ethical work environment.
Susan Divers: That makes sense. Turning to one of the perennial debates in the ethics and compliance community, the issue of rules and values, for a long time, the prevailing theory seemed to be that more rules were the solution to every challenge, risk, or compliance failure. How do you see that question in terms of your approach?
Jim Byrne: So what began at Lockheed Martin in 1995, when the corporation was formed, was largely a compliance-based ethics program to prevent and detect criminal conduct and identify waste, fraud, and abuse. It has matured a lot since then, into a richer value-based program that empowers employees to own their ethical workplace, and act when something is amiss. A robust program goes beyond compliance-based initiatives, and incorporates a values-based mission.
Susan Divers: Let's look at the individual elements of your program that you see as those critical force multipliers, and let's start with the role of values and talk about how you use those in your program, if we can.
Jim Byrne: Sure. Core values and beliefs demonstrate a shared purpose. They're critical common strengths in a strong culture. Starting with leadership, a company's values form the basis for establishing behavioral expectations, and compliance requirements. A positive, diverse, open and inclusive work environment starts with a culture where employees can ask questions, or report potential violations transparently, and without fear of retaliation. This is only achieved with buy-in and commitment from every single leader and every single employee. Our core values at Lockheed Martin do what's right, respect others, and perform with excellence, are easy to understand, and have proven to be quite memorable for our employees.
Susan Divers: That's impressive, particularly in such a big, diverse company. What about the role of ethics professionals? What are their qualifications, what's their function, and how much autonomy do they have?
Jim Byrne: So our full-time professional ethics officers with diverse backgrounds and professional certifications are really well equipped to actively engage with employees and leaders. Ethics officers succeed when they establish a reputation of independence and confidentiality. Ethics officers should be subject matter experts regarding the organization's code of conduct, policies and investigative techniques. This provides a level of confidence to those seeking assistance. An ethics office which reports directly to the CEO and board of directors, and not under any functional department like legal or HR, contributes to the function's autonomy and objectivity.
Susan Divers: That also is a best practice. Tell me now about radical transparency. I understand that you use sanitized summaries, when misconduct takes place, as teaching aids, and I understand that you use surveys going beyond the typical annual employee survey, and you also use sustainability report data to really understand what's going on. If you could explain about that, that would be very helpful.
Jim Byrne: Sure. Yes, we do, and we're actually very proud of how the return on investment has been demonstrated with this. A mature ethics program shares data metrics and even anonymized investigative scenarios internally and externally, without compromising the confidentiality of reporting parties or subjects. So for example, our annual sustainability report includes ethics program data in the ethical governance and leadership section. This includes ethics investigation feedback survey scores from the reporting parties, and from the subjects, which is very unique. All employee surveys offer invaluable insights into how employees respond when observing behaviors that could involve misconduct. Survey questions can entail asking employees what barriers might prevent them from reporting misconduct, including fear of retaliation or a concern that nothing will come from their report. Surveys can also ask employees whom they're most likely to report any concerns.
Susan Divers: I understand that you also have, somewhat unusually, an internally staffed hotline. How does that work, and what are the pros and cons that you've seen of an internally staffed hotline versus one that's outsourced, and what's the impact on anonymous reporting?
Jim Byrne: Right. Thank you for that question. So the ethics office may have only one opportunity to engage with the reporting party about information that the reporting party wants to provide. To ensure a productive discussion, consider hosting an internally staffed helpline, in which employees are connected to an internal career ethics professional, or another company resource, broadly advertising your helpline, and reassure potential callers that they can remain anonymous if they prefer. So your question, what possible results come from an internally hosted helpline? Well, for us, we've seen an anonymous reporting rate well below 10%. This may well be the outcome of employees reaching a knowledgeable ethics officer, who understands the company's business and culture, and confidentiality. Talking to someone who understands their work environment fosters a sense of trust, and encourages them to speak up if they see something amiss or have a question.
Susan Divers: Well, that certainly makes your hotline much more effective. What about outreach to suppliers, stakeholders, and the community? How do you handle that?
Jim Byrne: Sure. A strong ethics team reaches beyond even the immediate employee population. It is just as essential to be outward facing, actively engaged with their global supply chain, academic partners, industry groups, and local communities, to share best practices and insights. So giving back in the form of supplier mentoring programs or academic engagement activities has never been more important and reaps significant dividends for all stakeholders. An ethical supply chain and pipeline of young ethical talent join to sustain and grow our operations. The sixth annual Ethics and Engineering Case Competition was recently hosted by the Lockheed Martin Ethics and Business Conduct team on February 28th and March 1st at our corporate headquarters in Bethesda, Maryland. This is a key event for Lockheed Martin to highlight business ethics in engineering and technology oriented scenarios. Future ethical engineers are critical to our company and our national security, and contributing to the ethical development of the future workforce and strengthening our academic partnerships is a core objective of the ethics and business conduct program here at Lockheed Martin.
Susan Divers: Well, that's a very enlightened view, and really aimed at building a sustainable community of people who are ethics minded. But before we run out of time, can you provide me with some advice for E&C professionals who may be listening, who are thinking about taking on a new role leading a program? How do you set your priorities and establish credibility at the outset, and what's the most important factors for success?
Jim Byrne: So I'm going to give a little plug for the Defense Industry Initiative, the DII6 principles, because I think that's always a very safe place to start. And those principles include having and adhering to written codes of conduct, training employees in those codes, encourage internal reporting of violations of the codes, within an atmosphere free of retribution. Practice self-governance through the implementation of systems to monitor compliance with federal procurement laws, and the adoption of procedures for voluntary disclosures of violations to the appropriate authorities. Also, share with other firms the best practices in implementing the principles, and particularly best practices formed at the DII, where we participate, and then be accountable to the public.
To reiterate what I talked about earlier, successful ethics and compliance programs have multiple program elements working synergistically. A robust program goes beyond compliance-based initiatives and incorporates a values-based mission. Employee and investigations feedback surveys provide important actionable data. An internal helpline can enhance the ethics and compliance program and foster trust, and external engagement, such as supply chain mentoring and academic partnerships discussed earlier, can sustain and grow your program. But the most important measure of success, which is part of your question, is when a speak up culture exists across an organization. A speak up culture is a healthy workplace where employees do not fear retaliation for bringing forward issues and concerns.
Susan Divers: Jim, thank you for providing us with that picture of your program, and how you're using force multipliers to really impact behavior in the workplace. It's a very impressive picture, and one that I think inspires confidence that Lockheed is meeting the compliance and ethics challenges that it faces. So clearly this is a conversation we could be having all day, but we're out of time for now. So Jim, thank you for joining me on this episode.
Jim Byrne: Thank you.
Susan Divers: My name is Susan Divers, and I want to thank you all for listening to the Principled Podcast by LRN.
Outro: We hope you enjoyed this episode. The Principled Podcast is brought to you by LRN. At LRN, our mission is to inspire principle performance in global organizations by helping them foster winning ethical cultures, rooted in sustainable values. Please visit us at LRN.com to learn more. And if you enjoyed this episode, subscribe to our podcast on Apple Podcasts, Stitcher, Google Podcasts, or wherever you listen. And don't forget to leave us a review.
Be sure to subscribe to the Principled Podcast wherever you get your podcasts.