What you'll learn on this podcast episode
Stories of compliance failures aren't strangers to news outlets or entertainment networks. But while the circumstances can make for great media headlines, what is arguably more interesting is watching how those companies respond. In this episode of the Principled Podcast, host Emily Miner is joined by Carlos Villagrán Muñoz, Gerente de Compliance (Director of Compliance) at CMPC. Listen in as the two discuss how, over the past decade, CMPC has sought to not just recover from a significant compliance failure, but rebuild—stronger—by focusing on ethics, culture, and values.
To learn more, download the 2022 E&C Program Effectiveness Report.
Guest:
Carlos Villagrán Muñoz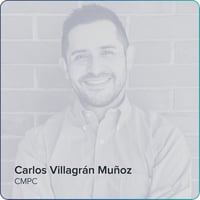 Carlos Villagrán is a Chilean attorney who graduated from the Pontificia Universidad Católica de Chile with a Master of Laws (LLM) degree from Georgetown University (US). He currently serves as Director of Compliance of CMPC, a 100 years old Chilean-based holding, one of the worldwide leading manufacturers of pulp, paper, packaging, personal care, and other forest products. With more than 19,000 employees, CMPC has industrial operations in 8 countries (LatAm) as well as commercial offices in the US, Europe, and China, selling and distributing its products to more than 45 countries around the world.
He has previously served as Compliance Officer for the Chilean operations of Liberty Mutual Insurance and Mitsubishi UFJ Financial Group, as well as Legal Intern at the World Bank's Integrity Compliance Office.
Emily Miner is a Senior Advisor in LRN's Ethics & Compliance Advisory practice. She counsels executive leadership teams on how to actively shape and manage their ethical culture through deep quantitative and qualitative understanding and engagement. A skilled facilitator, Emily emphasizes co-creative, bottom-up, and data-driven approaches to foster ethical behavior and inform program strategy. Emily has led engagements with organizations in the healthcare, technology, manufacturing, energy, professional services, and education industries. Emily co-leads LRN's ongoing flagship research on E&C program effectiveness and is a thought leader in the areas of organizational culture, leadership, and E&C program impact. Prior to joining LRN, Emily applied her behavioral science expertise in the environmental sustainability sector, working with non-profits and several New England municipalities; facilitated earth science research in academia; and contributed to drafting and advancing international climate policy goals. Emily has a Master of Public Administration in Environmental Science and Policy from Columbia University and graduated summa cum laude from the University of Florida with a degree in Anthropology.
Be sure to subscribe to the Principled Podcast wherever you get your podcasts.