What you'll learn on this podcast episode
Can we make diversity matter to everyone? If so, how can we overcome resistance to dealing with tough topics like racism and gender equality and really change people's behavior? In this episode of the Principled Podcast, host Jen Uner talks with Senior Instructional Designer Felicity Duncan about a new LRN learning model and how it can drive behavior change to support diversity, equity, and inclusion initiatives. Listen in as the two discuss effective DEI training as well as Felicity's recent work on the new LRN DEI Program, a comprehensive learning campaign that includes a range of essential microlearning assets.
LRN's DEI Program provides companies with a multi-faceted training solution—a ready-to-deploy learning campaign with curriculums, asset packs, and customizable courses, plus the option to add bespoke content, learner experiences, and communications campaigns developed in association with LRN's E&C experts. You can preview some of our most popular course content (just one piece of this program!) by clicking here.
Guest: Felicity Duncan, Ph.D.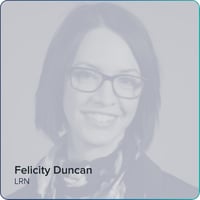 Dr. Felicity Duncan, Senior instructional designer, believes that training and communication interventions have the power to transform behavior, including driving people toward more ethical treatment of those around them.
Felicity graduated with a Ph.D. in Communication from the University of Pennsylvania. After teaching at the college level for several years, she transitioned to workplace education to have a bigger impact on working adults by providing them with the training they need to truly thrive in their roles. At LRN, she is focused on developing high-impact, behaviorally focused content for the LRN Library. Her most recent project saw her working with the Library team to create a powerful new DEI Program that includes not only LRN's world-class Inspire courses but also a set of microlearning assets designed to support, reinforce, and guide behavior change.
Jen Uner is the Strategic Communications Director for LRN, where she captains programs for both internal and external audiences. She has an insatiable curiosity and an overdeveloped sense of right and wrong which she challenges each day through her study of ethics, compliance, and the value of values-based behavior in corporate governance. Prior to joining LRN, Jen led marketing communications for innovative technology companies operating in Europe and the US, and for media and marketplaces in California. She has won recognition for her work in brand development and experiential design, earned placements in leading news publications, and hosted a closing bell ceremony of the NASDAQ in honor of the California fashion industry as founder of the LA Fashion Awards. Jen holds a B.A. degree from Claremont McKenna College.
Where to stream
Be sure to subscribe to the Principled Podcast wherever you get your podcasts.