What you'll learn on this podcast episode
The world of data privacy and protection continues to evolve at a rapid pace. From the growing number of US states adopting privacy laws to the growing list of rulings under GDPR, the EU's General Data Protection Regulation, it's a lot to keep track of. What can organizations do better to adapt to these regulatory shifts and adopt a greater culture of privacy? In this episode of LRN's Principled Podcast, host Aitken Thompson talks with Andrew Lachman, the head of legal and data protection officer at Contentstack, about data privacy and protection and how to create a privacy culture in the modern workplace.
Learn how you can get involved in today's conversations around data privacy and protection with these organizations mentioned:
Guest: Andrew Lachman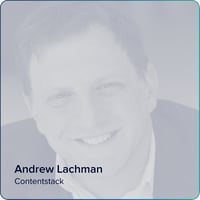 Andrew Lachman has nearly 19 years of experience in privacy space, having founded the privacy practices committee at Move.com and co-founding the Congressional Tech Staff Association while Legislative Director for Congressman Ted Lieu who represents most of the Silicon Beach area. He is currently Head of Legal and Data Protection Officer for Contentstack after running his own firm for a number of years working with startups and growing companies. Andrew is a co-founder and chair of the LA County Bar Association's Privacy and Cybersecurity Section, a member of TechGC, the California Lawyers Association Privacy Section and has been a member of the International Association of Privacy Professionals since 2007 when he received is Certified Information Privacy Professional certification.
After starting his legal career at Kirkland & Ellis, Aitken became interested in the then-nascent field of educational technology. He left law firm life and co-founded Thompson Educational Consultants and, subsequently, Taskstream, LLC. Taskstream quickly became a leading company in assessment and accreditation for higher education. Aitken served as Chief Operating Officer, leading the legal, human resources and finance functions of the business. Beginning in 2016, Taskstream underwent a rapid expansion, merging with five other ed-tech companies in a span on 18 months and, in the process, becoming Watermark, LLC, and creating the "Educational Information System" category of ed-tech. During this period, Aitken's legal and HR focus expanded to encompass private equity investment and the transition between primary sponsors, cultural and process integration amongst the various merged entities, and the management and harmonization of legacy client and vendor contracts.
Be sure to subscribe to the Principled Podcast wherever you get your podcasts.