What you'll learn on this podcast episode
A code of conduct is your organization's character and culture written down. It articulates who you are, what you believe, and why you are in business. It also provides a reference for all stakeholders. A reference into what your organization values, and how you live those values. But how do you design and implement a code that communicates effectively? What does "good" look like when it comes to codes of conduct? In this episode of the Principled Podcast, host Jen Uner speaks with Senior E&C Advisor Jim Walton about LRN's new Code of Conduct Report, which presents a set of best practices in code design and implementation. Listen in as the two unpack the report's insights from nearly 150 codes of conduct deployed by companies around the world.
Get a free copy of the 2022 LRN Code of Conduct Report today.
Guest: Jim Walton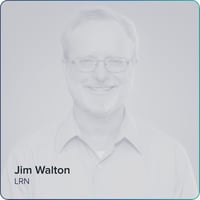 Jim Walton is a member of LRN's Ethics & Compliance Advisory Services Team – with over 25 years of professional experience in corporate, institutional and government settings, spanning the fields of ethics and compliance; environment, health and safety; and energy management.
Since 2002, Jim has been passionately dedicated to corporate ethics and compliance – designing, developing, implementing and enhancing constantly-evolving, comprehensive, best-in-class, global ethics and compliance programs. Jim has extensive experience in writing, producing and communicating codes of conduct and corporate policies; designing, managing and implementing ethics & compliance risk assessments; implementing anti-compliance and bribery initiatives; conducting third-party due diligence reviews; and helping managers at all levels become better ethical leaders.
Jim is a Certified Compliance and Ethics Professional.
Jen Uner is the Strategic Communications Director for LRN, where she captains programs for both internal and external audiences. She has an insatiable curiosity and an overdeveloped sense of right and wrong which she challenges each day through her study of ethics, compliance, and the value of values-based behavior in corporate governance. Prior to joining LRN, Jen led marketing communications for innovative technology companies operating in Europe and the US, and for media and marketplaces in California. She has won recognition for her work in brand development and experiential design, earned placements in leading news publications, and hosted a closing bell ceremony of the NASDAQ in honor of the California fashion industry as founder of the LA Fashion Awards. Jen holds a B.A. degree from Claremont McKenna College.
Be sure to subscribe to the Principled Podcast wherever you get your podcasts.