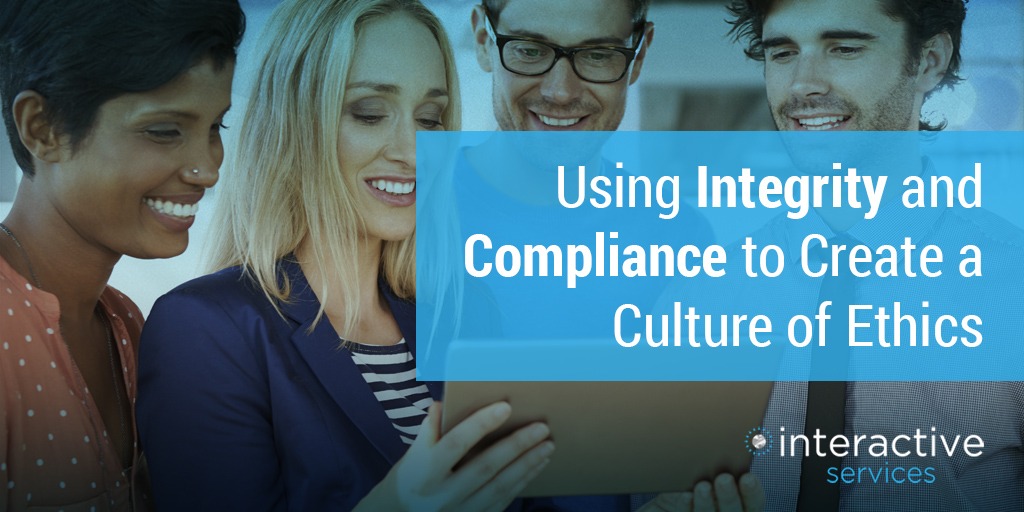 Creating a culture of ethics is essential in the modern business world. The customer and stakeholder relationship depends on being perceived as having integrity and operating in an ethical manner. There is no hiding in today's world, not when every infraction and mistake is broadcast by the instantaneous news cycle or on social media.
In order to create a culture of ethics that is desired, a company must purposely set out to shape it. Creating an effective compliance program is at the core of building a culture of ethics, and it allows the company to detect areas of concern and find ways to correct and prevent them. The ideal form for a compliance program in any industry is one that uses a blend of integrity and compliance-based culture of ethics.
There are six key steps to using integrity and compliance to create a company culture of ethics.
Companies need to prioritize these items to best suit the needs of the company and the level of problems that are being faced.
#1 Standards and Procedures Must be Properly Outlined
A code of conduct is crucial to all companies, and it must apply to all employees, no matter the tier. It should also apply to contract labor or any other person who does work on behalf of the company. This code of conduct should outline the desired culture of ethics within the company, and it should spell out the ethical expectations of compliance and integrity. It will be one of the most important methods of communicating the expectations and show the commitment the executive management team has to see them met. The code of conduct should include the company mission statement, the goals of the company, and the values of the company. It should also spell out the compliance standards, and the penalties for not adhering to them. Employees should declare an understanding of this code in writing.
#2 Conduct Effective Training Programs
Employees and contracted staff members should be expected to attend compliance training programs on a periodic basis. These programs communicate the ethical standards expected by the company, and they reinforce the importance of those standards. In addition, they also keep businesses in compliance with legal obligations to provide such training. The legal requirement shouldn't be the only reason that the compliance training is offered, however, because these types of training programs can actually help change behaviors and go a long way towards prevention of non-compliance. A risk assessment may be needed to better customize the training plan to the needs of the business as each risk area should be discussed in detail. Talk to us about or Workplace Ethics Programs.
#3 Create a Culture of Communication
Companies that wish to create a strong culture of communication will need to provide safe ways for employees to report any known or suspected violations. There cannot be any fear of retaliation as that is the number one reason that employees do not report issues. There should be an open-door reporting policy put in place with team members reporting to their immediate supervisors. Plus, there should also be an open line of communication between the employees and the compliance officer or compliance committee. Companies should also create an anonymous route to reporting. This is generally done with a toll-free line or website reporting system. However, it is important to ensure that any anonymous reporting method aligns with local laws.
In order to build confidence in the reporting methods, companies should release anonymized reports regarding issues that have already been addressed. This works two-fold. It reminds employees of what constitutes unacceptable behavior and it also shows team members how reports are handled.
#4 Keep Reports of Violations Centrally
There should be a central database where all reports are entered. The database should include verbal or written reports as well as those that come from the helpline and the internet program. There are plenty of data collection and management systems that can be applied. Keeping all this information in a central location allows for analysis and allows the compliance officer and the board to track trends. It can help pinpoint problem areas and provide answers on where additional training may be needed.
#5 Be Consistent in the Response to Alleged Violations
It is never okay to ignore or discount a report of misconduct. These reports should be investigated in a timely manner, and it should be stressed to the compliance officer the acceptable timeframe for a response to occur. The employee that reported the violation or misconduct should be kept updated about the progress of the report. While it is acceptable to triage a report and handle the most serious first. Some reports may only require intervention from management or the compliance officer, but other reports may require an internal or even an external investigation. All reports should be handled according to the protocols set forth in the company code of ethics.
#6 Monitor Constantly, Adapt as Needed
Monitoring for violations is a crucial part of the compliance program. The compliance officer or committee will need to monitor for potential violations of standards of conduct, company policies, or even local and federal laws. All problem areas should be identified, and processes should be put in place to improve them. The board and the upper tiers of management should audit and do risk assessments on at least an annual level.
Improvements to the compliance training may need to be made, and problem areas may need to be addressed. The board should release the results of the audit to the compliance officer or compliance committee. They should be brought on board to help implement the improvement strategies needed to combat the results.
About the Author

Ethics and compliance leader providing tools, education, and advisory services for global companies to inspire principled performance. LRN's overall approach recognizes the inherent limitations of rules and regulations in influencing behaviors. In our view, focusing on actions that help build and maintain a values-based culture will mean more compliance and reduced costs as a result of tangible and sustainable behavioral change.

More Content by LRN Corporation