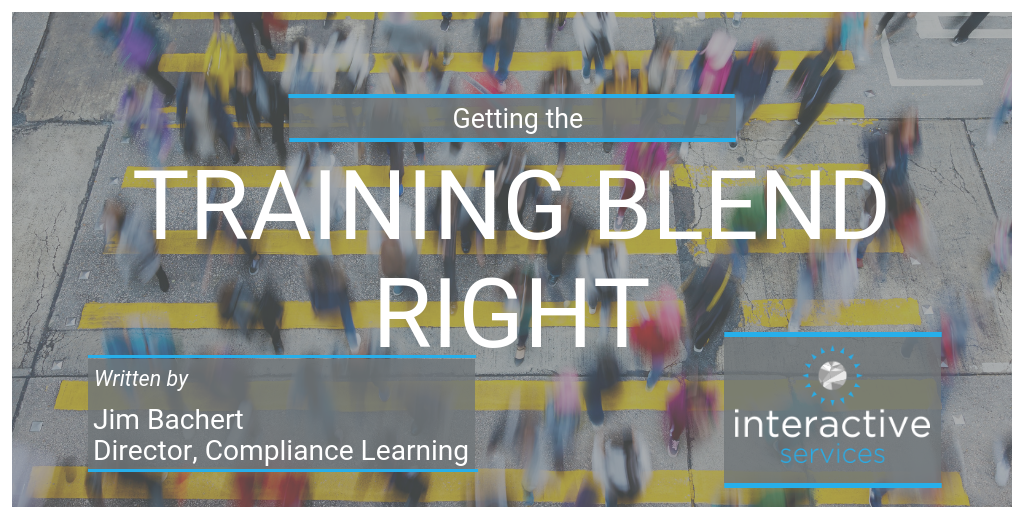 Your learning and development team has been tasked with designing an organization-wide global compliance training rollout. Since you are looking for a solution that's available to all employees worldwide and is easy to track and monitor, you've decided to go with e-learning.
Given the global reach required, this is certainly the best choice – right? Not so fast. It might meet your efficiency and tracking requirements, but it may not be the only solution. While e-learning is a great foundation, research has shown that using a blend of learning methods – both online and offline – is far more effective in delivering personalized and more relevant learning experiences.
Before you jump into designing and developing, you should:
Identify existing risks by geography, role, level, etc., and map training and communication efforts to them.
Identify demographics and account for cultural needs, such as a relatable learning approach important for reinforcing key topics.
Use the Learning Management System to assess risk but consider other interventions when looking at solutions. In other words, don't assume e-learning is the most effective or sole solution.
Most likely you will conclude that a blended approach is best to meet diverse cultural and demographic needs. In order for it to be effective, blended learning must be planned, curated, paced, and evaluated. Imagine preparing a smoothie and just tossing random ingredients into the blender without thought or measurement? You'll be left with a drink that doesn't deliver on either taste or nutritional value. It is the same for your blended learning approach; all aspects of the training from the design and development, through the delivery and evaluation should be carefully planned, considered, and structured so that all learners get the best out of the learning experience.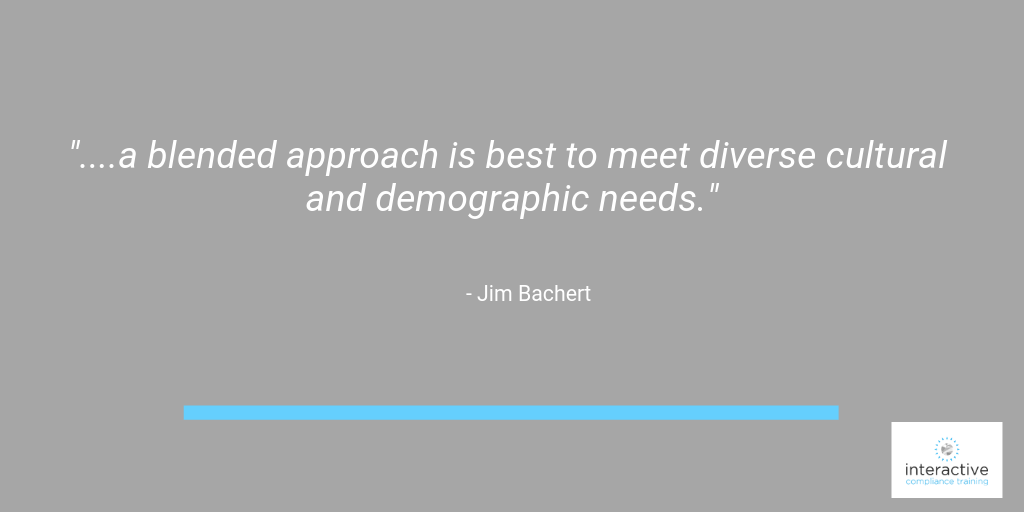 Customize Content for Location and Role
Compliance training must account for individual employees and their unique environment and situation. An associate in Manila has different needs than a manager in São Paulo. You must consider the variability of different areas and compliance training resources for local market regulation. So, whether employees are in the Philippines, Brazil, or the US, they will have an experience tailored to their specific region and needs. Compliance training must have subtle, nuanced differences from country to country. Because your training team may not be familiar with these differences, you will likely need to consult and engage colleagues from all regions in which the training will be delivered.
Choosing the Right Mix of Modalities
Blended learning offers learners the convenience and benefits of self-paced learning, the engagement of relatable learning, and the wisdom and mentoring of experts. When poorly planned, blended learning programs can feel disorganized, annoy learners, and waste valuable time. For example, if instructor-led training doesn't capitalize on collective learning opportunities but instead employs a "talking head" approach, this squandered opportunity will leave learners feeling empty-handed in terms of building new behaviors and skills. They may return to work with some new knowledge, but they won't know how to apply what they've learned, and they probably won't retain it for very long. When learners need to perform tasks, focus your delivery modalities on those that foster application, including e-learning, highly interactive instructor-led training, shadowing, and coaching/mentoring.
Designing an effective blended learning initiative means choosing the right mix of modalities. To determine the delivery mechanism for the content, you should separate knowledge from behavior. For each topic, ask if the learners need to behave, act, or perform something, or if they need to acquire and retain knowledge. Then you will select delivery modes that fit the knowledge acquisition and the application components.
As you are selecting the perfect delivery modalities for your initiative, how do you combine them to create the right blend? Start by asking: what does compliance success look like? What compliance processes are you trying to improve or establish? What compliance attitudes and behaviors are you trying to foster? Then, drill down further by asking: What does success look like after one month, one quarter, one year? The answers to these questions will offer you an insight into how to craft the right blend.
Selecting from a Menu of Instructional Strategies
What menus of instructional strategies are available for your initiative? Select from a menu of virtual team collaboration, problem-solving, self-paced learning, case studies, scenario-based learning, simulations or gaming, coaching and mentoring, lecturing, guided learning, exploratory discussions, debates and/or role-playing. You can include online learning tools like podcasts, e-books, webcasts, videos, and games.
If a global instructor-led training (ILT) rollout is deemed necessary but not practical, consider designing highly interactive virtual ILT sessions with polling, whiteboards, and breakout sessions to keep learners on their toes. You can also create an asynchronous webinar paired with scenario-based e-learning modules. These approaches will enable your organization to reach on-site and remote employees and offices around the world.
If you opt for e-learning, help learners apply knowledge and skills by designing scenario-based learning experiences that give them the opportunity to try out something new and succeed or fail in a safe environment. Build in real-world consequences so they can clearly see and feel the outcomes of success and failure.
Keep in mind that whatever blend of learning you select, it needs to be significant, motivational, and measurable. Learner engagement can lag from the outset of a blended learning program because learners often don't understand the rationale behind the training. You must motivate them to engage with the content and with each other. They need to see that all training components can help them succeed in their jobs. As with any successful training initiative, creating a robust plan, developing compelling content, and constantly engaging your learners will help ensure success.