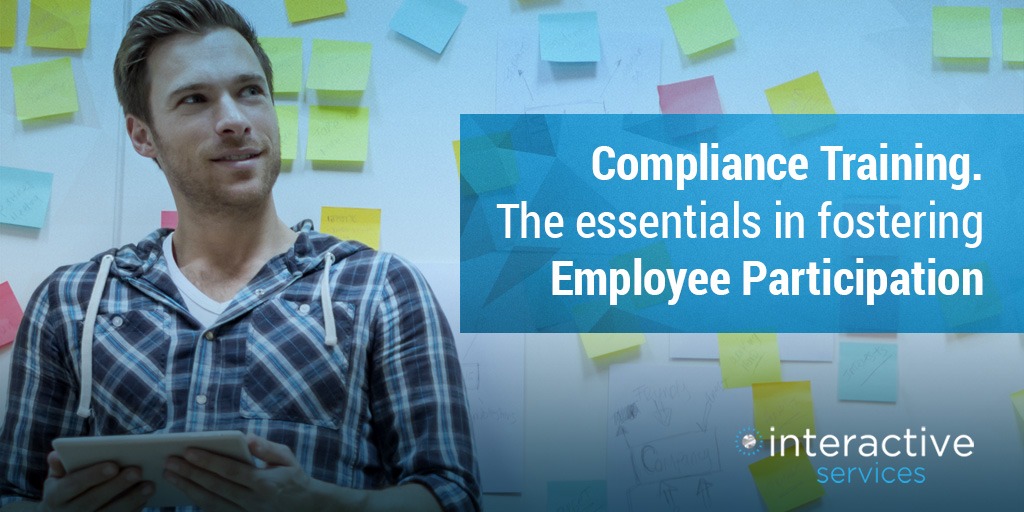 In this post, we discuss how to organise compliance e-learning and foster employee participation in employee compliance training. If you are responsible for training in the workplace, read on for tips and timesaving suggestions.
Understand the why
In many work environments, employee compliance training is an annual requirement. In all businesses, it is important. Wide in scope, compliance encompasses areas such as codes of conduct, confidentiality, conflicts of interest, gifts and benefits as well as the ubiquitous Health and Safety regulations. That's a lot! So how can busy, time-pressed managers be sure that employees buy into the need for employee compliance training and workplace procedures which comply with the law?
Providing access to quality, credible and widely respected training courses forms a major part of the solution. Understanding the reasons behind training serves to increase learner motivation. It is, therefore, a good idea to advise employees why such courses are important, as well as what knowledge they will acquire. Communicating in this way fosters the perception that employee compliance training is worthwhile.
Last but not least, the employee compliance training ought to be interesting and targeted to their needs – not dry, boring or repetitious.
Topics for Employee Compliance Training
Modern compliance course catalogues often list an overwhelming number of compliance titles. The good news is that it's now possible to mix and match topics to suit regulations and staff across the globe. Topics you might want to mix and match include:
Anti-harassment.
Discrimination.
GDPR (the General Data Protection Regulation).
Financial compliance.
Business Ethics.
Competition Law.
Anti-harassment and Discrimination
In a world of choice and diversity, harassment constitutes hostile behaviour because of whom someone is – whether initiated by employers, co-workers, client or members of the public. Over the past few years, most countries have introduced legislation that penalises non-compliance.
Because actions, spoken words, written messages and social media posts could convey discrimination or harassment, even inadvertently, employers should have a policy that is clear and easy to understand. It should be designed to deal with harassment quickly. In today's inclusive work environments, insensitivity and ignorance is not an excuse. Sexual Harassment training is now mandatory in many US states.
Health and Safety
Clearly, of prime importance in the workplace, health and safety awareness dictates that we all have a necessary role in minimising risk, avoiding hazards and reporting accidents. Following the suggestions and recommendations in Health & Safety Executive guidance will help prevent or minimise problems, injuries and work-related strain, along with the possible financial costs and inconvenience of legal action.
Notably, workplace safety compliance depends on:
Setting out standard working practices and rules to minimise hazards.
Understanding and co-operation with risk management principles.
Analysis of accidents, incidents and near misses.
Continuous improvement.
Financial Compliance
Long subject to regulation, financial sector activities ranges from advisory services to insurance, banking and investment management. Compliance training courses for financial service providers include FCA (Financial Conduct Authority) rules and regulations. Other titles cover the Senior Managers & Certification Regime (SM&CR), extended to apply to investment firms from December 2019. These new regimes will see a marked increase in the number of employees subject to regulatory obligations while making senior managers fully accountable.
Similarly, other financial compliance topics cover risk management and anti-money laundering (AML) rules. The European Commission published a directive covering the exchange of information to reduce tax evasion, improve financial transparency and monitor cross-border sales and your Compliance Programs should address these topics if applicable to your organization.
The Benefits of Compliance Training for Your Company
Companies with effective compliance policies tend to have a high brand reputation, higher rates of staff retention and better overall performance than their unprepared competitors. With local market support, excellent communication and a learning interface that is intuitive to navigate, your organisation will benefit from having an effective, world-class compliance programme in place.
Here at Interactive Services, our courses are easy to customise, so they suit your organisational look and match your corporate values. Within your company, good communication will help to reinforce regulatory compliance and boost integrity. With this in mind, our training uses examples of corporate policies and procedures that should be in place, as well as the need for initial and ongoing staff training.
Why Online Compliance Courses?
Online training now plays a significant part in lifelong learning provision. Ideal for motivated students, it offers variety and instant access to the latest course material with self-paced, on-demand lessons. Additionally, our courses are available in multiple languages and come with guaranteed LMS integration, so they work well with leading learning management systems.
When you use a modern, reliable online platform, it is much more convenient to learn at the time and in the location of your choice. Online training saves time and travel costs while enabling you to progress at your ideal pace. In addition to the desktop, laptop and tablet PC interface, as is common in the edtech (educational technology) field, mobile learning is also possible. Thanks to innovative smartphone applications, it is now possible to read and listen to courses during commutes, unexpected delays and free periods.
Delivery of training material online forms part of encouraging a positive compliance culture. This nurturing also applies throughout company values, beliefs, attitudes and assumptions.
Course Content
Compliance course content includes video presentations, text modules and interactive quizzes. Mastery of modules and stages is the key to success. Interactive Services courses follow the three Rs principle to engage and challenge learners while boosting their learning:
Relevant content.
Realistic Scenarios.
Rich media.
Written by experts in the field of compliance, course materials also cover topics such as integrity and ethics. Customisable training modules include sexual harassment to comply with UK law or, where applicable, US legislation with variations for the states of California and New York.
Compliance Solutions for Global Business
With us, companies can count on an extensive course list, designed to meet the significant training requirement and challenges which today's employees face. Based on two decades of producing global learning solutions, our experts in educational systems design and build award-winning learning solutions. We invite you to join our global client base with more than three million registered learners, focussed on results and successful outcomes. Additionally, we guarantee your satisfaction with a seven-day free trial of your selected course.
Next Steps
If you are a company training officer, HR consultant or manager and would like further details of how our specialists at Interactive Services can work for your organisation, we invite you to call us or contact us here. Rely on us for compliance e-learning programmes of the highest standard, always kept up to date with continually changing work environments and regulations. We will be delighted to help.