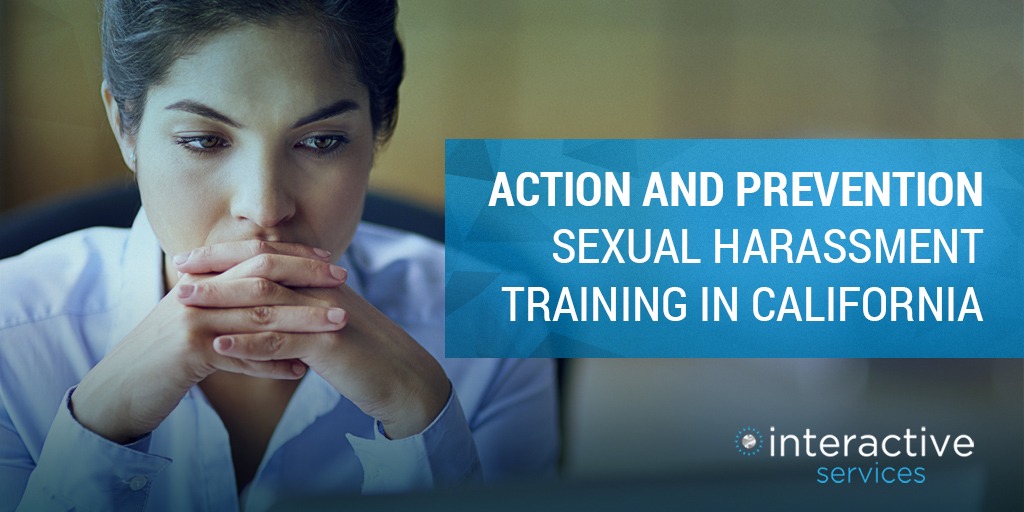 In 2015, correctional officer Sophia Curry received a $1.6 million settlement from the State of California after an inmate at California State Prison in Folsom attacked her, despite Curry having previously reported the inmate for sexual harassment. Supervisors failed to handle the situation, asking her to patrol the unit without a partner when the attack occurred.
Despite California's laws requiring that supervisors receive sexual harassment training — and new legislation requiring that all employees of organizations with more than 50 employees receive this training — many private, public, and government organizations fail to comply, resulting in sometimes catastrophic consequences. According to a survey conducted by the State Personnel Board, 60 percent of agencies failed to provide adequate sexual harassment training to their employees in 2018 — meaning thousands of supervisors were not sufficiently trained in these important requirements.
The introduction of the new laws in 2018, outlined in further detail below, underscores the importance of prioritizing sexual harassment training in all organizations. The safety of your employees and the reputation and integrity of your business are at risk.
Why sexual harassment training is essential for your organization
The Me Too movement shed light on the pervasive problem of sexual harassment throughout the United States and beyond. While not exclusive to the workplace, the issue prompted employers and the government to take a closer look at their policies and laws, as evidenced by California's rethinking of its previous laws concerning sexual harassment in the workplace.
The most important consequence of the failure to provide adequate sexual harassment training to your employees is, of course, potential safety concerns. When your employees are ignorant of what constitutes sexual harassment, why boundaries are essential, and what kinds of repercussions they could face if they violate these policies — and supervisors are unaware of their role in these cases — everyone in your organization is at risk.
As evidenced by the State Personel Board's findings, failure to comply with sexual harassment training laws is an enormous issue in state agencies in particular. And the consequences extend beyond employee harm: when these organizations fail to provide proper training and protections for employees, they face complaints and often lawsuits initiated by victims.
Curry's lawsuit is just one example of the lawsuits California has faced in recent years. Many state agencies have settled with victims, with the Department of Corrections paying more than $15 million between mid-2014 to mid-2017. In sum, California paid more than $25 million in settlements for sexual harassment claims, according to The Sacramento Bee.
Even those who are not perpetrators could be responsible when incidents occur. When supervisors are not trained in how to respond to sexual harassment complaints, for example, they may be ill-equipped to respond in a manner consistent with upholding state laws and the policies of your organization. (Supervisors, managers, and entire organizations could be named as responsible parties in lawsuits and more.)
Training cannot be cursory. A comprehensive program is critical for all employees, both with regard to prevention and understanding how to handle violations and complaints when they occur. What does a comprehensive sexual harassment training program look like? We will examine California's new laws, as well as what a compliance training should entail below.
California's sexual harassment laws
Last year, California Governor Jerry Brown signed into law a legislation package providing extensive protections against workplace sexual harassment. SB1343 modifies AB1825 and not only includes legal protections and support of victims of sexual harassment in the workplace but also increases the legal liability for perpetrators of harassment and expands the responsibility of employers.
Included in these provisions are:
Employers with five or more employees must administer harassment prevention training to all employees, not just managers.
This training must include at least two hours of sexual harassment prevention training for supervisors and at least one hour of sexual harassment prevention training for all other employees.
The training must occur within six months of employees' start date and be repeated at least every two years thereafter. Temporary and seasonal employees must receive training within 30 calendar days of their hiring date or within 100 hours worker, whichever comes first.
(Note: these are just some of the requirements included in this new legislation. Learn more about California's sexual harassment training requirements and laws.)
What an ideal sexual harassment program looks like
Employers must be proactive in their efforts to combat sexual harassment in the workplace, not passive. Not only does California's new legislation package specify the amount of training employees must receive, but it also provides details on the type of content it must include. For example, a program must incorporate:
Practical examples and guidance about the state and federal laws regarding sexual harassment prevention.
Information about the resources for support to which victims of sexual harassment are entitled.
Bystander intervention training that illustrates types of scenarios in which people not directly involved in incidents should intervene.
This training must be performed by educators or trainers who have expertise in harassment prevention. Employers may develop their own programs, provided they cover the requirements sufficiently, or they may use a government or external program, such as Interactive Compliance Training's Sexual Harassment eLearning program, that satisfies these requirements. Acceptable formats for training include classroom training, e-learning, or webinars.
For a thorough look at the training requirements, check out Training guide NY and CA Sexual Harassment eLearning Checklist.
Why use an external program
When organizations consider how to fulfill the requirements of sexual harassment training to discourage scenarios like the incident in California State Prison from occurring, they must ensure that they are complying with the state laws and going beyond the minimal requirements to protect the safety of their employees and the integrity of their business. Experts in this area will facilitate a program that teaches and illustrates to your employees what they need to do comply with California's laws and the standards of their employer.
Our Sexual Harassment eLearning Program provides comprehensive information on California's state laws, as well as practical steps for sexual harassment and abusive conduct prevention, actions to take against perpetrators, resources for victims, concrete examples, and more. Employees will learn about scenarios such as harassment due to sexual orientation, gender expression and others.
The above scenario is all too common in California and in workplaces everywhere. A safe and supportive environment is vital to the success of your organization and providing comprehensive sexual harassment training to your employees is an integral step for creating this atmosphere.