Not surprisingly, highly effective programs are far closer to completing the hallmarks overall than are their underperforming counterparts. Figure 8 illustrates the percentage of all programs and of the top and bottom quintiles having completed or substantially completed each hallmark.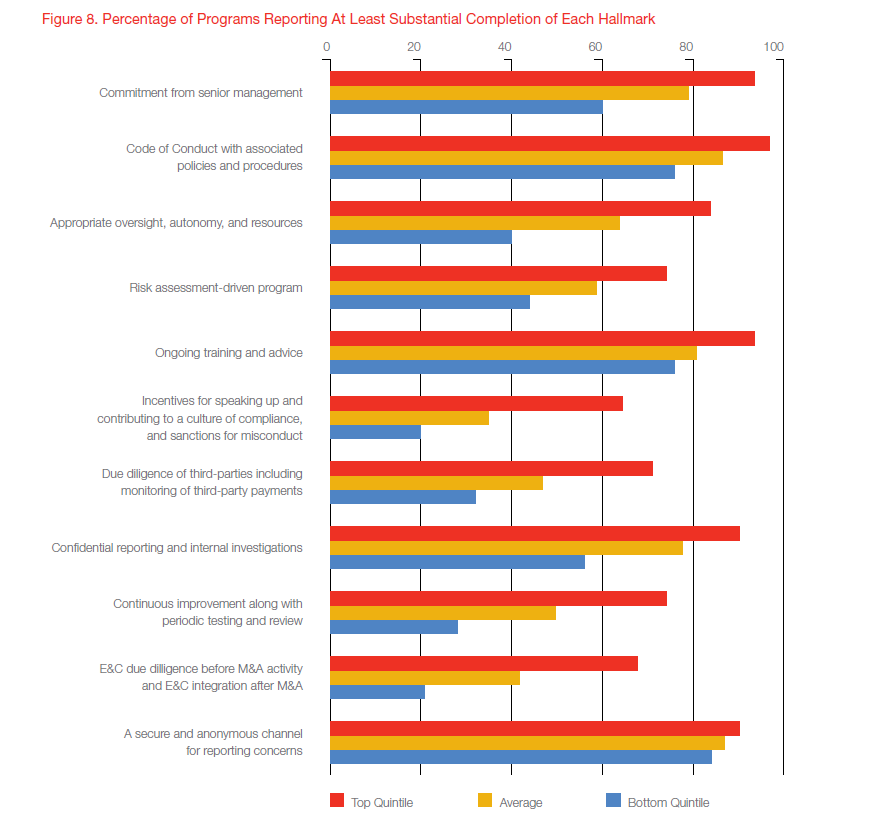 Seen in Figure 9, below, is the degree to which each of the programs in the top and bottom quintiles has, on average, made progress on hitting the regulatory marks. Only 8 percent of the bottom group is, on average, complete. None in the top quintile is, on average, less than substantially completed. And, once again, the relationship with PEI is clear.

The danger of looking at program effectiveness as a matter of design and implementation in accordance with the hallmarks is that it can be reduced to a "check the box" exercise. Properly approached, however, particularly by beginning with and maintaining a focus on risk assessment and continuous improvement, it appears to be able to generate significant impact.
Key Differentiators in Ethics and Compliance Program Effectiveness
This table identifies those attributes that most clearly mark the difference between the less effective ethics and compliance programs that are found on one side of the Program Effectiveness Index distribution (PEI scores of 0.51 or less) and the highly effective programs found on the other (PEI score of 0.70 or more.) Those practices that are far more prevalent on the right side, taken together, give us a good sense of what separates high-impact programs from the rest.
Most programs have much in common—a code of conduct, some manner of training, and a means to receive confidential employee communications. Most conduct internal investigations when necessary and provide information to their boards of directors on some sort of basis. Yet the differences between programs are many. Size, scope, and approach vary widely, as do resources, corporate salience and— most significantly—outcomes.
The table linked to above illustrates what it is that high-impact programs do above and beyond the basics. None of those differentiators is a "check the box" exercise. None is necessary. They are about an intentional focus on culture. They are about middle management, and addressing the ethical dimension of management relationships. They are about predictive and outcome focused metrics. They are about celebration.
Of course, wherever they are on the PEI distribution, E&C programs do not exist in a vacuum. The individual corporate contexts in which effective programs flourish or less effective programs languish are likely both cause and effect of program impact. The chart below identifies several of those corporate attributes and behaviors that most distinguish the companies within which the most and least effective programs are found. Here, too, the intentional focus on culture seems to drive the degree to which ethics is built in to an organization.