What you'll learn on this podcast episode
It's generally accepted that effective E&C programs are based on values as well as rules. But applying those values to real-life situations can be difficult. This has been particularly true during the pandemic, as organizations make hard decisions in many instances and chief ethics and compliance officers play a key role in guiding those efforts. How can values help CECOs sustain ethical performance—and even excel—in the face of such change and adversity? In this episode of LRN's Principled Podcast, host Susan Divers talks with Scott Sullivan, Chief Integrity & Compliance Officer at Newmont Corporation, and Joe Henry, who just retired as US Compliance Officer at Braskem. Listen in as they discuss the difficult choices they faced in providing moral leadership in their organizations—how those choices were made, by whom, and what the examples say about the role of the CECO.
Principled Podcast show notes
[1:58] - Scott's role as the CECO at Newmont Corporation, the challenges faced and how he applies his values.
[4:50] - Ethics and compliance at the heart of Newmont's decision making during the pandemic.
[6:10] - Joe's role at Braskin and the challenges he faced.
[11:20] - The role of Joe's values in influencing colleagues to change the decisions they made.
[13:35] - The lessons learned from these tough experiences in the company.
[16:12] - How both company's ethical cultures emerged after the pandemic.
[19:50] - Other circumstances which strengthened the respective ethics and compliance cultures.
[27:25] - The most important areas of focus for an ethics leader in resolving difficult questions.
Where to stream
Be sure to subscribe to the Principled Podcast wherever you get your podcasts.
Guest: Joseph Henry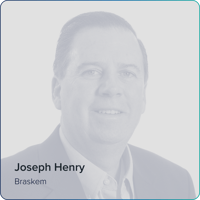 Joe Henry was the US Compliance Officer for Braskem, a multi-national Chemicals and Plastics company headquartered in Sao Paulo, Brazil. He led the Ethics, Compliance, and Risk Management efforts for Braskem's US operations including commercial, manufacturing, logistics, management, and Innovation and Technology (R&D) functions.
Prior to joining Braskem in January 2017, Joe was a Compliance Director at GSK, a global pharmaceutical company, and worked in various ethics and compliance roles since 2003. Investigations oversight, Compliance Operations, Methodology development, process assessment and improvement, policy and procedure management, and managing government oversight programs were some of the responsibilities he successfully fulfilled while at GSK. Prior to his GSK Compliance roles, Joe worked at SmithKline Beecham as an Information Technology Project Director and with IBM Sales, Technical Support, and Product Development.
Joe earned a B.S. in Chemical Engineering from Carnegie-Mellon University and an MBA from Saint Joseph's University. He also earned his certification as a Leading Professional in Ethics and Compliance from the Ethics and Compliance Initiative (ECI). Joe and his wife reside in Lewes, Delaware and he retired at the end of March 2022 to pursue personal interests, travel, and enjoy more time with his three grown children and two grandchildren. Joe continues to provide advisory and investigation services on an as-needed basis to Braskem's US Compliance department.
Guest: Scott Sullivan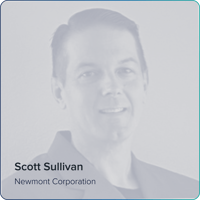 Scott E. Sullivan is the Chief Integrity & Compliance Officer of Newmont Corporation, the world's leading gold company. Newmont has approximately 15,000 employees and 15,000 contractors and has 12 operating mines and 2 non-operated JVs in 9 countries. Mr. Sullivan oversees, develops, implements, and manages Newmont's integrity and compliance program including ethics, anti-bribery, corporate investigations, and global trade compliance. Previously, Mr. Sullivan was the Chief Ethics & Compliance Officer of a global manufacturer of fluid motion and control products with approximately 17,000 employees operating in 55 countries. Mr. Sullivan has written and contributed numerous articles on compliance programs, anti-bribery/FCPA, export controls, economic sanctions, and other ethics and compliance topics to a variety of publications. Mr. Sullivan is also a frequent local, national, and international speaker, moderator, and conference organizer on compliance, anti-bribery/FCPA, export controls, and economic sanctions.
Susan Divers is a senior advisor with LRN Corporation. In that capacity, Ms. Divers brings her 30+ years' accomplishments and experience in the ethics and compliance area to LRN partners and colleagues. This expertise includes building state-of-the-art compliance programs infused with values, designing user-friendly means of engaging and informing employees, fostering an embedded culture of compliance and substantial subject matter expertise in anti-corruption, export controls, sanctions, and other key areas of compliance.

Prior to joining LRN, Mrs. Divers served as AECOM's Assistant General for Global Ethics & Compliance and Chief Ethics & Compliance Officer. Under her leadership, AECOM's ethics and compliance program garnered six external awards in recognition of its effectiveness and Mrs. Divers' thought leadership in the ethics field. In 2011, Mrs. Divers received the AECOM CEO Award of Excellence, which recognized her work in advancing the company's ethics and compliance program.

Mrs. Divers' background includes more than thirty years' experience practicing law in these areas. Before joining AECOM, she worked at SAIC and Lockheed Martin in the international compliance area. Prior to that, she was a partner with the DC office of Sonnenschein, Nath & Rosenthal. She also spent four years in London and is qualified as a Solicitor to the High Court of England and Wales, practicing in the international arena with the law firms of Theodore Goddard & Co. and Herbert Smith & Co. She also served as an attorney in the Office of the Legal Advisor at the Department of State and was a member of the U.S. delegation to the UN working on the first anti-corruption multilateral treaty initiative.

Mrs. Divers is a member of the DC Bar and a graduate of Trinity College, Washington D.C. and of the National Law Center of George Washington University. In 2011, 2012, 2013 and 2014 Ethisphere Magazine listed her as one the "Attorneys Who Matter" in the ethics & compliance area. She is a member of the Advisory Boards of the Rutgers University Center for Ethical Behavior and served as a member of the Board of Directors for the Institute for Practical Training from 2005-2008.

She resides in Northern Virginia and is a frequent speaker, writer and commentator on ethics and compliance topics. Mrs. Divers' most recent publication is "Balancing Best Practices and Reality in Compliance," published by Compliance Week in February 2015. In her spare time, she mentors veteran and university students and enjoys outdoor activities.
Principled Podcast Transcription
Intro: Welcome to the Principled Podcast brought to you by LRN. The Principled Podcast brings together the collective wisdom on ethics, business and compliance, transformative stories of leadership and inspiring workplace culture. Listen in to discover valuable strategies from our community of business leaders and workplace change makers.
Susan Divers: Hello, it's generally accepted nowadays that ethics and compliance programs that are effective are based on values as well as rules, but applying those values to real life situations can be difficult. This was particularly true during the pandemic when organizations had to make hard decisions in many instances in unprecedented circumstances, and ethics and compliance officers frequently played a key role in guiding those efforts. How can values actually help ethics and compliance officers sustain ethical performance and even excel in the face of change and adversity?
Well, hello and welcome to another episode of LRN's Principled Podcast. I'm your host, Susan Divers, director of thought leadership and best practices with LRN's advisory group. Today, I'm joined by two thoughtful ethics and compliance professionals, Scott Sullivan, the chief ethics and integrity officer at Newmont Corporation, and Joe Henry, who just retired as the US compliance officer at Braskem. We're going to be talking about the difficult choices they face in providing moral leadership in their organizations, how those choices were made, by whom and what the examples say about the role of the chief ethics and compliance officer. Scott, I'm going to start with you. Can you talk about your role as the CECO at Newmont and some of the hard choices you've faced and how you applied your values?
Scott Sullivan: Sure. And thank you, Susan. It's exciting to be part of this podcast and it's a subject I'm very passionate about. So while Joe will be tackling some specific examples, I thought it might be more beneficial to start with a bit on process and approach. So when your values are tested in trying times, this is when the rubber meets the road. So the least common denominator approach, or what is accepted, what is condoned, often becomes your culture. It's not the pronouncements and the platitudes, but rather what you do on the ground or in crunch time. So during COVID, which by the way is not yet over or gone, we faced numerous challenges like everyone else, our values of safety, responsibility and integrity were at the forefront of what we did and said every day. As our strategy rolled out, we had to consider the full spectrum of stakeholders from vulnerable indigenous communities in which we operate to suppliers who were dependent on us to our employees.
In some cases in the early days of COVID, we even went into what's known as care and maintenance mode, which is basically shutting down except for essential services to protect the health and wellbeing of a variety of our stakeholders. We also deployed over 20 million in a COVID fund to assist communities around our minds with COVID type issues and challenges. We were active partners in the COVID struggles. We protected our employees with PPE, with vaccines, with health checks, et cetera, all this being said there were numerous and oftentimes competing opinions on what to do, being strong proponents of our values, and always circling back to them as a gut check when we made decisions, some of them which might have turned out to be controversial, was an excellent moral compass. It made us focus on not just what the short term, but what the long term was and what the consequences could be, both the good and the bad. It was our collective corporate decision that we had to make.
As a compliance team. Part of our job was trying to read the tea leaves and anticipating what was coming. Fortunately at Newmont, we have a fantastic executive leadership team who gave us the space to support them and the organization this endeavor. We invited in diverse perspectives, we had spirited debates and we pressure tested key decisions that mattered most. I'm proud of the approach that we took as an organization whereby no means perfect, but I think it has served us quite well.
Susan Divers: Scott, before I turn to Joe, one of the things that strikes me about what you just said is it sounds like ethics and compliance was really at the heart of decision making in these difficult areas that you mentioned. Am I reading that right? And if so, how did you achieve that?
Scott Sullivan: Yeah, I think, health and safety for sure was I think the heartbeat, if you will. Perhaps we were the supporting role, but really as COVID evolved over times, the issues got more complicated as they went. So you had initial true health and safety issues, in some cases life and death that you had to do, but then you had a whole series of decisions around employment, around vaccinations, around care and maintenance. And what do you do with communities, where the donations go? How do you ensure that you're not supporting corruption when you're doing the good deed of making donations? So I think as COVID evolved and as the challenges around COVID evolved, we became more integral and more integrated to those decisions over time.
Susan Divers: Well, and that's really a good example of how it's meant to work. Yeah, the ethics and compliance department isn't defective if it's often a corner, but it is effective if it's right at the heart of difficult choices, and that's a perfect segue to Joe. Joe, do you mind outlining your role at Braskem and then talking about some of the actual challenges you faced in your role in those?
Joe Henry: Certainly. Thank you, Susan. Thank you for the invitation to join you all today. Let me start off by saying that Braskem leadership team is a caring and forward looking group and primarily based in the US headquarters in Philadelphia. And that information will be important in a minute or two. Early in the pandemic two of our sites operated for 28 days via a live-in where our workers stayed on site, quarantined from family and other outsiders to operate our plants in Pennsylvania and West Virginia. These plants produce polypropylene, which is a key material for personal protection equipment, such as surgical gowns, face, shields, gloves, and masks. So our workers were willing to do that. And our Braskem leaders provided all the essentials for this live-in. And our team members were paid for every hour on site.
So Braskem tries to do the right thing. And during that time, all other team members were directed to work remotely during the pandemic. Eventually after our operations were deemed essential to US business interest, all of our plants reopened with strict masking and quarantine requirements, including restrictions in travel. One of our first policy decisions developed in Philadelphia was to require workers to quarantine for 14 days after travel if they had traveled from their home county. Works for Philadelphia were pretty close around in the urban area. The policy, and it worked for salary team members who could work from home, but not for hourly workers who worked on site and who would not be paid for the time they must quarantine. So at our Texas sites, this policy was problematic in that it would not be unusual for a worker employee to travel to the next county to care or check in on a family member. Therefore, compliance was asked to intervene. And as a result of that, our intervention, we extended the travel range and only had the policy applied to travel outside usual circumstances.
The other one is more around vaccines. So one other example as vaccines became available, again, I remember they were under emergency authorization. There became a drive by Braskem management to encourage team members to be vaccinated and to push required team members to be vaccinated or else be terminated. The impetus for this requirement was that several people at manufacturing sites were complaining about being vaccinated and still having to wear a mask because others were not vaccinated. We discussed the proposed requirement at the leadership team meeting, which US compliance is a part. And then there was actually a discussion in our industrial team where we're not a part and they mandated this vaccination or termination requirement by a majority vote, not a consensus vote.
I received a call from one of the dissenters. He was concerned that many of his employees would resign or be terminated because they did not trust the vaccine yet. His plant would be greatly affected. I brought this to the attention to the US leadership team that the vaccines were not yet fully approved and that no matter how administratively burdensome the CDC's recommendation was vaccination or regular testing. So I informed the group, I thought our requirement was overly restrictive. It infringed upon employees' rights, and I would not approve any of these terminations, in the US, the US compliance officer approves all terminations. So I had some leverage there. So what happened is we implemented weekly testing for team members who were not vaccinated. And that seemed to resolve the situation. By the way, it was helpful that I was fully vaccinated and boosted and it was clear, my personal beliefs were not a factor.
Susan Divers: Wow. That's a very striking example, Joe, there's a couple of things I'd like to pursue a bit. One is, it's clear that people brought you into these decisions that they turned to you as a resource, it sounds like certainly in the case of be vaccinated or terminated before the vaccines were fully approved, but also it sounds like you were asked to intervene on the travel restriction. Is that correct?
Joe Henry: Yes.
Susan Divers: And was that at a senior, if I can ask, or other level?
Joe Henry: I would say the vaccination or termination decision was a senior management at one of our industrial sites had the concern. And then the travel policy was probably, as I recall from one of the HR leaders at the site saying, Hey, we have some employees that are in unique situation here, or maybe not so unique, but different than what we would have from an urban center versus someone working in a more rural area.
Susan Divers: Well, that's another good example of how a compliance and ethics and compliance program should work. It should be a resource and be welcomed into decision making, particularly on very difficult and tricky issues like the two that you just described. Can you talk about the role of your values in convincing your colleagues and your leadership to change or moderate the decisions that they made?
Joe Henry: Absolutely. That was probably the driving force is our code of conduct, we don't dictate to people how they must behave, especially outside of work. It's fortunate that US compliance and compliance department of Braskem is independent and we're objective. And we're very visible. So people know us and people are willing to approach us. Again, that's why I started off the leadership team, it had the best of intentions. They heard from one group that says, Hey, we're tired of wearing masks. We want to be productive. And they reacted to that without understanding the potential consequences and the potential issues they may have with our own code of conduct. And that we couldn't mandate someone put something that was not yet fully approved. And that actually went further than what the government was telling us we needed to do. Which isn't uncommon. Our policies and procedures are frequently tighter than what the law requires. But in this case, we had to recognize that people have freedom of association and freedom of choice about theirselves. Once we brought all the potential consequences and perspectives of all affected team members, I think we reached the right decision.
Susan Divers: So was that a difficult process, would you say, was it time consuming, or once you played that role of honest broker, was it something that people widely accepted?
Joe Henry: Yes. Yes. I would say, we did use a lot of influence in... Basically had the show them what the consequences are, why their actions might not be entirely appropriate. So it wasn't a matter of authority. It was a discussion and it was a lengthy discussion, but I think everyone was fairly open minded and recognized that it was going take some more work and maybe we were going to have to spend some more money, especially getting a company to do the testing for us on a weekly basis. But I think they quickly arrived that it was the right decision.
Susan Divers: Well, that's a great example. And thank you for sharing that. I'm going to go back to Scott for a minute and then to you Joe and ask. So obviously these were pretty intense situations that you dealt with. What lessons did you learn from that experience given your role in the company? If you could discuss that a bit, that would, I think be very helpful.
Scott Sullivan: Sure. Yeah. Building on my prior comments a bit, I would say there were a few learnings and perhaps a few aha moments that we recognize along the curve. I think one was, you need to think both long term and short term. So whether it's your employees or your stakeholders, you might have a decision today that is different than the consequences tomorrow. So really making sure you're not just stuck in the moment, but you're thinking about the long term of the consequences or actions that come out of your decisions today. Playing off one of Joe's comments about culture and values, modifying a Warren Buffet quote a little bit, "Values take a long time to build, but they can be destroyed in a heartbeat." And people watch, I think that's the one that organizations often forget when they're looking at their culture, it's that whatever you allow or condone becomes your actual culture.
So I think it's really important to practice what you preach and stay true to those values or before you know it, or right under your nose, you lose them. And that's true, perhaps even more so in the darkest days. So, how you're treating your employees and what people did with respect to terminations, or extending compensation during COVID, all eyes were on that. And I think that has longterm consequences for employees is they think, well, how did my employer treat me during those dark days? Did they exit us from the organization? Did they treat us poorly? Was the mighty dollar, the only thing that mattered? And again, for us, we have a social license to operate in the locations we do. So you have to think about that holistically, the full ESG perspective and look at all your stakeholders.
And I think a little bit about what we've been talking about as well is anticipating the pushback, where are those pressure points, or focal points that are likely to come up and figuring out, like we always say, you can't take a program off the shelf, but customizing or figuring out what works best for you? And then hopefully that leads to you and many more in your organization becoming both values, beacons and champions to help the organization propel forward.
Susan Divers: So in other words, it really can become a tremendous positive as long as you stay true to your values. And you're actually strengthening your culture, not destroying it to go back to the Warren Buffet quote. And Joe, based on your experience, do you think that your ethical culture at Braskem emerged stronger as a result of the types of difficult choices that people made in those circumstances? And are there any other lessons learned from that, that you would want to highlight?
Joe Henry: So I believe our culture has gotten stronger. The ethics and compliance group and officers know they need to stay ever vigilant to ensure that passions do not overtake the organization's foundational values. We live in an impatient society that is quick to react and does not always consider all perspectives and unintended consequences. So this experience gives us an opportunity to talk to the leadership team and say, Hey, let's take a breath here. Let's look at this. I think when you're more thoughtful about these decisions, I think the decision will be better, probably strengthen your culture versus weaken it, or undermine it. But I do know that my successor's still facing these challenges.
Susan Divers: Yeah. Although you're building ethical muscle at the same time, I want to highlight what you said about stop, pause, think, or you said it a little differently, but our chairman of our board, Doug Sideman, has written extensively about the benefits of pausing. And we do live in a impatient world and one that moves at light speed, particularly with social media. And I think Scott, you would agree with this too, that stopping and getting everybody to slow down and look at all the potential ramifications and equities. Joe's example of employees in Pennsylvania versus employees in Texas, I think is a very telling one. And that, that is really, I think what's needed to deal with particularly moral leadership issues. Scott, does that make sense? And also if you could talk about whether your ethical culture came out stronger as a result of the pandemic, that would be helpful.
Scott Sullivan: Yeah. I think you often see in some areas the short term view or this, in the impatient world, as I like the way Joe characterize it, you see the pitch forks and the torches coming out in any particular topic. And so part of our job is to say, let's pause, let's think this through, the unintended consequences, the longterm consequences, I think for sure our ethical culture has emerged stronger. It really gave us ample opportunities to do the right thing and to put theory into practice. So one of the things coming out of the tragedy of COVID is it really gave us an opportunity to show our values and do the right thing in those dark days. And I think that also that consistency of messaging and values, it's not one offer. There's one big case. I think that really builds trust with stakeholders and gives you an opportunity to show that you're a different kind of company.
So even in the dark days with bad or troubling news, you're going to be transparent and that we stand true to our values and hold ourself accountable to those values. So that consistency of operational model, I think extends well beyond ethics into business and health and safety. When faced with a challenge, we're going to think about it, be very thoughtful in what we do and ultimately do the right thing for the entirety of the stakeholder community.
Susan Divers: Yeah, that sounds like very sound holistic decision making. Joe let's let's switch gears a little bit. We've talked about the pandemic and the challenges and how both of you feel that your ethical culture got stronger as a result, and you both played pivotal roles in the ethics and compliance programs, played pivotal roles in helping your organizations navigate. Can you give some other examples outside of the pandemic of having to do that?
Joe Henry: So I mentioned one of our values is the freedom of association. As a result of the summer of 2020, George Floyd death and all, we had some outsiders, some activists and DE&I consultants recommend some potential path forward for the company. One of those, including tracking managers' social media profiles, and other forms of public expression and see whether they should continue to be leaders in the company or not. For instance, should we sanction a manager for attending a pro-life rally, or another manager for posting their support for the police on their Facebook page? That type of monitoring is not aligned with our code of conduct. We declined that recommendation. Again, the passion was there. Hey, we got to weed these people out. Well, no, we have to make sure that when they're working for Braskem, they're aligned to Braskem's values and that they're not diminishing our name in the public.
And then most recently we've discussed how and when should compliance be involved in handling microaggressions. And we've agreed that microaggressions are supposed, should be handled between the two people in the first instance, maybe in a second or third occurrence, that it's handled, the person's called out publicly. And if it's repeated, then it's no longer a microaggression, it's an aggression. And then it comes to human resources or compliance. But those are some of the choices where, again, we relied on our code of conduct and relied on our proven policies and procedures regarding our ethics line to preserve the culture and continue to move the company forward and evolve the company.
Susan Divers: Well, and that's another excellent example of pausing and looking at all the ramifications and carefully analyzing whether it is consistent with your code or not. Scott, do you have similar examples outside of the pandemic experience?
Scott Sullivan: Yeah. So we've been on a journey of what I would probably call radical transparency in the ethics and compliance space, so where we're willing to show the good, the bad and the ugly to advance the health of our culture. It is a journey, so we're not perfect by any chance, but we're now more transparently and willing to share internal stories and struggles with our employees. I used to laugh all the time that most companies will say something happened to somebody, sometime, someplace with some result. And that leaves everybody, what the heck is that? What happened? And what are the expectations I know? So we've decided that we want to clarify expectations for employees. We want to at least establish the baseline for ethical behavior. And we want to ensure really that fraudsters or predators are held to account in the organization wherever and whenever we can. And also there's an evolving view about when something happens in our organization, what do we do to ensure that those individuals or groups of individuals are not just set free and allowed to go into the general community and repeat those damage?
How many times have we all learned in the compliance profession, individual moves from company A to B, to C to D. And when you do the investigation, there's a long track record that history being repeated at different organizations. So we have done cradle to grave exposes, including one with a public press release, where we actually lifted the hood and told the full story. So most times it's fairly detailed internally and the reception has been excellent. It's advanced our culture ball pretty dramatically. As I mentioned, that being said, it's really, we're still on the journey, but we feel that practicing what we preach and not allowing performance to excuse misconduct or cornerstones of our culture.
So even when the outcome is internally painful and extremely disappointing, we've been trying to promote this. So it's not just you do it once, because you can't fake it. And if you do it once, you see big scandals in organizations and periodically it's a big splash in the paper. And we've had similar things where you've had a case that we did our first radical transparency case. And I think the organization, the employees were saying, okay, is this a new way that we're going to operate, or is this the company's hand was forced and they felt they had to do it, so they did it? And so I think that whole concept of you can't fake, it's got to be genuine, it's got to be demonstrable and it's got to be sustainable, is really important.
And as an aside, I think most companies can get compliance correct, or they get it right. That's to say that it's the right side of the brain, it's the math science side. It's one plus one, plus one equals three. But when you get to integrity, you get to ethics and culture, that's the equivalent to me, the left side of the brain, it's the English history. It's a little bit more soft. It's touchy, feely. It's hard to measure, but I think it's far more impactful. And that is often where I see organizations fall down, because it's so hard to do. And it's so hard to say, what is it? And it feels like it's subjective, or judgemental, or it's just real hard to do. So I think companies that focus on getting the integrity or the culture piece right, are so far ahead of the curve and getting everything else right. And that's not just in the ethics and compliance space, because I think that could be a proxy for good governance. It could be something that is a springboard for doing other things in an extraordinary way or well above peer organizations.
Susan Divers: That's so interesting that you framed it in those terms. Something we talk about a lot and we're not alone in that in this area is that you can't just look at your ethics compliance program as a checklist and say, I'm good to go because I've got policies, code, training, audit, it has to be living and breathing. And that's where the touchy feely comes in. And the research, interestingly, it shows that if you have organizational justice where you're holding people to the same standard, and I hear you both talking about that in what you've described today, then you have the lifeblood and a strong foundation for your ethics and compliance program and activities. But if you don't, if there's two standards of justice, or what I'm hearing today too, is if there's a rush to judgment where some people get trampled in that rush, then you don't really have a strong foundation for your program. Joe, would you agree with that as well?
Joe Henry: Yes, I absolutely do. Yeah, it has to be thoughtful, fair. We haven't gone to the extent from a transparency as Scott Newman have us to naming particular people, but we do anonymize those situations and publish them or even present them as lessons learned.
Susan Divers: Yeah. That's very powerful. Well, we're starting to run out of time, but two questions before we terminate, which is what are the most important areas of focus by an ethics leader in resolving difficult questions? You've both given great examples of how central ethics and compliance was to tough decisions. But if you're a relatively new ethics leader, what are some of the key things to really bear in mind when those tough issues come up? Scott, you want to lead us off on that?
Scott Sullivan: Sure. So I think as we've both mentioned, and same with Susan, the tone at the top is really important. So getting your executive leadership on board, otherwise the likelihood of success drops pretty dramatically. And I think as we've also both said, relationships matter. So build them wherever and whenever you can. And I think it's always that rainy day fund, you build credit in the bank, you build street credit. So for the bad news bear moment you have to come in, I think that's really important. So they understand who you are. You're not just a cry wolf person, you're thoughtful, you're methodical. You do all the things the way the organization would expect.
And I think, for all of us, unfortunately, and you can see the business partnering go too far. So I think not withstanding that you always have to remember that there will be times undoubtedly as a compliance officer, where you have to put your neck on the line and hopefully your organization does not have a kill the messenger culture, that's not a fun organization to be a part of. And I think value based decisions are toughest in downturn markets and during crises. So we've come out of a pandemic and now we're going into what seems to be a downturn market. So I think the key message there is really prepare in advance and look at your rainy day credits and figure out where you're going to have to put your stake in the ground and move forward.
Susan Divers: So build up your relationships and your credit and your goodwill. Joe, something to add.
Joe Henry: I do that. I wholeheartedly agree. I think that what Scott mentioned is the most important area, but another area of focus is the company's values, which usually describes in the organization's code of conduct and implemented through your policies and procedures. And I remind the executives and our team members, employees, the code of conduct and policies are approved by the board of directors after thorough and thoughtful review by the executives, by the stakeholders and by compliance. So they're not done instantaneously and there's a lot of thought, there's a lot of reason why we have them and they shouldn't just be dismissed quickly because the particular circumstance. These documents provide the desired ethical direction of the company and have been very useful in resolving difficult decisions in the past, especially with well-meaning, but passionate team members. Go back to the foundation and consider it maybe, maybe, maybe we do need to make a change to the code of conduct or a change to our values, but at least reference it and have that discussion before taking any severe action that may have unintended consequences.
Susan Divers: That's a very good point. One of my colleagues describes the code of conduct as your culture written down, and using it as a focal point and a way to ensure that major decisions and discussions include values, I think helps make it a living and breathing document. Well, this has been such an insightful conversation. I wish we could continue it talking about tough choices, I think is really helpful for people at whatever stage they are in their ethics and compliance journey and profession. So I want to thank our listeners. My name is Susan Frank Divers, and we'll see you the next time on Principled Podcast. Thanks Scott. Thanks Joe.
Joe Henry: Thank you.
Scott Sullivan: Thank you all.
Outro: We hope you enjoyed this episode. The Principled Podcast is brought to you by LRN. At LRN, our mission is to inspire principle performance in global organizations by helping them foster winning ethical cultures, rooted in sustainable values. Please visit us at LRN.com to learn more. And if you enjoyed this episode, subscribe to our podcast on Apple Podcasts, Stitcher, Google Podcasts, or wherever you listen. And don't forget to leave us a review.
Be sure to subscribe to the Principled Podcast wherever you get your podcasts.