The vast majority of programs (88 percent) target at least some part of their education and communication at the entire enterprise. Marginal improvement is observed in average PEI scores when education and communication are functionally targeted, and more still when targeting is activity-based. But the 23 percent of respondents who reported individual targeting had the highest average PEI; an impressive 0.68. Just about half of the most highly effective programs use activity based targeting of education, compared to fewer than one in five of those in the bottom quintile. And while half of the top quintile also assign education on an individual employee basis, virtually no program among those in the bottom quintile does so.
With so many programs painting with a broad brush, it is not surprising that online education fatigue remains a major hurdle for many programs to overcome, troubling nearly half of them "moderately" or worse (PEI 0.57). Insufficient resources, lack of dedicated personnel to drive campaigns, and disinterest among senior leadership are all issues associated with sub-par impact, with PEI averages of 0.55, 0.56, and 0.58, respectively. As we have seen, these factors are fundamental to program impact in virtually every aspect of the E&C endeavor.
Online education continues to be the content delivery vehicle of choice, deployed by 82 percent of programs to, on average, 76 percent of their employees, for, on average, just about three hours a year. Nearly two out of three companies also use classroom training, but they do so with far fewer of their employees (25 percent, on average.) Significant increases in average PEI scores accrue to that small number of programs that add mobile devices to the mix (at 0.68), as well as to those which add facilitated group discussions to the mix (at 0.66.)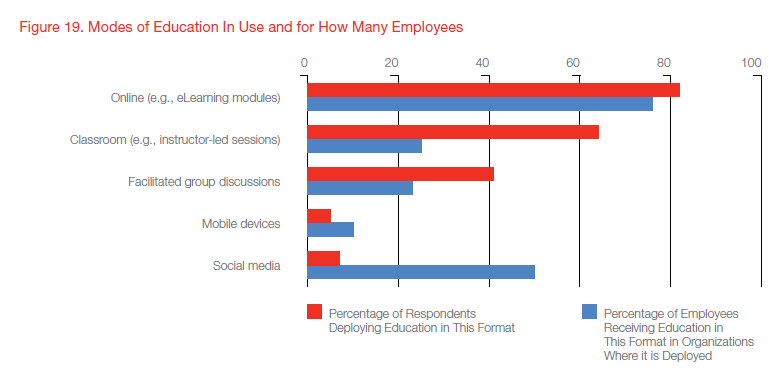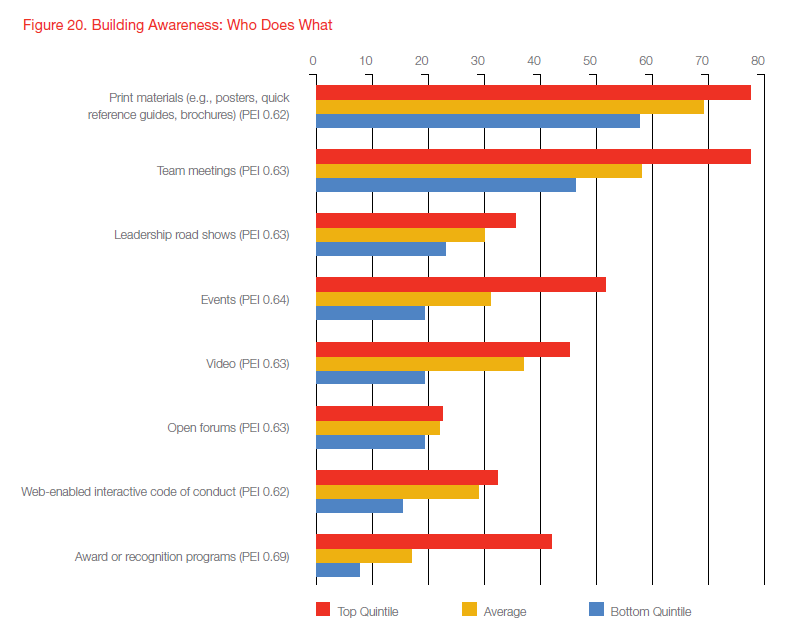 Impact is measured in terms of effect on behavior, and it seems unlikely that anyone intending to have such impact would look for it in a single, annual approach to a topic of any salience. That said, a surprising number of programs (15 percent) never roll out theme-based campaigns at all, and they have an average PEI score of 0.53. By contrast, the 20 percent of programs that do so on a quarterly basis have average PEIs of 0.63. Every program in the top quintile conducts theme based campaigns on some basis, while more than one in four among the bottom quintile never do at all.
There is no end to options for raising awareness of E&C issues for employees. Some are quite common. Fully 87 percent of programs use email, and 72 percent use their intranets for this purpose. Among the less common, it appears that the degree of association with impact increases with the degree to which they express the focus of the business unit or company, rather than the E&C program as such. Team meetings (average PEI score 0.63) and other public events (at 0.64) make a difference. Official corporate award and recognition programs reflect a company's focus and culture, and are closely associated with highly effective (0.69) programs.