What you'll learn on this podcast episode
How do you move your ethics and compliance program along the journey from basic to best in class? How do you keep momentum amid a major business disruption and downturn? And how do you make progress on the holy grail of compliance objectives—a speak-up culture? In this episode of LRN's Principled Podcast, host Emily Miner is joined by Gail Lehman, the EVP, general counsel, and secretary at Hexcel Corporation. Listen in as Gail shares how this high-tech materials manufacturing company has evolved its compliance program over the past five years and what that's meant for the company's culture.
Where to stream
Be sure to subscribe to the Principled Podcast wherever you get your podcasts.
Guest: Gail Lehman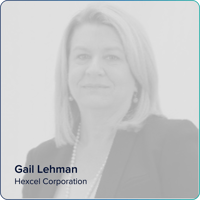 Gail Lehman is the executive vice president, general counsel, and corporate secretary at Hexcel Corporation, having joined Hexcel in January of 2017. Hexcel is headquartered in Stamford, Connecticut. Gail oversees the legal and trade compliance functions for this NYSE public company, a leading global producer of advanced composites for commercial aerospace, space and defense, and various industrial markets. She is also the leader of Hexcel's Sustainability program at a corporate level. Gail serves as a trusted strategic advisor to the board, chief executive officer, and business teams. Upon joining the company, Gail restructured the legal and trade functions to align with Hexcel's business teams and operational objectives. She re-engineered the Code of Business Conduct program, redrafting the code and rolling out specially tailored "speak up" ethics training and messaging across all global locations. She collaborates with other senior leaders and teams to drive Hexcel's sustainability efforts and major growth, strategic and commercial activities, including mergers and acquisitions, cyber incident readiness, and contracting with the company's critical customers and suppliers.
Prior to joining Hexcel, Gail served as chief administrative officer, general counsel, and corporate secretary at Noranda Aluminum Holding Corporation. Prior to Noranda, Gail was vice president, general counsel, and corporate secretary at both Hawker Beechcraft Corporation and Covalence Specialty Materials Corporation. Earlier she rose through the ranks of the law department at Honeywell International. She began her career at the law firm of Lowenstein, Sandler in Roseland, NJ after serving a federal judicial clerkship in the District Court in New Jersey.
Gail has a degree in psychology from Rutgers College, a graduate degree in educational psychology from Rutgers Graduate School of Education, and a law degree with high honors from Rutgers University School of Law. She has served on several non-profit boards, including currently for the Women's Business Development Council in Stamford, Connecticut.
Emily Miner is a vice president in LRN's ethics and compliance Advisory practice. She counsels executive leadership teams on how to actively shape and manage their ethical culture through deep quantitative and qualitative understanding and engagement. A skilled facilitator, Emily emphasizes co-creative, bottom-up, and data-driven approaches to foster ethical behavior and inform program strategy. Emily has led engagements with organizations in the healthcare, technology, manufacturing, energy, professional services, and education industries. Emily co-leads LRN's ongoing flagship research on E&C program effectiveness and is a thought leader in the areas of organizational culture, leadership, and E&C program impact.
Prior to joining LRN, Emily applied her behavioral science expertise in the environmental sustainability sector, working with non-profits and several New England municipalities; facilitated earth science research in academia; and contributed to drafting and advancing international climate policy goals. Emily has a Master of Public Administration in Environmental Science and Policy from Columbia University and graduated summa cum laude from the University of Florida with a degree in Anthropology.
Principled Podcast transcription
Intro: Welcome to the Principled Podcast brought to you by LRN. The Principled Podcast brings together the collective wisdom on ethics, business and compliance, transformative stories of leadership and inspiring workplace culture. Listen in to discover valuable strategies from our community of business leaders and workplace change makers.
Emily Miner: How do you move your ethics and compliance program along the journey from basic to best in class? How do you keep momentum on amid a major business disruption and downturn? And how do you make progress on the holy grail of compliance objectives, a speak out culture? Hi, welcome to another episode of LRN's Principled Podcast. I'm your host, Emily Miner, vice-president of advisory services at LRN.
Today I'm joined by Gail Lehman, EVP, general council, and secretary at Hexcel Corporation. We're going to be talking about how this high-tech materials manufacturing company has evolved its compliance program over the past five years and what that's meant for the company's culture. Gail is a real expert in this space, having led the legal and compliance functions at five companies for more than 20 years. Gail, thanks for coming on The Principled Podcast.
Gail Lehman: Thank you, Emily. It's great to be here with you today.
Emily Miner: So let's dive in. Can you start by telling us a little bit about Hexcel? What do you do? How many people are you? And where do you operate?
Gail Lehman: Certainly. Hexcel this year is actually celebrating our 75th anniversary. And as you say, we focus on high-tech materials. We like to say that we're propelling innovation for lightweight solutions since 1948. We're a leading producer of carbon fiber reinforcements and resin systems, and we're the world leader in honeycomb manufacturing for commercial aerospace. We essentially participate in free markets, the commercial aerospace, industrial markets, and space and defense. Although, we are largely focused on commercial aerospace, we sell a lot of materials to Airbus and to Boeing and their subsidiaries for commercial aircraft manufacture.
Revenue dropped a bit during the pandemic, but in 2022, we were just under 1.6 billion. And we have a total of a little over 5000 employees, full-time employees and contract workers, and that's around the globe. We really are a very global company. We're about 50% in US locations and 50% outside the US. We have a number of plants across the United States. Our headquarters is in Stamford, Connecticut. We tend to have plants located where our larger customers are, so we're in Washington state, where historically, Boeing was pretty concentrated. We have a number of locations in France, where Airbus is located, but also in other countries, UK, Italy, Spain, and even a newer facility of ours that we opened not too long ago in Morocco, so very spread out, which itself as you know can cause some issues and complications in forming and maintaining a good ethics and compliance program, but we're learning.
Emily Miner: That's awesome. Thanks, Gail. So you've headed up the legal and compliance departments at five companies, Hexcel being the fifth. Do you have a playbook for what you do when you first walk into a new company in terms of figuring out the lay of the land and determining your strategic priorities?
Gail Lehman: I do. I was at Honeywell for 13 years, and I had the good fortune of working on developing and continuously improving the Honeywell ethics and compliance programs, so we developed a lot of best practices there. And then I did private equity companies for about 10 years, and that's challenging because often you're taking a part of a larger company that's split off and bought by private equity. I had one company that had been part of Tyco, one that had been part of Raytheon. You're taking the culture of these larger organizations that these smaller pieces were part of, and the first thing I've had to do in those situations is to look at what I had. They're all in different kind of states of advancement I think in terms of what their ethics and compliance program was.
For instance, Raytheon, because it had so much government contracting had a very strong program in terms of policies and third party investigation of conduct and suppliers. So you have to look at what you've got. You have to determine the strength of the existing program and decide what pieces of it you want to keep that maybe came from the former parent because that keeps the employees a little comfortable. But I always then try to bring in a lot of the best practices, like I said, that I knew from Honeywell or that I knew from prior companies. Often, I found that I would do a code of conduct refresh, either redraft the code, again, to sort of be more in keeping with the new company that we were forming in those private equity transactions, and refresh training and make something that is new and a good way to introduce the new company to employees and what's important to us about ethics and integrity, so that was kind of the playbook that I used.
Emily Miner: If I'm not mistaken, I think that was one of your earlier focuses when you joined Hexcel in 2017. Right? I mean, I think the compliance program, as many programs are, were kind of on autopilot and not really engaging a significant chunk of your employee population. What did you do first? Was it the code?
Gail Lehman: Yeah. So it's interesting because again, Hexcel was going into a completely different situation, was not a private equity company, a long-standing public company, NYSE company. It had what I would call, as you say, maybe a more steady state program, a little more of an old-fashioned program. In fact, when I first picked up the code of conduct here, I came in 2017, it was a very legalistic document. It obviously had been written by lawyers, no pictures, no Q and A, none of that. And I was kind of amazed that we were certifying with people every year that they read the code because I couldn't believe everybody was really reading it. I had a hard time getting through it. It was just too legalistic, not a living sort of document giving employees reasons that they should act ethically and with integrity.
So again, now kind of taking from what I had done when I entered the prior general council positions, I looked at the code. I knew it had to change, and really a way to reinvigorate the program and reintroduce this principle of doing the right thing. I benchmarked a lot at the time. In 2017, I looked at what all of the companies were that were getting accolades for their codes and how user-friendly they were and more interesting to employees, so the employees would really pay attention.
I pulled a lot of that together to really redraft an entirely new code for Hexcel. And we made it interesting, we put in all resources and tools, and question and answer examples. And then around that, we developed new global training that we would go out live to all of the locations and introduce the concepts, introduce the new code, and just kind of reintroduce that principle that the company was very firmly committed to, integrity, and expected people to act in compliance with laws and in compliance with our code. So it was an exciting time and I think we put together a really much more developed program that we had at that beginning.
Emily Miner: Thanks for that. I love how you talked about the benchmarking exercise that you did. And doing this broad survey of what does good look like and learning from that, even though this was not your first rodeo, it's a testament to that kind of spirit of continuous learning. And that could be a great benefit of these types of benchmarking exercises of just being exposed to ideas that maybe you wouldn't have thought of otherwise, so thanks for sharing that. And I think LRN when you joined, had also just conducted I think it was the first employee survey of your ethical culture. And so you were coming in kind of right as that process was wrapping up. What was the impact of those results? And how did that play into your approach to Hexcel's compliance program?
Gail Lehman: It was really interesting, as you know, because you were on that journey with us that had been decided to do that the year before I came and the survey was completed in 2017, the year I joined. And you know Hexcel does have an incredibly rich culture, and maybe it is the 75 years we've been doing this. The employees are dedicated to the company and passionate. One of our values is One Hexcel, and it really is a company that pulls together like that and tries to do the right thing. But when we got the survey, when we got the results in 2017, we had these gaps. And I expected that. I've done things like that before and I know that the issues we were seeing where we got the lower grades were things like trust and speaking out, and fear of retaliation, some concerns about organizational justice. Were we fair to different levels of people in the organization?
But it was interesting for our leadership because they hadn't done this before and they were very discouraged at first and said, "Oh, this can't be true. We have this amazing culture. We can't not have trust." What we did, and Emily, you worked on this with us, we went out and did focus groups. We said, "Okay, surveys are hard. You never know how people took the questions. Let's go do focus groups and find out," and we did. The results were reinforced, I think even stronger that these were the issues. It was about fear of speaking out. It was about fear of retaliation. It was concerns about whether they could trust the program and trust reporting things. And that was a fantastic though somewhat painful, but it was a fantastic exercise for us because we then identified these gaps. We understood. We all held hands then and said, "These are our issues. These are what we're going to work on."
And we launched a communications and an improvement campaign with LRN's help. And we've been working on that since. And so it was an interesting pathway for us where there was skepticism at first, but then understanding of what we had to do.
Emily Miner: I remember you brought all of your plant leaders, so your senior management team, together for a multi-day leadership meeting, which I think is part of something that you do every year, or at least maybe prior to the pandemic, did every year. And the results of the survey were a big focus of one of those days and really engaging leaders in understanding the results for their particular location and running them through an exercise to develop their own individual location action plan to complement the efforts that you were doing at an enterprise wide. But I was struck by that approach because we talk a lot about tone from the top and culture is everyone's responsibility. And here it was, happening in action and really engaging the top leadership in that culture journey. What was kind of the reaction or involvement of leaders coming out of that meeting?
Gail Lehman: Yeah. As I said, it took us a while. I mean, we really wanted to be certain this data was real for us and that it was showing us the important gaps to go for. So we validated, we got a lot of data, and once we did validate, our CEO was adamant that we're going to go after these things. And the leadership team said, "We've got to think about how we get action plans," as you said, at every single plant because the results were a little different too. And we had cut the results for different employee populations, all different locations. So what my team did, and I did it with the legal team, and we went out to every single location, we had a report. We didn't give the whole report to every location, so that we didn't want them comparing themselves to others and saying, "Stamford is so much better than Illescas and [inaudible 00:12:01], France. We didn't want them to feel badly in those comparisons.
But we gave them their own report at each location, what had shown as the most troublesome or needing for improvement issues at their site, and how their employees had responded, and what level of participation they got. So every person on my team went out, we split up the plants, and we had those sessions with senior leadership at each plant, and we talked to them about how they would develop an action plan. And then as you say, we also around the same time, some of the those plant meetings were before and some were after, but we have our annual January meeting of management in the company. We took a good chunk of time in the meetings with the plant manager and EHS populations, and we sat, and the same thing. We showed them the results. We talked to them about what we were finding. We gave some suggestions about how we were thinking we would start to resolve it. But it had to be a partnership because we would do things at the corporate level. We committed on a program basis to get communications out about speaking up, to explain organizational justice and how we were solving these cases and investigations.
But the plants had to do their thing too. They had to think about tone in the plane and leadership from the plant. And I will say that it was exciting for people in many ways, we said we hadn't done this before. And it was interesting for people to see what the feedback was. And they really took it to heart. And again, you want trust. You certainly as management, you want trust in the organization. You want people to feel they can speak out. And so everybody really got behind it. And from that time, from 2017 to when the pandemic happened, we couldn't do another survey again until last year. But we worked it those years, we really put a lot behind it.
Emily Miner: I wanted to hear more about some of the things that you did, but before kind of going further there, we've talked a little bit about the code. We've talked about your culture. And I want to talk about training and education now because there's what seems like to me a perennial debate about the value of in person learning versus online or e-learning, and particularly in organizations with kind of an employee makeup such as yours, where you have people that are your office workers that are connected via email every single day. And then you have people on the floor that aren't connected into email every day. That presents just different needs and challenges. But at Hexcel, you seem to strike a good and I would say a strategic balance between that in person and online learning. And I'd love if you could tell us a little bit about that.
Gail Lehman: Sure. It was a very deliberate program that we came up with after a lot of thought, and it was anecdotal evidence that we got when I joined. Our CEO sends us out to almost all of the plants to start to meet people and learn the production process and learn the cycles and the customers. And so when I would go out at the beginning of 2017, it was interesting, a lot of people came to me to talk about the ethics training. And they felt like we had certain programs that had been developed. Sometimes people came out and did it live with a slideshow. And sometimes if they had online capability, they were told to go online. But they kept having the same training year after year. It was stale to them. I think you can't develop new training every year. I started to think it makes little sense to do that kind of training every year because I felt in some ways they were turning off to it and not listening as well as they should because they thought this is the same thing we've heard before.
But I came back and with my deputy general council, who runs this program with me, talked with outside council about: What's a training cycle that would really be required under DOJ guidelines? And we thought a lot about it and we came up with this three year cycle that we're working with LRN on now. And we said, "We're going to do, and we'll commit to do original content, face to face global training every three years." And we put together that first year when I redid the code, we put this together with videos and sort of snapshots from employees about what ethical conduct meant to them, experiences that they've had. And we said, "We'll do that every three years. We'll go out, we'll talk to people at plant locations. We'll really talk it up and have a communications campaign around that."
And then in the two years in between, we'll come up with something that's a little easier to do, that we can start to do online, that we can start to figure out how to train our hourly people online because that's always a challenge. It was for us. We didn't have everybody hooked up to email. But we were going to do shorter cycle, something that refreshed a basic principle, maybe one principle like speaking up, and that's what we're working on for instance for this year because it is hard. And we know for HR, we know for our operations, it is really hard to take those populations like we do every three years out of shift. We just did it last year. It's a very difficult process. It takes a lot of time. It takes my staff going around globally to locations, so it's tough.
But I think doing it every three years has been a wonderful way for us to really refresh and have a big splash, I guess if you will. We're really out there in that third year. And then in between, we're delivering something that's a little easier to get out there to operations, but that's really targeted to something that we're seeing in the company. Based on feedback, this has worked out really well, and I just think we're getting realistic about the resource drain on this live training and finding better ways to do it. But this is the kind of thing that seems to be working for us.
Emily Miner: I think the practicality of it makes so much sense. And there's so many benefits to that in person learning. Like you said, your staff goes to every single location, and so you're also enabling people to put a face to the name behind ethics and compliance, which I can imagine only encourages a stronger speak up culture. But then at the same time, as you were just saying, that's a lot of resource strains on your staff, as well as on the workforce at large. And so having those interim years focus on a lighter lift, a more focused topic, a topical topic, or an evergreen topic. The way that you've put it together I think is a great model, so thanks for that.
And you talked a little bit about kind of at the beginning, and when you were talking about the survey, you talked a little bit about the impact of the pandemic. You mentioned your major customer base is the likes of Boeing and Airbus, servicing the commercial aerospace industry. So obviously, an industry that took a big hit during COVID, and I know you, as a result, had to do a significant reduction in force. How did you maintain or change your focus on ethics, compliance and culture during those rough years?
Gail Lehman: Sure. And it was hard. One thing we were asked to do cost-cutting in our budget across the board. I mean, it was every function, every business. And so one of the things that my team did because we like doing training, again, we really enjoyed getting out and meeting plant teams and answering questions. It's taught us a lot about what the concerns are out there. So what we said was, "We're going to cut some of our training budget where we had contracts with providers to do training for us." There were different areas, whether it was third party due diligence, whether it was trade compliance. There's all sorts of areas where we had consultants and trainers that went out. And we said, "We're going to try to pull some of that back in. We're going to do it ourselves to the extent we can because we're not going to be traveling." We do it on Teams. We reduced the budget by taking some of that on ourselves.
We did a number of Teams training sessions. We rolled out our sexual harassment training that we've got. We do it on a cycle for different plants. We rolled that out on Teams. I will admit, it is challenging. I think on something like sexual harassment, it's hard. You get I think a little bit more engagement in person, and certainly, you get more of that back and forth Q and A that helps flesh out the issues. But we got through it, we did as much as we could by Teams exercises and by my team getting online with people, sometimes in smaller groups. We went to function meetings, let's say the finance function was meeting, we'd offer to go and do a little bit on ethics and compliance at someone's meeting that they were having via Teams. So we managed to stretch it out. We're coming back a little bit more now to the in person training. And we just decided that we would be able to get back by 2022 to one of these three year cycles, where we could go out and do a global live training.
So we then put our energies toward developing that training and developing the survey that we could do along with it, which we just did. We got there. It wasn't ideal because again, I can say that I think we managed through it. And some of it did teach us some ways to train on Teams that will probably be helpful long-term.
Emily Miner: The impact of new ways of working from the pandemic, there's so many and they're so striking. And we talked about focus groups earlier, and as someone who has led dozens and dozes of focus groups with LRN's clients, such as Hexcel over a number of years, I was a firm believer that you had to be in person. You had to be real with people and to create that trust. But the pandemic forced a shift, and I was really surprised at actually how effective a Teams based, or Zoom, or whatever the platform is, how effective it can be in engaging with people. And there's pluses and minuses, but it was a big eye-opener for me and something that we've continued to leverage even as travel is starting to pick up.
But you just mentioned conducting another culture survey as part of your training recently that you wrapped up at the end of last year. I want to talk about that because your scores improved relative to that baseline survey across almost all indicators, but none so significantly as the area of speaking out. And average scores here improved on an average of 20 percentage points, which is quite impressive. I think I was a little surprised at those results, just given the significant impact of the pandemic on your organization and your operations. But at the same time, I know that it's an incredible validation and testament to some of the efforts that you were hinting at earlier in our conversation. So I'm wondering if you can talk a little bit about: What did you do as a program, as an organization, that contributed to the success in increasing your speak up culture and people's confidence in speaking up? And then also, what's your next focus?
Gail Lehman: Sure. Speaking up for us was the area that we really did focus on. So it's gratifying, and you're right, we were incredibly proud and somewhat surprised by the real improvement that we saw in this survey that we just did. But it does what we say, and what we've been saying to leadership and will say when we report this to the board in a couple of weeks, it shows that what you focus on, you can change. And that was the one area we thought will really hit this hard when we got the last survey because we felt that it would address some of the other things if we could teach people that we really wanted them to speak up, we wanted to hear what they had to say. And then we could show them that we acted upon it fairly and appropriately. It would also address some of the other gaps we saw like trust and organizational justice. And of course, we hit no retribution as part of that.
So we thought it was the right place to start and we devoted an awful lot of energy to it. We developed speaking up guidelines. We developed protocols for some of the managers and supervisors to determine how they should react when somebody comes and speaks up to them. When we did that training, the global training that we developed and delivered in 2018 and 2019, it was a big part of the development of that training. We had videos, as I said, that were part of that, just ordinary employees across the globe talking, and we asked them, "How do you feel about speaking up? Why is it important? Do you feel comfortable doing it?" And we really stressed that all of the time, and stressed it again in this latest training that we did. And the survey that we just did came right after the training. We did the training and then in order to get credit for the training, you had to complete the second survey, which was actually a very good way to do it because our participation numbers went way up too. It worked really well.
But we've been hitting that really hard and talking to people about it and emphasizing the hotline too. We branded our hotline along with LRN's suggestions as a safe talk line and really, I think convinced people that we want to hear. And one of the reasons we focused on that too was because people were talking about speaking up, it wasn't just about ethical misconduct, which is important. We reinforced how we've got to hear about something to fix it. We want to fix it ourselves. Please let us know. But when they answered that 2017 survey, it was also just a fear of speaking up about ideas in the company, thinking that they weren't comfortable in a meeting offering suggestions, or they didn't like to disagree because they thought it was a kill the messenger problem sometimes.
So we thought it was so important to get people past that, to learn our company's [inaudible 00:25:30] innovation, to learn ideas and problems that people had with the current path. So it was the main thing, it was a smart thing to focus on. I think it brought along some of the other scores too. But again, the main thing it's shown us that was so really gratifying about what we've done is that it shows you we can make real change. People are listening to us, and we just have to convince them of the right things we want to do together.
Emily Miner: Absolutely. And I want to underline something that you said, where speaking up is not just about reporting misconduct. Of course, that's an important part of it. But it's about asking questions and sharing ideas and disagreeing and offering feedback. And these are all different pieces of the speaking up and the psychological safety puzzle that are so important because: If you can't share an idea in a team meeting, then how can you share a concern about ethics and misconduct? So that's a really holistic perspective that you're all taking on speaking out. I wanted to underline because I think it's so important and not always talked about when we talk about what speak up means, so thanks for drilling into that.
Gail Lehman: If you want me to just quickly, I mean, in terms of what we're going to do next, we've been working a lot on our sustainability program. It's tremendously important to our stakeholders, our customers in particular, investors, even our employees. So we've been focusing on ESG and sustainability a lot, and when we did this latest video that we just trained, we married up those concepts. We really tried to align the idea, which we thought would resonate, that a strong company is a sustainable company. People want us to be around for another 75 years, and the only way to do that is to have a strong foundation, which means that we do engage in ethical conduct, that we do point out when someone's not doing that, or when there's a question or a concern about it. But this is the way to build a strong company that's going to be around for all of us for five years, 10 years, 75 years.
And we really think that's kind of the next step because a lot of the data is showing us that it's hard to just say to employees, "Do the right thing." But you have to show them what's in it for them. What is it important? Why does it improve their life or their working life? And this idea of a sustainable foundation and building a company that's around and stable for years to come I think is important to get the employees really on board with program, but again, it's also important to show them that we're all in this together, and it's an important thing for all of us to do to keep Hexcel strong.
Emily Miner: Gail, I can't think of a better, more meaningful closing to our conversation and that message of a sustainable company is an ethical company, and sustainability in its many different forms, such a powerful message. And bringing it back to that One Hexcel you were talking earlier about one of your core values of One Hexcel, and how it's something that we're all in it together, and connecting those dots between the milestone of being around for 75 years. You've developed and you're making progress on a meaningful set of sustainability targets, which operationalize the company's commitment to social and environment responsibility, but you're also including targets around ethical and compliant business conduct as well, so I think that future focus commitment to sustainability, and again, sustainability in sort of its many senses, where there's that positive feedback loop. That seems like a perfect way to end our discussion. Thanks so much, Gail. It's been a real pleasure having you on the podcast. And I appreciate you sharing your perspective with all of our listeners and your experience in this space. I think it was really valuable.
Gail Lehman: Thank you. And I loved doing it, I love talking about the program, and I think we're doing great things, so we're having a good time doing it.
Emily Miner: Well, my name is Emily Miner. And I want to thank all of you for listening to The Principled Podcast by LRN.
Outro: We hope you enjoyed this episode. The Principled Podcast is brought to you by LRN. At LRN, our mission is to inspire principle performance in global organizations by helping them foster winning ethical cultures, rooted in sustainable values. Please visit us at LRN.com to learn more. And if you enjoyed this episode, subscribe to our podcast on Apple Podcasts, Stitcher, Google Podcasts, or wherever you listen. And don't forget to leave us a review.
Be sure to subscribe to the Principled Podcast wherever you get your podcasts.