For over 10 years, LRN has surveyed the ethics and compliance (E&C) community to identify best practices. This annual research focuses on trends, what's around the corner, and the hallmarks of highly effective E&C programs1 compared to those that have less impact on their organizations.
Our research agenda was no different in 2021, and yet it was—how do you determine what is "best" when the business community is navigating uncharted waters? In addition to COVID-19 upending business globally, 2020-2021 saw continued high-profile cases of misconduct and a racial reckoning that swept through several countries. Faced with challenge and uncertainty, leading with values served companies well. An overwhelming majority of the nearly 630 respondents we surveyed in 2021 (82%) said their companies emphasized values, rather than rules and procedures, to stay the course during the pandemic. This approach paid off: 79% said their organization's ethical culture emerged stronger by virtue of the way they coped with the COVID-19 crisis.
It also turns out that several pre-pandemic best practices, including some identified by global regulators like the U.S. Department of Justice, became even more relevant amid COVID-19 but need broader adoption. Here are some of the findings from part three of our 2021 Ethics & Compliance Program Effectiveness Report.
Best practices in policy simplification
Most high-impact programs now have their company policies in a searchable digital format—critical when millions of us switched to remote work and needed guidance on E&C risks we hadn't faced before or faced in the same way. But, despite the DOJ's emphasis on accessibility and simplicity, only two thirds of high-impact programs and just over half of less-effective ones have written their policies in simple language that's easy for employees to understand.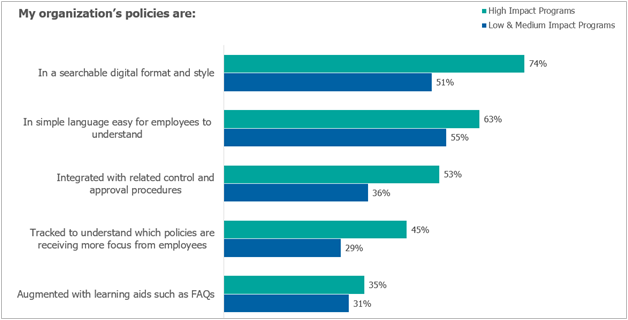 Best practices in ethics and compliance training
The pandemic has heightened the need for E&C programs to be able to reach their employees wherever they are. Significant portions of the workforce continue to work remotely, and social distancing makes traditional classroom-style learning problematic. Yet only 42% of programs overall make their training accessible on mobile devices. And, despite the DOJ's focus on appropriately tailored training, many training programs have a long way to go.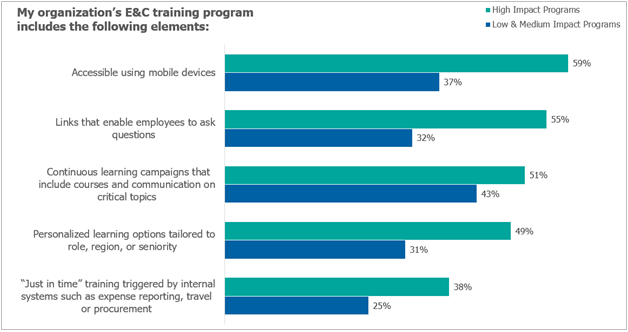 E&C programs are also getting more sophisticated in seeking to understand what makes training effective, spurred on by the shift in regulators' focus from checklists to measuring impact.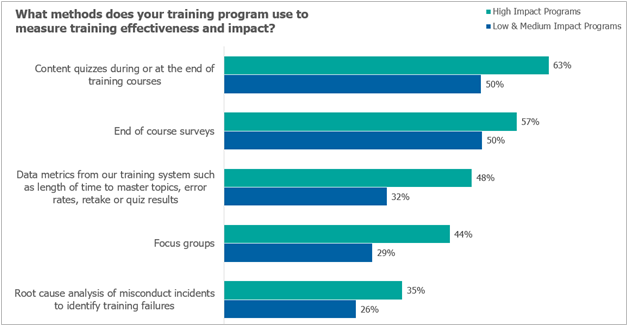 Best practices in building ethical culture
A common concern voiced by business leaders and E&C professionals was how to maintain a healthy organizational culture amid the shift to remote or hybrid working environments and the disruption of our typical in-person interactions. Most companies now agree that culture is a system to be understood and strengthened just like other corporate functions. The DOJ also highlights the need for companies to regularly "measure (their) culture of compliance" by "seek[ing] input from all levels of employees." Our research shows that more than two thirds of companies (67%) are translating this awareness into formal measurement—although many E&C functions simply "get" a few questions in a general employee engagement survey as opposed to a more in-depth evaluation of their ethical culture.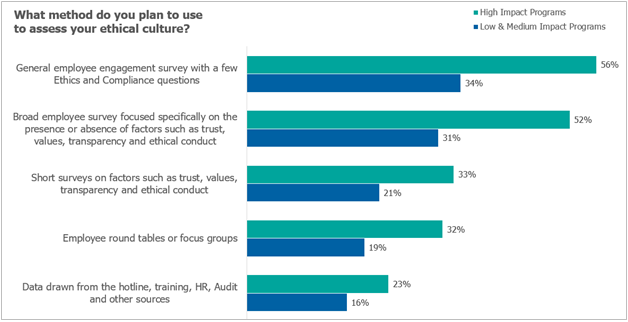 Looking ahead: How E&C training may evolve
COVID-19 radically shifted the risk landscape, and events of the past two years have exposed with greater clarity systemic issues such as racial inequality, anti-Asian violence in America, and abuses of power. The bar has risen for boards of directors, too, as regulators and the public expect greater accountability for misconduct or unethical business practices that occur in the organizations they oversee. This growing awareness is reflected in the topics that ethics and compliance programs are considering to add or to strengthen in their training curriculum, with high-impact programs leading the way in investing in many of these critical areas.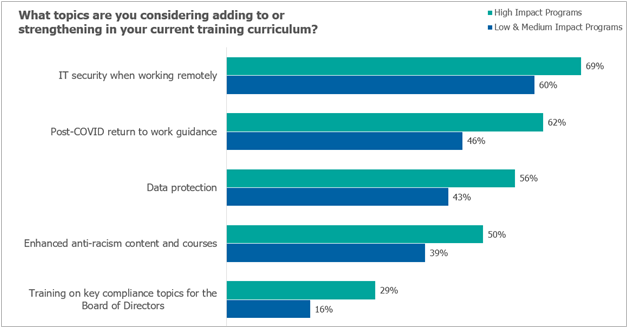 The key takeaway
All of these challenges show how critical it is to get your organizational culture right. The companies that committed to values and centered ethics and compliance in their COVID-19 response have emerged stronger, better equipped to navigate our still-uneven recovery. E&C programs continue to move away from checklists and legalese to ensuring key program elements—policies, codes, training—are accessible, relevant, simple, and above all serve as guides for ethical behavior.
We will be monitoring these trends to see if, and how, the pandemic further accelerates adoption of these best practices—and whether they become more commonplace rather than cutting edge. We'd love to hear how your own program is rising to the challenge of what has proven to be another unprecedented year. Click here to participate in this year's quick, 10-minute survey, open through October 31, 2021. We look forward to sharing the results of this research in our 2022 E&C program effectiveness report.
Footnotes:
1. We assess program efficacy by measuring outcomes across three areas of critical workplace behavior, rather than measuring program activities, to gain insight into ethical culture. For a detailed explanation of our methodology please see pages 19-20 of our 2021 E&C Program Effectiveness Report, Part 1.