Last year, the FCPA blog published its annual roundup of the top 10 largest FCPA enforcement fines paid to date. One of the striking features was that companies based in Europe constituted seven out of the 10 entities on the list. Specifically:
Airbus

(Netherlands/France): $2.09 billion in 2020

Eriksson (Sweden): $1.06 billion in 2019

Société Générale S.A. (France): $585 million in 2018

Telia (Sweden) $1.01 billion in 2017

VimpelCom (Netherlands): $795 million in 2016

Alstom (France): $772 million in 2014

Siemens (Germany): $800 million in 2008.
In recognizing the high cost of such non-compliance, recent major misconduct scandals at Deutsch Bank and Wirecard also should be considered, as well as the announcement that Glencore International, an Anglo Swiss company, will pay a fine of $1.1 billion for bribery and price manipulation.
Europe is hardly unique in this respect, but LRN's 2022 E&C Program Effectiveness Report data has potential good news, indicating that ethical culture is getting stronger across the three principal economies: France, Germany, and the UK, hopefully avoiding "top 10" dominance going forward.
About LRN's 2022 E&C Program Effectiveness Report
LRN's annual Ethics & Compliance Program Effectiveness Report surveys ethics and compliance professionals worldwide to identify what makes E&C programs effective. Our 2022 report provides key insights into how the business community adapted their E&C programs in the face of ongoing disruption—and shares important benchmarks to improve program efficacy.
Results are based on the input of over 1,100 ethics, compliance, and legal professionals, predominantly from organizations with at least 1,000 employees. Sixty percent of respondents are located outside North America, with 12% from the United Kingdom, 16% from Germany, and 20% from France
Compliance programs in Europe outperform the US in strengthening ethical culture
Our 2022 data shows that our European survey respondents outperformed the US in the critical area of strengthening ethical culture despite the challenges of the pandemic.

This is a significant finding, given the emphasis that European regulators have placed on the importance of culture. In 2011, the UK Ministry of Justice published statutory guidance under the UK Bribery Act to help organizations understand how to best prevent misconduct. There was a strong emphasis on the importance of culture in the recommended foundation principles outlined by the guidance:
"Principle 2: Top Level Commitment – The top-level management of a commercial organisation (be it a board of directors, the owners or any other equivalent body or person) are committed to preventing bribery by persons associated with it. They foster a culture within the organisation in which bribery is never acceptable."
In 2017, France's anti-corruption agency, Agence Française Anticorruption, published guidance that also stressed that "an anti-corruption compliance programme relies on top management's commitment to establish a culture of integrity, transparency, and compliance."
The French guidance goes on to recommend including ethical compliance in employees' annual objectives, performance reviews, and evaluating managers' initiatives to promote the prevention and detection of corruption by their teams. Germany has had robust anti-bribery laws in force since 2016 using criminal law as its principal mechanism for preventing corruption.
Our data indicates that European company leaders are described by their E&C team to have taken this guidance to heart, nearly on a par with those in the US.

Why is ethical culture so important to program effectiveness?
Regulators' emphasis on ethical culture has been a long time in coming. In 2013, Mary Jo White, then Chairwoman of the US Securities and Exchange Commission, challenged CEOs and their C-suites "to instill a culture in the biggest producer and the most junior employee that they are expected and encouraged to do the right and ethical thing and escalate problems if they are not resolved."
Her remarks reflected widespread frustration on the part of enforcement agencies that misconduct scandals continued to unfold despite the passage of Sarbanes-Oxley, Dodd Frank, and other stringent laws meant to curb unethical conduct. Similarly, despite laws such as the 2010 UK Bribery Act and the French and German anti-corruption statutes, scandals in Europe continued to occur as the "top 10" list demonstrates.
The lesson learned by regulators and E&C professionals can be summed up as the recognition that laws and rules are not self-executing and do not equate to robust compliance or ethical behavior. Our research shows that a focus on common values and doing the right thing, whether required by a specific rule or not, is the wellspring of ethical behavior. Companies that successfully navigated the pandemic relied upon values and culture to motivate employees to deal with new challenges and stresses.

Moreover, our data suggests that this commitment to values and building strong ethical culture shows up in practice.


Where European and US ethics and compliance programs can improve
Our data also highlights areas of weakness as well. Values and ethics need to be incorporated into key business decisions across the organization, and there's room for improvement in operationalizing these principles.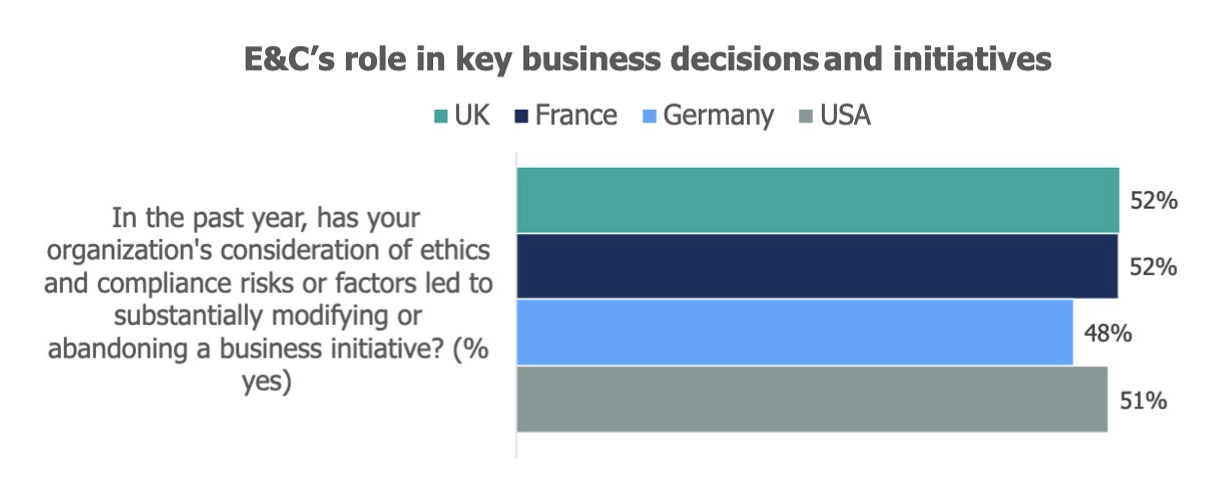 Many programs can also do better at holding senior leaders and top performers accountable, the key to organizational justice.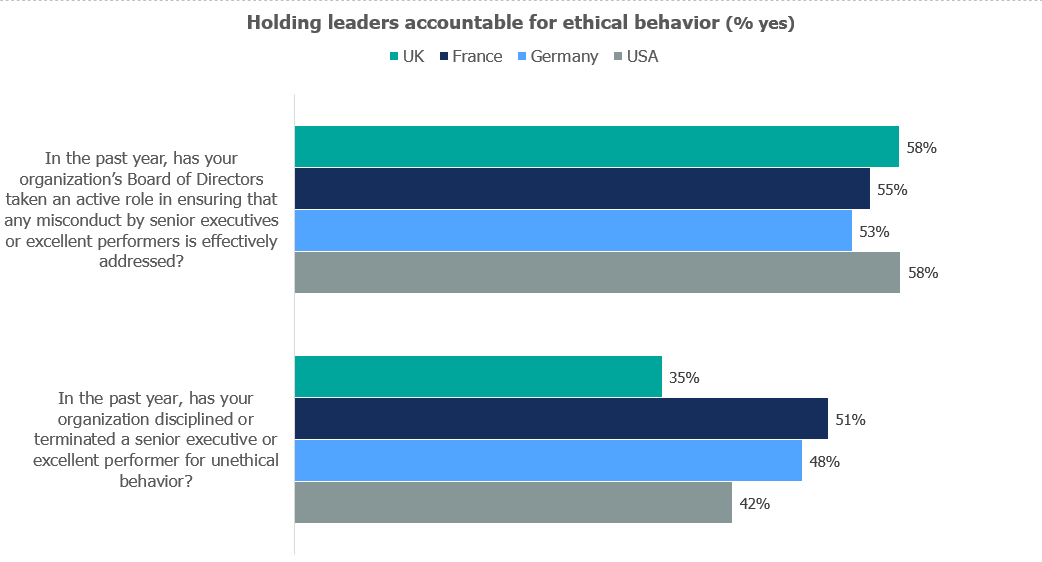 Europe on par with US when it comes to E&C resources and authority
In the past, the US emphasis on ethics and compliance—most notably the Foreign Corrupt Practices Act of 1977 with its extraterritorial reach—was sometimes seen as intrusive and alien by other jurisdictions. Now, the European programs we surveyed are largely on par or exceed US programs, in terms of authority and resources.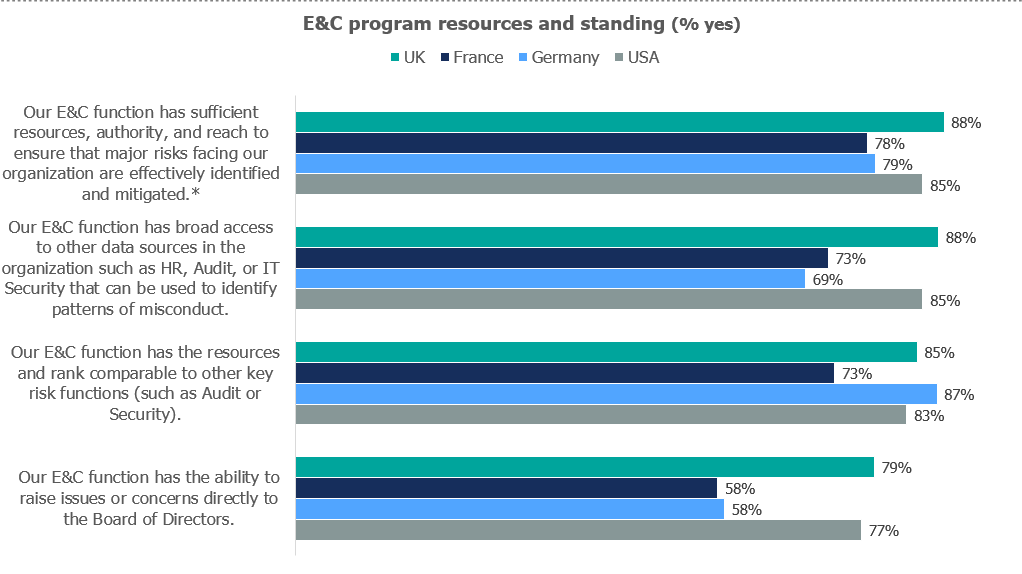 This is a positive development for everyone. Good ethics and the eradication of corruption—and other bad practices—strengthens social institutions and promotes good governance not just in the developed world, but also in the countries in which business is done.
The key takeaway
Building a high-impact E&C program requires prioritizing values to catalyze ethical workplace behavior at every level of the organization—no matter where your company is located. For more information, you can view our practical tools for building an effective E&C program.
This article was originally published in The Compliance & Ethics Blog.