As we have seen in examining the impact of E&C program goals and the importance of their alignment with the company's goals, what leaders set out to do greatly influences their overall impact. The same holds true in education and communication, as evidenced by the much larger number of goals identified by those running more effective programs. See Figure 17.
Also noteworthy, goal by goal, is the difference between the average PEI of those who have identified a goal and those who haven't, as seen in Figure 18. By that measure, reinforcing the code, an emphasis on personal accountability, and relating requirements and standards to daily activities have the clearest association with program effectiveness.
Here, too, metrics matter. While most every program measures completion rates, programs taking account of employee feedback are above par (average PEI scores of 0.62), as are those that capture the ratio of requests for advice to allegations of misconduct (PEI of 0.63). In a finding very much in keeping with the importance of a focus on actually changing behavior, programs capturing data on changes in measures of employee misconduct and speaking up, as well as organizational impact such as legal spend and profitability, tend to be among the more effective, with PEI averages of 0.63 and 0.64, respectively.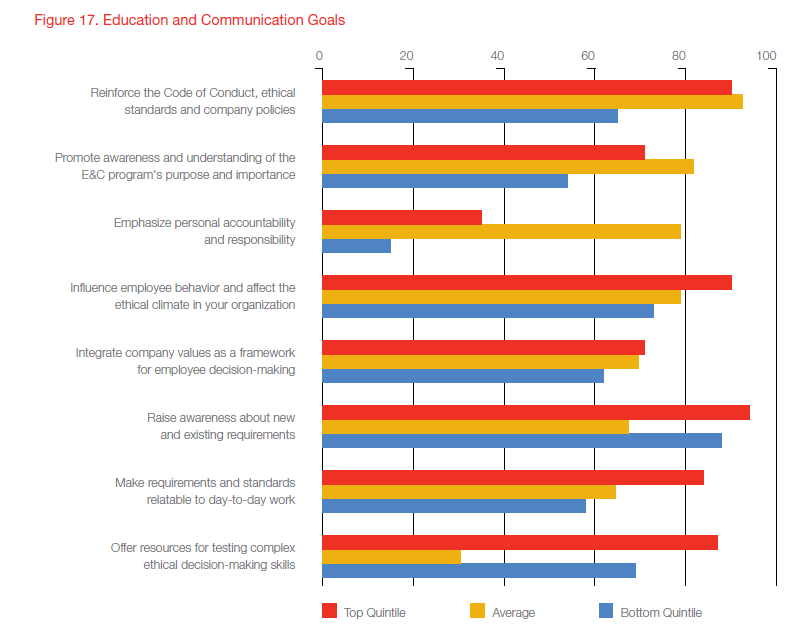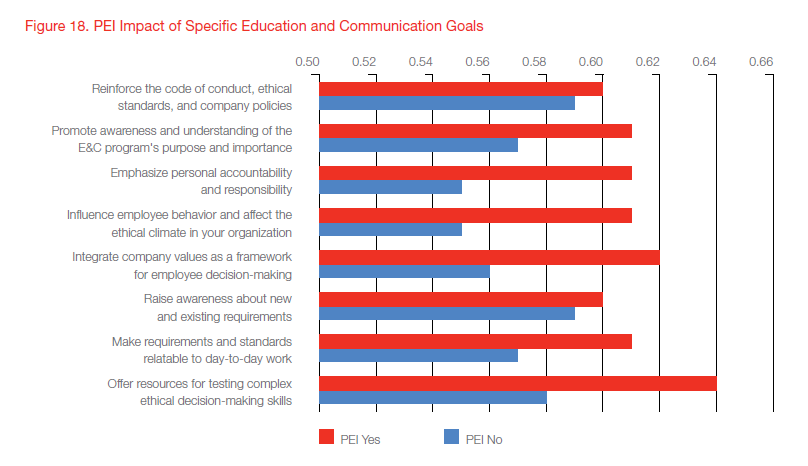 From this perspective, both the year-on-year decrease in the use of completion rates (7 percent) and the increased use of organizational impact (10 percent) and the ratio of requests for advice to reports or allegations (11 percent), as well as the three-year increase in the measurement of impact on employee behaviors, are positive signals that ethics and compliance officers are paying more attention to outcomes and less to "check-the-box" metrics. The three-year increase in informal education might well speak to greater corporate commitment to fostering dialogue on ethics and compliance topics.